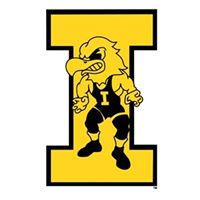 The momentum for recruiting of Iowa Wrestling hit another gear with the commitment of Hwt. Anthony Cassioppi of Roscoe, Illinois (Hononegah H.S.). Cassioppi had originally committed to Northwestern but flipped to the Hawkeyes. Cassioppi is the reigning USA Wrestler of the Week for his recent domination at the Junior Pan Am Championships, Junior National Duals, and Disney Duals where he went a combined 32-0.  At the Pan Am Championships in Lima, Peru, Cassioppi recorded a fall and two tech falls to win the gold in Freestyle and three pins and a tech fall to win the gold in Greco-Roman.  At Junior National Duals, Cassioppi was 14-0 overall by going 7-0 in both the Freestyle and Greco-Roman.  At Disney Duals, Cassioppi was 11-0. That is a very impressive three tournament run against some of the best competition in the county and the world.
Last summer, Cassioppi placed third in Greco Roman and second in Freestyle at Junior Nationals in Fargo.  This past season, Cassioppi won a 3A state title at Hwt by pinning his way through the postseason on his way to a 50-0 record.
Cassioppi is ranked #28 overall on the FloWrestling Big Board of the top 100 recruits in the class of 2018.  With the summer that he has had, I look for Cassioppi to climb up in that ranking.
I have seen Cassioppi workout and I would estimate him to be at 6'1" and 270 lbs.  He is very powerful and agile for his size. Cassioppi also excels in the classroom where he is a 4.0 student.
Cassioppi joins Nelson Brands in the Iowa Wrestling Recruiting Class of 2018.
In the span of just a week, the Iowa Wrestling coaching staff has been on a roll picking up commitments.  Last week, the Hawks added Justin Mejia (CA) and Connor Corbin (IA) to the Class of 2017 which was already the top ranked recruiting class in the country. Pat Lugo (FL), a two-time NCAA Qualifier, announced that he is transferring from Edinboro with two years of eligibility and a redshirt year to use.  And now a commitment from Cassioppi.  Look for the Iowa Wrestling staff to keep pushing in the recruiting wars that are going very well for them so far.
It is great to be an Iowa Wrestling fan.