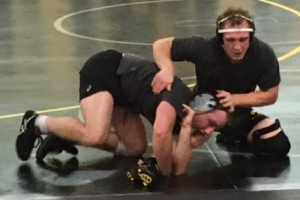 Elite recruits Alex "Bull" Marinelli (left) and Kaleb Young going at it yesterday in the Iowa Wrestling room.
I first heard about Alex Marinelli during his freshman year of high school.  Iowa Wrestling coach Ryan Morningstar had went to the Ironman Tournament that is regarded as one of the toughest in the country.  Coach Morningstar raved about a freshman that had placed second.  Fast forward four years later and Alex "Bull" Marinelli is in the legendary Iowa Wrestling room as a freshman for the Iowa Hawkeyes.
Marinelli is the highest ranked Iowa Wrestling recruit since Mark Perry in 2003 and is also the highest rated recruit in Tom Brands career to date as the head coach of Iowa Wrestling.  Marinelli was ranked as the third best recruit by FloWrestling in their Class of 2016 P4P (pound-for-pound) rankings.  To add to all of this, Marinelli is from the nationally ranked St. Paris Graham (OH) program that has produced wrestlers like David Taylor and the Jordan family of Jim, Jeff, Isaac, and Bo.  Graham is coached by Jeff Jordan and their program is recognized as one of the very best in the country every year for decades.
The story I heard is that Marinelli's teammates nicknamed him Bull.  What a fitting nickname as Marinelli has the strength, explosiveness, and relentless attitude to more than earn that nickname.  Marinelli was a four-time Ohio State champion and had a career record of 200-4 and ended on a 137 match win streak that went back to the middle of his sophomore season.  Hawk fans, we got a real stud here in Alex Marinelli.
I asked Iowa Head Coach Tom Brands what he expects out of Alex Marinelli this year.
Tom Brands: We're expecting him to continue doing what he is doing at a higher level.  I think he expects the same out of himself.  He's in the room every day getting better and he's doing what he needs to be doing.  
Do you think Marinelli will be contending for a starting spot this season?
Tom Brands:  Things will iron themselves out.  I don't think it's time to be thinking about whether he will be redshirting or not.  That is a decision that will be made down the road.  I know one thing, his focus is in the right place and he is getting better every day. He's certainly doing a good job of making a case for himself if he wants to.  But a lot of time between now and when that decision will be made.
I was able to talk to Alex Marinelli after a long workout of hard wrestling.
Alex, the school year just began this week.  What are your first impressions of being an Iowa Hawkeye?
Marinelli:  It is everything I thought it would be and more.  The intensity is great like I knew from high school.  I rolled right into it and I love it here on campus.  The start of classes was pretty smooth.  The coaches are great and they are always coaching me and helping me one-on-one.  I cannot thank them enough for the opportunity that I have.
You were a huge recruit and it came down to Ohio State and Iowa.  What was your deciding factor to be an Iowa Hawkeye?
Marinelli: I was always a fan of Iowa Wrestling since I was really little.  I had a Carver Arena poster above my bed since I don't know when.  I think growing up and going to Graham High School is kind of the same as Iowa in that the style is the same and the way the practice is arranged.  Every day we go hard.  We don't show weakness.  I think what drove me to Iowa is the coaching staff.   I felt like I could reach my goals here.
What part of coming from a program like Graham do you think you will benefit the most from now that you are an Iowa Hawkeye?
Marinelli: I think the philosophy is the same here. Every time you wear the black and white at Graham you are expected to win.  I think that's the same for Iowa.  If you wear the black and gold you are expected to win.  The fans don't want to lose.  I think you have to give the fans credit for really pushing the wrestlers to do well and that's what really drove me to Iowa was that they expect nothing less than winning.
Have you declared a major yet?
Marinelli: I am a Health and Human Physiology major.  I might do a pre-Chiropractic track.  I want to be a Chiropractor in the future.  I am focused on the Human Physiology right now.
What is your weight right now?
Marinelli:  I am in the mid-60's.  I could go 157 and I could go 165.  I am at a reasonable weight that I could go both.  It's really wherever the team needs me and where I perform well.  I'm not sure what I going yet.  That is to be determined.
Will you be going for a varsity spot this year?
Marinelli:  I have talked about it with Tom.  It's an open thing and up in the air.  I am not sure right now.  The fans really want me to step in there right now.  At the same time they really need to know that I really want to win a national title.  We haven't won one since 2010.  I want to win a national title as bad as they do.  I don't know yet so it's really up in the air.  Iowa Wrestling is going to be back with the recruits we have and Spencer Lee and the coaching staff we have.  You cannot lose faith in Iowa Wrestling because we won twenty-three national titles.   
I asked Iowa Wrestling Coach Ryan Morningstar about how got to know Alex Marinelli:
Morningstar:  I did a camp for Coach Jordan when Marinelli was in eighth grade.  I noticed him and the fire in his eyes and how he wrestled.  Fast forward to the next year when he was a freshman before the season started and I saw how he was going toe-to-toe with Bo Jordan when he was a 152 lbs. freshman when Bo was a senior.  I was also impressed that he went to the Ironman and placed second as a freshman and then won a state title later that year.  I have been watching him for a long time and I knew he would fit in well to this program.  
With recruits like Alex "Bull" Marinelli this year and overall number one recruit Spencer Lee, who is on pace to be the greatest high school wrestler in the history of the United States coming in next year, I would say the future looks bright for Iowa Wrestling.