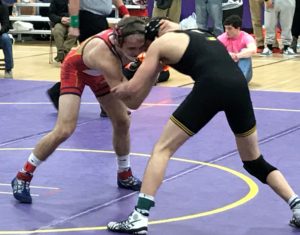 Carter Happel, Jeren Glosser, and Skyler St. John all won titles today at the Pat "Flash" Flanagan Open at Loras College in Dubuque, Iowa.  In addition to the three champs, Iowa had three seconds, five thirds, a fifth place, a sixth place, and one DNP.   
Happel (Lisbon, IA) at 141 lbs. won by a Fall in his first match before downing teammate Brock Rathbun 9-4 in the semifinals.  In the finals, Happel faced another teammate when he defeated Paul Glenn, 3-2 (see photo, Happel on left, Glenn on right).  This is the third tournament that Happel has won this year.  He also won titles at Grandview and the Luther Open.  Happel is now 17-3 on the season.
Jeren Glosser (Eddyville, IA) at 149 lbs. won by a Tech Fall and Fall before beating teammate Danny Murphy in the semifinals, 6-4.  In the finals, Glosser defeated Hunter Washburn of UNI, 4-1.  Glosser is 13-2 for the season.
Skyler St. John (Cedar Rapids, IA) at 165 lbs. won by a Major Decision, Fall, and decision on his way to the finals.  It was another all-Iowa Hawkeye finals, St. John defeated teammate Jeremiah Moody, 6-5 in a hard fought match.  St. John is 5-2 for the season.
Justin Stickley of St. Paris (Graham), Ohio placed second at 133. Stickley edged Jack Wagner of Iowa, 4-3, OT.  Stickley graduated from Graham last year and is sitting out of college this year and is rumored to be enrolling at Iowa this fall.  
Matt Malcom (Glenwood, IA) at 157 lbs. got caught in his first match and responded with two falls and a Major Decision to place third.  Malcom is tough.
I was impressed with the coaching that the young Iowa wrestlers had in their corner.  Hawk Club members and former Hawkeye All-Americans Nathan Burak, Mike Evans, and Olympian Daniel Dennis make for a tough coaching corner.
I have went from being a big fan of Iowa Wrestling Strength Coach Travis Rutt to being a huge fan of Iowa Wrestling Strength Coach Travis Rutt.  It is very easy to see the results of Coach Rutt's influence on the Iowa Wrestling program.  The young Iowa Wrestlers that I saw today definitely know where the weight room is.  Carter Happel looks different in just five months in the program.  
The Iowa Wrestling program looks bigger top to bottom.  I could tell how big the varsity lineup looked on TV last night.  Every single one of the Iowa wrestlers I saw on TV last night is bigger and stronger than last year and all of them stayed at the same weight.  That is a very unique skill set required to put on size and strength without putting on weight.  Tough balancing act to accomplish.  Only the sport of wrestling offers that challenge.  Coach Rutt brings Iowa Wrestling up to date with the modern ways of weight training along with a very strong Division I wrestling background.  Coach Rutt should be an added perk for Iowa Wrestling in the recruiting wars.
It is a big deal for me to have someone from my hometown of Lisbon, Iowa competing for the legendary Iowa Wrestling program.  For a Lisbon person like me, that is the ultimate…  That is the ultimate.  When I pulled up today at Loras College,  I was reminded that I saw Lisbon product Ryan Morningstar compete in college for the first time in Dubuque in November of 2005.  Eleven years later, I saw Carter Happel compete in college for the first time also in Dubuque.  Let's hope there is not an eleven year gap before the next Lisbon boy competes for Tom Brands and Iowa Wrestling.  That Lisbon, Iowa – Iowa Wrestling connection needs to keep going.
Iowa Wrestling will be right back at Loras College in the same gym on Saturday, January 28 for the Duhawk Open.  I will keep you posted on the Iowa wrestlers that will be competing at the Duhawk Open.  I would think many of the same wrestlers from today will compete.  I will be there as well to bring you a report and results.
Pat `Flash` Flanagan Open Results for Iowa
Open 133 – Jack Wagner —  3rd place
Round 1 – Jack Wagner (Iowa) won by tech fall over Scott Worlund (Wisconsin Eau Claire) (TF 18-3)
Round 2 – Jack Wagner (Iowa) won by tech fall over Darrin Eades (Northern Iowa) (TF 20-4)
Round 3 – Rudy Yates (Northern Iowa) won by decision over Jack Wagner (Iowa) (Dec 9-4)
Round 4 – Jack Wagner (Iowa) won by tech fall over Cody Vogel (Wisconsin Eau Claire) (TF 21-5)
Round 5 – Justin Stickley (Unattached) won in sudden victory – 1 over Jack Wagner (Iowa) (SV-1 4-3)
Open 141 – Paul Glynn — 2nd place
Champ. Round 1 – Paul Glenn (Iowa) received a bye () (Bye)
Quarterfinal – Paul Glenn (Iowa) won by decision over Patrick Spray (Wisconsin) (Dec 4-3)
Semifinal – Paul Glenn (Iowa) won by fall over Joey Riordan (Loras College) (Fall 3:57)
1st Place Match – Carter Happel (Iowa) won by decision over Paul Glenn (Iowa) (Dec 3-2)
Open 141 – Brock Rathbun — 3rd place
Champ. Round 1 – Brock Rathbun (Iowa) received a bye () (Bye)
Quarterfinal – Brock Rathbun (Iowa) won by fall over Blake Kittleson (UW Platteville) (Fall 2:20)
Semifinal – Carter Happel (Iowa) won by decision over Brock Rathbun (Iowa) (Dec 9-4)
Cons. Semi – Brock Rathbun (Iowa) won by decision over Patrick Spray (Wisconsin) (Dec 7-3)
3rd Place Match – Brock Rathbun (Iowa) won by fall over Joey Riordan (Loras College) (Fall 1:18)
Open 141 – Carter Happel — 1st place
Champ. Round 1 – Carter Happel (Iowa) received a bye () (Bye)
Quarterfinal – Carter Happel (Iowa) won by fall over Eric Starke (Triton College) (Fall 1:41)
Semifinal – Carter Happel (Iowa) won by decision over Brock Rathbun (Iowa) (Dec 9-4)
1st Place Match – Carter Happel (Iowa) won by decision over Paul Glenn (Iowa) (Dec 3-2)
Open 149 – Jeren Glosser — 1st place
Champ. Round 1 – Jeren Glosser (Iowa) won by tech fall over Valentino Ortiz (Triton College) (TF 20-2)
Quarterfinal – Jeren Glosser (Iowa) won by fall over Hunter DeLeon (Wisconsin Eau Claire) (Fall 1:11)
Semifinal – Jaren Glosser (Iowa) won by decision over Danny Murphy (Iowa) (Dec 6-4)
1st Place Match – Jaren Glosser (Iowa) won by decision over Hunter Washburn (Northern Iowa) (Dec 4-1)
Open 149 – Danny Murphy — 3rd place
Champ. Round 1 – Danny Murphy (Iowa) received a bye () (Bye)
Quarterfinal – Danny Murphy (Iowa) won by fall over Grant Sutton (Wisconsin Lacrosse) (Fall 6:02)
Semifinal – Jaren Glosser (Iowa) won by decision over Danny Murphy (Iowa) (Dec 6-4)
Cons. Semi – Danny Murphy (Iowa) won by decision over Keegan Shaw (Iowa) (Dec 2-1)
3rd Place Match – Danny Murphy (Iowa) won by forfeit over Grant Sutton (Wisconsin Lacrosse) (FF)
Open 149 – Keegan Shaw — 5th place
Champ. Round 1 – Keegan Shaw (Iowa) won by fall over Grady Todd (UW Platteville) (Fall 1:15)
Quarterfinal – Hunter Washburn (Northern Iowa) won by decision over Keegan Shaw (Iowa) (Dec 9-6)
Cons. Round 2 – Keegan Shaw (Iowa) won by decision over Trevor Harsh (UW Platteville) (Dec 8-3)
Cons. Round 3 – Keegan Shaw (Iowa) won by fall over Valentino Ortiz (Triton College) (Fall 4:08)
Cons. Semi – Danny Murphy (Iowa) won by decision over Keegan Shaw (Iowa) (Dec 2-1)
5th Place Match – Keegan Shaw (Iowa) won by medical forfeit over Stephen Alvarez (Iowa) (MFF)
Open 149 – Stephen Alvarez — 6th place
Champ. Round 1 – Stephen Alvarez (Iowa) received a bye () (Bye)
Quarterfinal – Stephen Alvarez (Iowa) won by decision over Jeremy Peterson (UW Platteville) (Dec 9-3)
Semifinal – Hunter Washburn (Northern Iowa) won by injury default over Stephen Alvarez (Iowa) (Inj. 0:00)
Cons. Semi – Grant Sutton (Wisconsin Lacrosse) won by medical forfeit over Stephen Alvarez (Iowa) (MFF)
5th Place Match – Keegan Shaw (Iowa) won by medical forfeit over Stephen Alvarez (Iowa) (MFF)
Open 157 – Matt Malcom — 3rd place
Champ. Round 1 – Matt Malcom (Iowa) received a bye () (Bye)
Quarterfinal – Nicholas Retzlaff (UW Platteville) won by fall over Matt Malcom (Iowa) (Fall 0:35)
Cons. Round 2 – Matt Malcom (Iowa) received a bye () (Bye)
Cons. Round 3 – Matt Malcom (Iowa) won by fall over Austin Neal (Drury) (Fall 5:18)
Cons. Semi – Matt Malcom (Iowa) won by fall over Anthony Metallo (UW Platteville) (Fall 2:38)
3rd Place Match – Matt Malcom (Iowa) won by major decision over Nicholas Retzlaff (UW Platteville) (Maj 16-5)
Open 165 – Tristan McDonald — DNP
Champ. Round 1 – Gabe Pleasants (Loras College) won by tech fall over Tristan McDonald (Iowa) (TF 15-0)
Cons. Round 1 – Tristan McDonald  (Iowa) received a bye () (Bye)
Cons. Round 2 – Michael Belanger (UW Platteville) won by disqualification over Tristan McDonald  (Iowa) (DQ)
Open 165 – Skyler St. John — 1st place
Champ. Round 1 – Skyler St. John (Iowa) won by major decision over Lucas Sedlacek (Loras College) (Maj 14-4)
Quarterfinal – Skyler St. John  (Iowa) won by fall over Logan Breitenbach (Iowa State) (Fall 3:35)
Semifinal – Skyler St. John  (Iowa) won by decision over Grant Taylor (Drury) (Dec 8-2)
1st Place Match – Skyler St. John  (Iowa) won by decision over Jeremiah Moody (Iowa) (Dec 6-5)
Open 165 – Jeremiah Moody — 2nd place
Champ. Round 1 – Jeremiah Moody (Iowa) won by fall over Ean Eichert (Triton College) (Fall 7:00)
Quarterfinal – Jeremiah Moody (Iowa) won by fall over Robert Rocole (Wisconsin Eau Claire) (Fall 2:41)
Semifinal – Jeremiah Moody (Iowa) won by major decision over Brody Beck (Northern Iowa) (Maj 17-6)
1st Place Match – Skyler St. John (Iowa) won by decision over Jeremiah Moody (Iowa) (Dec 6-5)
Open 174 – Joel Northrup — 3rd place
Champ. Round 1 – Joel Northrup (Iowa) won by decision over Sam Elston (Loras College) (Dec 7-3)
Quarterfinal – Joel Northrup (Iowa) won by fall over Mike Kelly (Unattached) (Fall 3:42)
Semifinal – Quinton Rosser (Northern Illinois) won by decision over Joel Northrup (Iowa) (Dec 5-4)
Cons. Semi – Joel Northrup (Iowa) won by tech fall over Landon Gotschall (Triton College) (TF 20-4)
3rd Place Match – Joel Northrup (Iowa) won by major decision over Tyler Vogt (Wisconsin Eau Claire) (Maj 11-3)
Open 197 – Cade Brownlee — 2nd place
Champ. Round 1 – Cade Brownlee (Iowa) received a bye () (Bye)
Quarterfinal – Cade Brownlee (Iowa) won by fall over Izaak Shedenhelm (Northern Iowa) (Fall 2:41)
Semifinal – Cade Brownlee (Iowa) won by decision over Javier Soto (Loras College) (Dec 7-6)
1st Place Match – Tyler Hoffman (Northern Iowa) won by tech fall over Cade Brownlee (Iowa) (TF 18-2)