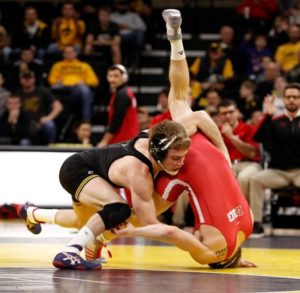 It was just announced that Iowa will wrestle at Edinboro on Saturday at 6 PM CST in the NWCA National Dual Series.  It looked as though Iowa would wrestle at Missouri on Sunday, but UNI changed all of that with an impressive 25-10 victory over Missouri on Sunday to win the MAC title.
Most Iowa wrestling fans will be disappointed because that is the exact same time as the Iowa High School State finals. Fans may be disappointed with the time and location, but I have a great deal of respect for Edinboro. Head coach Tim Flynn is my favorite non-Iowa Wrestling coach out there.  He also has former Iowa NCAA National champion Cliff Moore (Dubuque Hempstead H.S.) as his top assistant coach.  The Hawks will now travel to Edinboro, Pennsylvannia right on the Ohio border and folks, that is wrestling country. Maybe this can help Iowa Wrestling gain exposure to area recruits in a very well known recruiting area.
The Fighting Scots are led by four ranked wrestlers. Corbin Meyers is ranked eighteenth at 133, Pat Lugo is ranked eighth at 149, Austin Matthews is ranked ninth at 165, and Billy Miller is ranked fourteenth at Hwt.  These are Flo rankings.  Flo does not have Edinboro ranked in the top twenty, but Intermat has them ranked 24th in dual meet rankings (Iowa #3).  Edinboro is ranked 23rd in the latest USA Today/NWCA Division I Coaches Poll. Edinboro has two true freshman and two redshirt freshmen in the lineup.
Edinboro fought Oklahoma State hard in a 24-15 Okie State win at Edinboro.  The home crowd was a factor. The dual was held on February 3 in front of 2,689 fans that get loud.  In the dual, at 165 Austin Matthews (Edin) pinned seventh ranked Chandler Rogers (OSU).
Iowa last wrestled at Edinboro on December 5, 2013 with the the #2 Hawks defeating number #15 Edinboro 22-19.  The biggest match was at 133 where #8 A.J. Schropp downing #1 Tony Ramos, 3-2.  Iowa won the dual meet on bonus points from Thomas Gilman at 125 (filling in for Cory Clark), Derek St. John, Mike Evans, and Sammy Brooks (filling in at 197 for Nathan Burak) and decisions from Nick Moore and Ethan Lofthouse.  
The Iowa Wrestling team had better be ready to go for Saturday night.  Three things are a certainty:
Edinboro always put tough wrestlers on the mat at every weight, every year that are ready to compete hard

The Edinboro wrestlers will be coached up by a top staff.

McComb Fieldhouse will be packed to the rafters and present a very hostile environment.
Iowa has lost in each of the last two years in National Duals to Missouri in 2015 and to North Carolina State last year and both times were in Carver Hawkeye Arena.  A dual meet loss is no way to head into the Big Ten and NCAA part of the season.  I am hoping for a much better performance this year.  Every single match could have NCAA National tournament seeding implications.  And when you are talking about Iowa Wrestling, every match counts.
I am not sure how I will have it setup to watch both the State tournament and the Iowa Wrestling dual meet at the same time, but I am looking forward to it.  Thank you FloWrestling for streaming this dual meet live on www.flowrestling.org.  I for one am not complaining about the draw, time of the dual meet, or taking Edinboro lightly. This will be an entertaining dual meet and I am looking forward to seeing Iowa Wrestling hopefully win at the National Duals.
Iowa at Edinboro
    Saturday, February 18 at 6 PM CST
    Streamed live on www.flowrestling.org
    Radio broadcast on KXIC 800 AM
2017 NWCA Dual Championship Series
Friday, Feb. 17
6 p.m.            Purdue at #17 South Dakota State
6 p.m.            #16 Michigan at #7 NC State
6 p.m.                #12 Rutgers at #11 Lehigh
Saturday, Feb. 18
6 p.m.            #3 IOWA at #24 Edinboro
Sunday, Feb. 19
12 p.m.             #4 Ohio State at #8 Cornell
2 p.m.                Indiana at #20 Appalachian State
3 p.m.                #2 Penn State at #1 Oklahoma State
6 p.m.            #6 Nebraska at #5 Virginia Tech
All times Central