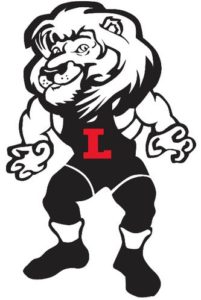 The Lisbon Mat Pack will be well represented at the Iowa AAU State Championships this weekend.  The action will take place in Wells Fargo Arena in Des Moines on Saturday and Sunday.  All wrestlers qualified through Districts and the competition at the state tournament is always top notch and the peak of the kids wrestling season in Iowa.
Lisbon will have wrestlers competing in three divisions of A (3-4 grade), B (5-6 grade), and C (7-8 grade).  The action starts on Saturday morning at 8 AM with Divisions A & B followed by division C at 2:30 PM.  On Sunday, the Grand March will be 9:30 AM and the wrestling will begin at 10 AM.
The Lisbon Mat Pack will have the following wrestlers competing:
Division/Weight
A  (3-4 grade)
A140 – Brock Baltes
B (5-6 grade)
B85 – Matthias Kohl
B110 Zak Strecker
C (7-8 grade)
C75 – Cade Siebrecht
C80 – Quincy Happel
C125 – Jarrod Alger
C130 – Alex Casey
C160 – Cole Clark
C189 – Brant Baltes
C260 – Braxton Kurtenbach
All results can be found on www.trackwrestling.com: Iowa AAU Kids State Championships.
Lisbon should have momentum after the Lions rolled to a sweep of 1A State for Duals and traditional state last weekend.  The great Lisbon Wrestling tradition is alive and full of excitement.  Coach Smith told me in a recent interview that the kids program was looking strong.  I see some little brothers and second generation Lisbon Wrestling names on that list.   Great sign that the tradition is being passed down.  When you see what Lisbon has coming up in the next two years alone, I am very excited about the future of Lisbon Wrestling.
Good luck to all of the Lisbon Mat Pack wrestlers, coaches, and parents.  You will have a fan following online worthy of Lisbon Wrestling.
I will be posting results on my personal Facebook page: https://www.facebook.com/profile.php?id=100008767630132
Twitter: https://twitter.com/iawrestlingfan