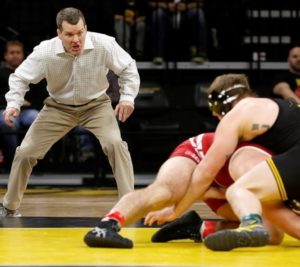 The tournament season for Iowa Wrestling is almost here.  A lot of hard work has went into this season.  But as we all know, a team is judged by how they do at nationals.  The first step of the postseason is the Big Ten Wrestling Championships this Saturday and Sunday.  The pre-seeds for the Big Tens came out on Monday so I thought it was a great time to check in with Iowa head wrestling coach Tom Brands. I will also have a Tom Brands interview before the national tournament.
Coach Brands, where do you see your team right now heading into the Big Tens?
Tom Brands:  I feel like we've made progress.  This is the time of year when we have to be at our best.  Now it is up to our team to go out and show that.  This is how your career is defined and how your season is defined partially.  Then we have another step after this step.  This step is important because there are things at stake for the next step.  Nothing is guaranteed and we have to wrestle our way in at really every weight.
Let's go through the lineup, starting at the top.  Thomas Gilman is leading you into battle as the top seed at 125.
Tom Brands:  He's been wrestling well and like I just said we have to be at our best this time of year.  So if his best wrestling is in front of him, look out.
Cory Clark has a very tough weight class where is is seeded third.  Clark always comes on strong at tournament time with his best wrestling.
Tom Brands:  Just do the work, do the work that it's going to take to put himself in the best position. 1,2,3,4, and 5 are all the same really.  There's five guys there that are pretty good wrestlers.  Clark is a three seed and we need to be ready to go.
I have been high on Topher Carton making the most of his senior year for you at 141.  He is seeded sixth in what I see as the most open weight class in the Big Ten.
Tom Brands: Continued progress more than anything for him.  I know he's excited and that's half of it here.  Let's be excited for the next three weeks.  He's definitely excited.
Branden Sorensen comes in as the number two seed at the Big Tens.  He has wrestled the number one and three seeds.  What are you looking for from Sorensen this weekend?
Tom Brands: Same as what we talk about every week from him to get to his offense and let him open up and let him be the best that he can be.  Be your own best friend instead of the other way.  We know the potential that he has and he has to let it fly.
Michael Kemerer at 157 is in the same position as Sorensen as a number two seed with a win over the number three seed and a loss to the top seed.  How do you see Kemerer's progress this year as a freshman?
Tom Brands:  Definitely has made progress. When you look at the Iowa State match and that's what you're looking at.  Can you come out of that and get better because of that?  That's what he has done and we just gotta keep going one match at a time.
At 165, I am like a broken record, but another very tough weight class in the Big Ten.  Joey Gunther has had a good freshman year and is still a number five seed.
Tom Brands:  Continue to get better every match, every day.  It doesn't matter what the weight class is like.  Just go out there and do what you can do.  He's had some good wins.  His ranking nationally does not reflect the wins that he has had.  There are two or three guys that he has beaten that are ranked above him.  No respect, right?  Just keep doin what you're doin.
I think Alex Meyer at 174 has looked great recently as he is wrestling at a much quicker pace and putting up the points.  Meyer enters the Big Tens as the number five seed at another very stacked weight class.
Tom Brands:  I think he likes where he is at too, so that's important.  I think he feels good about where he's at.
Sam Brooks enters as the defending Big Ten champion at 184 and is the number two seed.  He has also looked very good lately.  I see 184 as the toughest weight class in the Big Ten tournament.
Tom Brands: Big Tens weren't won in a day.  Nationals weren't won in a day.  He has worked at it every day for along time.  So just like that mullet he worked on last year.
At 197, you are looking to get Cash Wilcke through as a number seven seed.
Tom Brands: He's going to have to do some work.  He's going to have to wrestle his way in.  This is the time of year to be at your best.  Every one of our guys needs to be at their best.  The same can be said about (Steven) Holloway at Hwt.
How do you approach Big Tens as a coach knowing that you have to peak two weeks later for nationals?
We got to be ready and have our best wrestling in front of us right now at all of our weights, no matter what you're seeded.  Even if you have a number one seed and they say to wrestle to your seeds.  Well, then you wrestle for bonus points.  Don't just wrestle up to your seed, exceed that.  You can do that if you are the number one seed with Gilman, we can get bonus points.  Keep doing what you have been about all year and then some.  Keep adding to it.
We definitely have to be ready for the Big Tens.  We know there's another event after this, but this is important.  So this is like where you're getting ready to go to what is going to get you to the next step.  It's important so our spirit has to be strong and our mind has to be strong, our bodies have to be strong.  We need to be strong and rested but at the same time, there is work to be done.  So just keep doin what you been doin all year.  It's not like it's re-inventing the wheel.  It's not something you get uptight about.  You go out and let your best wrestling happen.  Be relaxed and let your best wrestling come out of you.