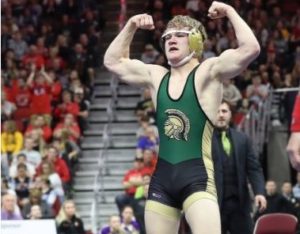 Nelson Brands of Iowa City (West HS), IA went an impressive 9-0 with nine tech falls to win the 160 lbs. Freestyle and Greco Roman titles at the Western Junior Regional at the South Point Arena in Las Vegas. Brands captured the GR title with four tech falls with scores of 10-0, 10-0, and 10-0.  In the finals, Brands was behind after the first period and rallied to score a 17-7 tech fall over Adrian St. Germain of Washington.
In freestyle, Brands crushed his opponents with tech falls of 12-1, 11-1,10-0 and 10-0 before scoring a 10-0 tech fall over Joel Romero of California in the finals.  Brands is finishing up his junior year at Iowa City West High School.
Myles Wilson of Glenwood Springs, CO was dominate in capturing the Greco Roman title at 182 lbs. Wilson made his way to the finals with a 13-0 tech fall, a fall in :50, and an 11-0 tech fall.  In the finals, Wilson pinned Elias Vaoifi of Missouri in 3:00.  In the freestyle tournament, Wilson won a 14-11 decision and a 15-2 tech fall before withdrawing from the tournament in the semifinals due to injury default.
Wilson is in the outstanding Iowa Wrestling Recruiting Class of 2017.  Brands has made a verbal commitment to Iowa Wrestling for the Recruiting Class of 2018.