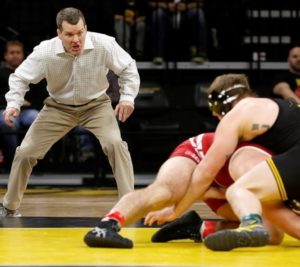 There is an awful lot going on for Iowa Wrestling.  Recruiting is in full force, Hawk Club members are getting ready for the U.S. Open, and the young Iowa wrestlers are preparing to compete soon as well.  I thought it was way past time to get a Tom Brands interview to get all of us Iowa wrestling fans up to date.  These interviews always get me pumped up about Iowa Wrestling, but this one did more so than any in recent memory.  There is a lot to be excited about in Iowa Wrestling.
We will be talking about the Cory Clark story from this season forever.  What a great story of toughness to overcome two serious injuries.  What is the impact on your program of Cory Clark not only winning a national title, but the obstacles that he had to overcome.
Tom Brands:  That was very big for our program and very big for Cory Clark.  He had a goal to be a national champion and he achieved that goal.  We had a great job out of our medical staff and training staff.  The support was there.  But nobody did more than Cory Clark himself.
What Hawk Club members will be competing at the US Open in a couple of weeks?
Tom Brands: We will have four guys entered.  Both Dardanes, Telford, and Burak.  We have some young guys that could potentially be in the trials.  In Rochester, MN there is the last chance qualifier.  There are a lot of good things that can happen between now and June when we go to Lincoln (NE) for the Trials.  The first step is the U.S. Open April 27-29.  Bobby Telford will be at Hwt, Chris Dardanes at 61 kg, Nick Dardanes at 65 kg, and Nathan Burak at 97 kg.    
Any Iowa wrestlers competing at the Junior tournament in Vegas as a qualifier for Junior World Team Trials?
Tom Brands: We will have seven or eight freshman going there.  We are looking forward to that.  That is important for their development.  That is important for their International goals.  So we will have our Hawk Club wrestlers and our freshman going to Vegas in two weeks and then to Lincoln for the Trials in June.
Any Hawks competing at University World Team Trials?
Tom Brands: We will have a bunch of Hawks compete in Akron, Ohio June 1-4.  We are looking forward to that as well.
I know you cannot get into specifics, but where are you at in the recruiting process for the Class of 2018?
Tom Brands: We know that it's important to get to these juniors early.  We have a training camp coming up where we have a good group coming in and we have some of our signed recruits coming in.  We are excited about that with our recruiting.  We have work to do but we are not behind.  We just need to nail some of these commitments down and feel good about it.
You recently placed nine wrestlers on the Academic All Big Ten team including three of your ten starters.  I know that academics was your number one priority when you took over as head coach.  Can you tell us about why you push your wrestlers to succeed in the classroom and academics?  
Tom Brands:  That's important to our program.  It's important to our administration.  It's a real topic in college athletics now.  It has to be a top priority one with our administration.  The thing is that the way that entrance into college is changing and you are going to see that continue for a trend because you are going to have a higher quality of students coming in.  So you are going to see more emphasis trending towards academic honors.  It has not been announced yet, but it looks like we may have three Academic All Americans.  That has not happened in a long time.  That would be Alex Meyer, Brandon Sorensen, and Michael Kemerer.  That is very important to the program.  We're proud of that but we know the fans want the whole ball of wax and we want that too.    
Of your five seniors that you lose in the lineup, will any of them be staying in the Hawk Club?
Tom Brands:  It looks like four of them and we are excited about it.  Cory Clark, Thomas Gilman, Alex Meyer, and Sammy Brooks all look to be staying.  We have had conversations will all four of those guys.  Clark will be getting some of those nicks and injuries taken care of.  There is a lot going on in Iowa Wrestling.  
What are your thoughts on the Iowa State coaching choices?
Tom Brands:  That was a real compliment to us when Iowa State hired four Iowa Hawkeyes.  Three of those Hawkeyes, I coached during my tenure.  Two of them won three national championships in this current program and staff.  One was a four-time All American.  That is a compliment to this program that those guys are that passionate about wrestling and that passionate about coaching.  We are excited about that.     
There are some frustrated Iowa Wrestling fans and supporters that want to donate money directly to the Iowa Wrestling program.  They are having issues of wanting to make sure that their money goes directly to Iowa wrestling.  What can they do?
Tom Brands:  If someone wants to donate money to Iowa Wrestling, they need to get ahold of Tom Brands or Kevin Collins who is the Associate VP of Athletic Development and Assistant AD at the University of Iowa Foundation.
I would like to add that everyone thinks Iowa Wrestling is rich.  That is not true.  We need funds.  In addition to that, you have to compliment the Hawk Wrestling Club people like Randy Novak, Tim Grissel, Mitch Kelly, Aaron Robertson.  You have to compliment those people because they are the ones keeping our heads above water with our events.  
Our personal in our program is strong.  Matt McDonough and Dan Dennis are strong names in wrestling and then you have the four guys that are going to compete. Mike Evans has taken a job at Campbell.  We are adding four new guys to the Hawk Club including the national champion, including the three-time All American who was a Junior World medalist (Gilman).  We are adding Sam Brooks who has International potential.  So our club will go from seven members to ten members this fall. 
How is Sam Stoll coming along with his rehab from knee surgery?
Tom Brands: Sam Stoll is an anchor to our program.  Just like Gilman was the starting anchor, Sam Stoll was our ending anchor in a traditional sense.  Gilman at the front end and Stoll at the back end, that was huge.  His rehab is coming along fine.  He's serious, he's optimistic.  His mind is in the right place.  He's a shy guy when it comes to the media.  He shuns the media at times because he doesn't want to talk about it.  I can speak for him and say that the procedure went well.  His rehab is right on track and actually a little ahead of schedule.  We need Sam Stoll to be at his best and he is motivated to be at his best.     
You led the country for the eleventh straight year in attendance, which is every year since you became the head coach of Iowa Wrestling.  What have you done and what will you continue to do to see that the Iowa Wrestling program continues to lead the country in attendance?
Tom Brands: There's great interest in any event that has wrestling in it at the University of Iowa.  There are a lot of reasons for that.  It starts with our administration.  It starts with Josh Schamberger at the Iowa City/Coralville Visitors Bureau.  That also starts with the leadership of the program.  In 2010 and 2011 we started to push hard for the Olympic Trials.  We went to Colorado Springs and put on a presentation and won it hands down.  There wasn't even a competition in 2016 to get it back because of the job we did.  So we had two consecutive Olympic Trials in Iowa City.  We have the World Cup in April of 2018.  We had the Kinnick event for Grapple on the Gridiron.  All of those are cutting edge.  It is important to our program that we keep bringing in high level events.
Here's the other thing we are proud of. We are proud of the revenue we are generating by those events.  This isn't something where we just want to put something in Iowa City because wrestling is important to the University of Iowa.  We have generated significant revenue for the University of Iowa from the Kinnick dual and both Olympic Trials.  The same will be true for the 2018 World Cup.  And do not forget the Big Ten Championships where we blew the attendance out of the water.  You look at the attendance of Big Tens at Iowa versus the University of Indiana, there was at least three times as many fans at Iowa in the stands.  That is a boom and boost to the coffers of the University of Iowa.  It's a badge of honor for our program.  It's important to our staff, and it's important to our fans.  We are going to continue to do that.
When do you expect the outstanding Iowa Wrestling recruiting Class of 2017 to arrive in town to begin their career as an Iowa Wrestler ?
Tom Brands:  We're going to have some of them in town in camp that we have coming up.  Some will come to town right after graduation.  The others will be training and competing for age group championships. Warner will be trying to make the Junior World team.  The other ones will also be training for Fargo.  And then we have a guy named Spencer Lee that everybody knows his story and he will be getting on campus as soon as he graduates from high school.