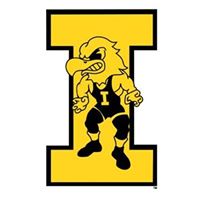 Recruiting is a 365 day a year type of thing.  However, July 1 is a huge date in college wrestling every year.  That is the first official day that colleges can discuss scholarships with the soon to be senior high school wrestlers.  Verbal commitments can be made at any time by the wrestler, but the college cannot discuss scholarship money until July 1 before the beginning of their senior year of high school.  What does that mean?  That means that tomorrow on July 1, the fur is gonna start to really fly in the college wrestling world.  And I could not feel any better about the position that Iowa Wrestling is in right now.
To start with, Iowa Wrestling has a very important word on their side…
                                      M-o-m-e-n-t-u-m.  
The Hawks had the top ranked recruiting class in the country for 2017 in the books and then on Wednesday added Justin Mejia.  Judging by the reaction from my blog on Wednesday, Iowa Wrestling fans are very excited about the addition of Mejia to the Iowa program.  To have the best recruiting class in the country and to then add on a big recruit like Mejia is amazing.
Let's take a look at additional momentum Iowa Wrestling has going for them. Iowa has really picked up their recruiting starting in 2015 with the edition of Michael Kemerer from Pennsylvania followed up by Alex Marinelli from Ohio and Kaleb Young from Pennsylvania in 2016.  The class of 2017 features Spencer Lee from PA, the biggest recruit in the history of Iowa Wrestling,  and Jacob Warner from Illinois.  Look for the Hawks to return to the fertile recruiting grounds of Pennsylvania and Ohio for the Recruiting Class of 2018. Before we go any further, you always start with the state of Iowa.  Home is where the heart is they say.  Look for the Hawks to sign several very tough wrestlers from right here in the Hawkeye state.  As always.  
As you can probably tell from my previous blogs, I am a strong believer in the Iowa Wrestling coaching staff.  I believe Ryan Morningstar is the best at what he does for evaluating talent and beginning the relationship with a potential recruit.  Morningstar puts the time in on the road and his dedication has paid off for the Iowa Wrestling program with recent recruiting classes.  I also believe Tom Brands is the best closer in the business.  Tom Brands can close the deal with the top recruits.  The duo of Morningstar as the set up and Tom Brands to close is the best recruiting combination the country.  
Terry Brands attracts recruits with his reputation for being an outstanding coach in International freestyle by developing wrestlers for the ultimate level.  Even though Mark Perry cannot leave campus to recruit, his addition to the program as the new head coach of the Hawkeye Wrestling Club has added even more firepower to the Iowa Wrestling program for recruiting.  The success that Perry had as an assistant coach at Illinois being involved in the recruiting and development of Jesse Delgado and Isaiah Martinez has been noticed on a national level.  Iowa Wrestling provides a great path for a recruit to reach their potential for an education as well as for collegiate and international wrestling.  
The combination of momentum and an even better coaching staff will factor into the quality of the Iowa Wrestling Recruiting Class of 2018.  I have full faith that we as Iowa Wrestling fans will be happy on National Letter of Intent Signing Day of November 8, 2017.
Now let's take a look at who Iowa Wrestling is rumored to be recruiting.  In no particular order.  Rankings are taken from the just released FloWrestling 2018 Big Board Top 100.  
Nelson Brands is the lone verbal commitment  at this time for the Iowa Wrestling Recruiting Class of 2018.
Nelson Brands – 157/165/174, Iowa City, IA (West HS) #71   
Brody Teske – 125/133, Ft. Dodge, IA #27  
Joel Shapiro – 184, WDM Valley (IA) #44
Trent Hidlay – 174/184, Mifflin County, PA #12
Sammy Sasso – 141/149, Nazareth, PA #8
Rocky Jordan – 157/165/174, St. Paris, OH (Graham HS)
Francis Duggan – Hwt, Iowa City, IA (West HS) – just transferred in from PA  #67
Ryan Thomas – 157/165, St. Paris, OH (Graham HS)
What an outstanding list of recruits.  Just what you expect from Iowa Wrestling.  I will be releasing more information about the recruits on this list as well as any additions in future blogs.  And of course I will be letting you know when the recruits give their commitment.  Iowa has home football games on October 7 for Homecoming and also on October 28.  There will probably be some recruits in for the 7th, but the 28th of October will probably be the big weekend for recruits to be visiting.  That is also close to the signing day of November 8.
Iowa Wrestling fans, recruiting is always a roller-coaster filled with ups and down, rumors, b.s., and a lot of hope.  As I mentioned earlier, I am confident that we as Iowa Wrestling fans will be very happy on November 8 on signing day.  
Follow me on Facebook: https://www.facebook.com/IowaWrestlingFan/
Twitter: https://twitter.com/iawrestlingfan
Recruiting season…gotta love it!
It is great to be an Iowa Wrestling fan.