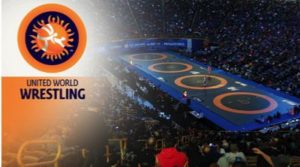 BY GARY ABBOTT, USA WRESTLING | AUG. 25, 2017, 4:02 A.M. (ET)
United World Wrestling, the international wrestling federation, has notified USA Wrestling that the date for the 2018 Freestyle World Cup in Iowa City, Iowa, has been officially set for April 7-8.
The event, which is the annual international freestyle dual meet championships, had originally been scheduled for April 21-22. The new date fit perfectly with USA Wrestling's international and national event schedule. It will provide a tremendous showcase for the world's best wrestlers just a few weeks after the conclusion of the U.S. college wrestling season.
The competition will be held at the world-famous Carver-Hawkeye Arena on the campus of the University of Iowa. This venue hosted the record-setting 2012 U.S. Olympic Team Trials and the 2016 U.S. Olympic Team Trials for wrestling. It has been the site of many of the most important wrestling events in American wrestling history, and serves as the home venue for the University of Iowa wrestling team, which annually leads the NCAA in attendance for the sport.
The World Cup will feature the top eight men's freestyle wrestling teams in the world. Those teams will be determined based upon the results of the men's freestyle competition at the 2017 World Wrestling Championships, which are being held in Paris, France over the next two days, August 25-26.
As host, the United States will field one of the eight teams at the World Cup. Team USA has a strong team at the 2017 World Championships, including former Hawkeye wrestling star Thomas Gilman, who is the U.S. World Team member at 57 kg/125.5 lbs.
This will be the 30th time the United States has hosted the event, the most of any nation. Iowa City will be the ninth U.S. city to host the Freestyle World Cup. The other U.S. cities which have hosted the World Cup include Toledo, Ohio (17 times); Los Angeles, Calif. (three times) Chattanooga, Tenn. (twice); Spokane, Wash.(twice); Stillwater, Okla. (twice); Baltimore, Md.; Fairfax, Va. and Boise, Idaho.