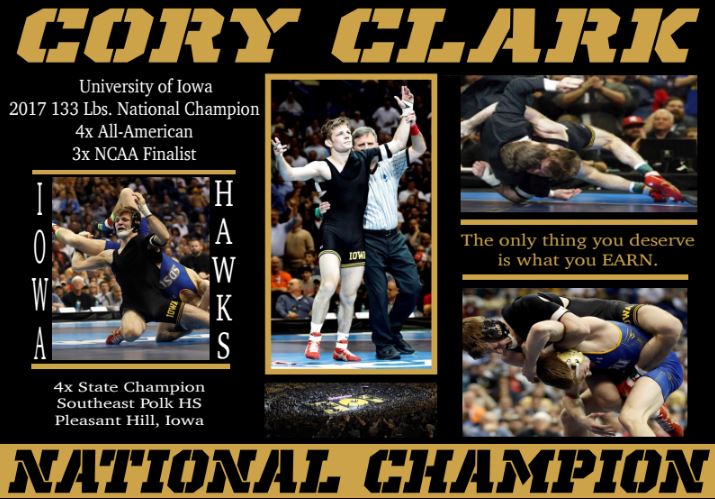 My Cory Clark posters are now available in Cedar Rapids. You can stop by Schumacher Carpets at 622 1st Ave N.W. to pick up one of my posters at no charge.
Schumacher Carpets is owned and operated by Tom Miller and his sons Chris and Nick. Tom was a longtime wrestling coach at Cedar Rapids LaSalle where Chris and Nick wrestled as well. The Miller's are diehard wrestling fans and supporters, great people, and Iowa Wrestling fans. That is why I chose them.
Great job and thank you to two-time state champ J.J. Butteris (jeremiahbutteris@gmail.com) of Lisbon for the graghic design.
Rick Stahl (rstahl@cedargraphicsinc.com), NCAA D-I national finalist official of Cedar Graphics, did a great job as always by providing a great product.
When you want something done right, go with wrestling people.
Limited supply of posters. First come, first serve.
Schumacher Carpets
622 1st Ave. N.W. Cedar Rapids, IA
Store Hours:
Monday – Friday 10 am – 5:30 pm
Thursday till 7:00 pm
Saturday 9 am – Noon