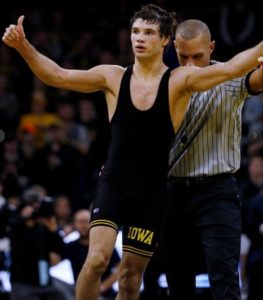 Thomas Gilman had a very impressive showing at the World Freestyle Championships in Paris, France by capturing a SIlver medal at 57 kg/125.5 lbs.  Gilman had a great run to the finals with hard fought wins over Ukraine, Iran, and Uzbekistan.  In the semifinals, Gilman defeated Jong of Korea, 5-4.
In the finals, Gilman dropped a 6-0 decision to Takahashi of Japan. Gilman was able to get in on his patented single several times, but was unable to score.  For his first World Championships, Gilman had a great tournament.
Gilman had a very unlikely road to the World finals.  He began his trek by winning the Last Chance Qualifier just to get into the World Team Trials.  At the World Team Trials, Gilman went through one of the toughest gauntlets that I have ever seen to win the mini-tournament. In the World Team Trials finals Gilman defeated former Hawkeye national champion Tony Ramos in a best of three to make the World Team.  
Actually, you have to go back one more step.  Gilman dropped a heartbreaking match in the semifinals of the NCAA tournament and placed third at 125 lbs.  I just have to think that Gilman would not have won a  Freestyle World Silver if he had won the NCAA title.  What a great example of coming back tougher than before after a loss. That is a great story to be told for many years.
Gilman became the first wrestler in the Tom Brands era to win a World or Olympic medal.  That is a huge step for the Iowa Wrestling program.  This should also prove to be an additional recruiting pitch to have World Silver medalist Thomas Gilman in the room.  This is also good momentum for Iowa Wrestling heading into the recruiting season for the Class of 2018.  
Congratulations to Thomas Gilman for winning the World Silver and thank you for the great entertainment.
It is great to be an Iowa Wrestling fan.
Round 1: Gilman (USA) over Yatsenko (Ukraine) 5-2
Round 2: Gilman (USA) over Artri ( Iran) 3-0
Quarterfinals: Gilman (USA) over Safrov (Uzbekistan) 12-1 TF
Semifinals: Gilman (USA) over Jong ( Peoples Republic Korea) 5-4
Finals: Takahashi (JPN) over Gilman (USA) 6-0