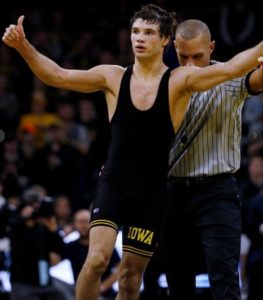 Thomas Gilman of the University of Iowa will be in action representing Team USA at 57 kg/125.5 lbs. in the 2017 Freestyle World Championships in Paris, France.  For his schedule, I am using the press release from the Hawkeye Wrestling Club. I trust their time conversions of Paris time to Iowa time.  There are also listings on how to watch the action live through TrackWrestling.
I will be updating results on:
Facebook: https://www.facebook.com/IowaWrestlingFan/
Twitter: https://twitter.com/iawrestlingfan
Go get 'em Gilman!!!
From Hawkeye Wrestling Club:
Thomas Gilman is competing at the 57kg spot for team USA at the World Championships in Paris, France on Friday. He has been in Germany for the past week at acclimation camp and is now in Paris, France doing his final preparations before competition on Friday!
Here is Gilman's full World Schedule
Thursday (8/24)
Medical check & Weigh Ins.
Bracket is set immediately following weigh in 5:45pm.
Friday (8/25)
Opening Rounds (03:00 a.m. – 09:30 a.m. CT)
Medal Matches (12:00 p.m. – 02:30 p.m. CT)
Trackwrestling, a division of NBC Sports, will stream the entire tournament and provide broad coverage of the World Championships at http://www.trackwrestling.com/uww. Fans can watch every match live and on-demand for $9.99.
As well as TrackWrestling NBCSN will air 6.5 hours of tape-delayed coverage in the afternoons and evenings —  Aug. 23 (3:30-5 p.m. ET), Aug. 24(4-5 p.m. ET), Aug. 25 (7-9 p.m. ET) and Aug. 27 (3-5 p.m. ET) — while the newly launched Olympic Channel: Home of Team USA will televise live medal-round action from 1-3:30 p.m. ET each day of the tournament. Click here for an Olympic Channel: Home of Team USA channel finder.
We will also be doing our best to keep you up to date on social media on competition day.
Follow us on Twitter: HWC_wrestling
Like us at Facebook: Hawkeye Wrestling Club