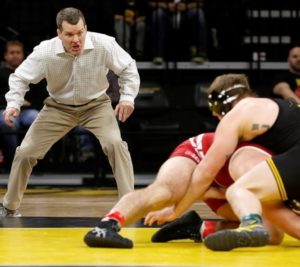 There is a lot going on in the world of Iowa Wrestling right now.  Wrestle offs are next week and the official practices have began.  You can feel the intensity and anticipation in the room as the calendar is closing out October.  This is an extra exciting time of the year for Iowa Wrestling fans with the anticipation of the upcoming season.  With that in mind, I thought a Tom Brands interview was needed.   
Coach Brands, you are entering into your twelfth year as head coach here at Iowa.  What are your thoughts heading into the season for Iowa Wrestling?
Tom Brands: This is just like every other year.  We have another group of guys and some young guys.  When I say it is like every other year, I mean that the mission is the same.  We have a  group of guys that are younger, unproven.  Really there are three categories.  There are two veterans that are proven, Kemerer and Sorensen.  There's a group of sophomores and juniors in Stoll and Wilcke and Gunther come to mind where you have a lot of growing up to do.  The success of the team is going to hinge on that group.  You can throw Turk in that group, you can throw Phil Laux in that group.  
Then there is a group of freshmen that are training and progressing and we may use one of those freshman.  It is a lot of excitement just because of the new faces.  I know that a lot of fans are excited because of the new faces.  When you lose four All Americans you know what, it is an exciting time.  Most programs would maybe be in panic mode.  We are not in panic mode.  We know we have work to do and we're doing the work.
You just had another great turnout for the HWC Shoot and there is a ton of momentum coming from the Hawkeye Wrestling Club.  Can you talk about the influence of the additional input of the Hawkeye Wrestling Club since the end of last season and what impact that has had on your program.
Brands: That impacts our program in a lot of ways.  It impacts our program first of all with awareness about what the HWC is and what the needs we have that's really been clearly communicated.  It wraps up the entire program because you are bringing in guys like Boris Novachkov.  We're bringing in Jesse Delgado. Telford is still a mainstay.  McDonough is a mainstay.  Both Dardanes are here.  Burak is here.  Then you add Gilman, Clark, Meyer, and Brooks. So there are a lot of new faces there.  
Randy Novak (President of HWC) has done a great job and we have talked about it a lot.  He has done a great job of making what I would say is tremendous awareness steps.  But more than that keeping us in the forefront of the conversation.
Penn State has ten times more money than us that's spendable.  We have done a lot of research.  There is some ground we have to catch up on there.  It is not the reason we are getting beat but it is a boon to their program where we are going to have to pick up the pace there.  When we make a decision to bring a guy in it can't be man, do we have the money?  Can we afford that guy?  It should be that if this guy is good for the program then boom, we should be able to make that happen.  I am talking about postgraduates.  We made the Perry thing happen.  We brought in a couple of guys from outside the program.  Still you're weighing things and running it by the Board which you always will.  But Randy Novak has done a tremendous job of communicating that there is a bit of inequality here that is going on. Our budget is right around $500,000 and Penn State's balance is $5 million.  
We spend every dime we raise.  To meet our budget we are raising money hand over fist.  You know what?  It's been done before.  It was done in the early 70's.  We are going to meet with a lot of people and we are going to keep this thing going.
We are we at with the stand alone wrestling facility?  As I call it: The greatest wrestling training facility…in the world.
Brands:  On the facility we got some good news on that.  Another step that we've taken there where we are going to study location and there is even more optimism now than just we'll see about that.  We went from we'll see about that to it might work.  And then the next step we'll proceed with the architect.  And then they will put a pricetag on it and then it's a go.  There are a lot of good things that are happening there.  We have some folks because of that announcement in the early part of September that want updates all the time.  I can tell you that we are moving in the right direction.
Could you tell us about the impact of Thomas Gilman winning the World Silver and what that has done for your program?
Brands: First of all Gilman is invaluable to our program.  He is a leader.  That's probably the biggest change with our team.  Kemerer and Sorensen are not that type of leader.  I don't know if we are missing him because he is still in our room.  We sure enjoyed having him being the guy that he is.  That's number one.  Number two is his results.  They don't speak for themselves because that would be like it was automatic.  Nothing like that is automatic.  It is certainly not a surprise.  He is already gearing up for competition in Iran December 4-5.  He's right back at it.  He had a couple of training camps.  It is huge for our program.  Huge!
Troubling news about University of Iowa Athletic Director Gary Barta being out on medical leave.  
Brands:  Troubling because there were a lot of unknowns.  There has been some news coming back that's good news.  He had the procedure done with the prostrate and then he was waiting for the lab results.  The lab results came back as good as they could for now.  Then in a month he does more tests and that is how it is done.  So right now it is as good as can be.  The procedure went well.  He's a warrior.  He's a man of great strength and great faith.  There is a lot of common ground of Gary Barta and how we operate here just because of that.  So I have my finger on that pulse without being overbearing to him but I have also got good news and feel really good about it.  That guy has weathered some storms as you know.  But he is a great leader and a testament to his leadership is that we have not missed a beat.  I report to Barbara Burke and it is like Gary Brata is not even gone.  Things are progressing.
I know you are concentrating on the upcoming season, but could we look ahead to the Freestyle World Cup coming to your house here at Carver Hawkeye Arena.  What does that mean to your program and what are your thoughts on the University of Iowa hosting the World Cup of Freestyle in April?  
Brands: A lot of things had to happen.  You have to thank Matt Getz, our event people.  Josh Schamberger of the Iowa City/Coralville Visitors Bureau.  You thank UWW.  They had an onsite visit here and it was a no-brainer after an hour of being on site here.  This is a special place for wrestling and we should have International events here.  Luke Eustice is working hard to get the Junior Worlds here with Josh Schamberger.  I do no think we can hold a Senior level World Championships and that is why we pushed hard to get the World Cup here.  
There is a lot of credit that goes to a lot of people but the bottom line is it is not because it is an event friendly community, which it is.  It is because of what the wrestling community here is about.  It is about that statue out in front of Carver Hawkeye Arena.  It is about the reputation you have when we put over 42,000 people in a dual meet to watch it and it is shown world-wide.  Russia and Iran weighted in on it with their media.  You sell out the Olympic Trials in 2012 and nearly do it again in 2016.  You have 13,000 plus people there.  You have Hawkeyes that are sticking around and doing well internationally.  Gilman really boosted that.  Gilman is going to be the hometown guy.  There are just a lot of reasons to be excited about this event coming up.  But more importantly, just being a Hawkeye wrestling fan.
Why can't we host the Senior World Freestyle Championships?
Brands:  I guess the infrastructure and hotels.
Any rules changes for college wrestling this year that us fans need to be aware of?
Brands: They call it an NDS.  It is a Neutral Danger Signal.  It is when you are in the NDZ, the Neutral Danger Zone, I am laughing but those are real acronyms. Basically when you are in a  yin yang position where you have my feet and I dive and roll between your legs or pass the foot or whatever and we both have each others feet.  If I have you in a 90 degree angle or less, then the referee is going to say: "Danger" and then he is going to count to three.  When he counts to three if you don't come out of that 90, then it is a two point takedown.  And then when you are awarded the takedown, then the referee will be looking for a 45 degree angle, which is what backpoints are, and he will award those nearfall points.  
I am a big fan of Sam Stoll.  When can Iowa wrestling fans expect to see Stoll back in action for the Hawks?
Brands: I think you will see him right away.  The question that he is getting a lot is how is your rehab?  And his rehab is going just fine. So we're there we just have to really make sure that he stays in good positions.  And not just because he is not healed, because he is.  We need to make sure that we keep him healthy.
You went back to the wrestle off format of the past.  Could you tell us why you went back to that and what you are looking for in wrestle offs the weekend of November 4.
Brands: I think it makes sense when you look at our lineup and you look at what's not returning.  We have two returning weights and it is pretty competitive in there.  So you are looking at weight classes that we want to see who is emerging there.  We're as excited about that as much as the fans are.  Sometimes it doesn't make sense to have wrestle offs.  There are reasons why and I don't think everybody needs to know those reasons why.  There are a lot of new faces where I think the fans are even more excited this year with Marinelli, there has been a lot said about him.  Sam Stoll with his injury.  Kaleb Young, Wilcke, and Gunther are they going to be the same or grow up a bit.  Vince Turk, he had shoulder surgery last year.  What's he going to look like?  And then what are you going to do with Spencer Lee?  What about other things that are unknowns?  And the questions just keep coming.  That's an exciting time for Hawkeye fans.
Will fans be allowed to come into wrestle offs and will wrestle offs be in the wrestling room?
Brands:  Yes, the fans are welcomed in and the wrestle offs will be in the wrestling room. We love it packed in there.  
*****The schedule of wrestle offs is pending.  I will release the wrestle off schedule as soon as it is released next week.
You have led the country in attendance in each of your eleven years as head coach at Iowa.  When you look at this year's schedule, what do you think the key is to keep that streak going?
Brands:  We've got to have our fans show up and that means we have to put exciting wresting on the mat.  You look at what our team will look like and that will determine if we keep that record or not.  The home schedule does not favor us. But our fans favor us.  We have to do our job when we are out there competing.  We have to put an entertaining product on the mat and we have to put a winning product on the mat.
You have the annual coaches clinic coming up on November 3-4 with one of your former stars Jody Strittmatter as the guest clinician.
Brands: We have been trying to get Strittmatter for a couple of years.  Last year we had him close but he has a young family so it is hard for him to get away.  We are really excited about having him.  We have Kemerer, Lee, Murin, and Young in our room that are his guys.  He knew Patrick Duggan who is in our room.  A lot of overlap there with Strittmatter.  So we're excited to have him and it will be great.  Ben Berhow is in charge of that.  
That is a great event with the Ohio State football game and the coaches clinic and it is a wrestle off weekend.  So that is back to the old days.  The last couple of years not only have we not had wrestle offs we didn't have a good weekend where the football schedule was off a little bit.  When you do it in late October it just does not feel the same.  When you go into November and you actually make it part of the schedule that's important because October is just too early for those matches for me personally.  We have guys that are grinding every days so there are going to be some workouts and entertainment that week.  We are moving along and progressing just like we need to.
I know you cannot talk about recruits until you receive the National Letters of Intent on November 8.  Can you give me a general overview of the recruiting season?
Brands: Recruiting is going fine.  We don't have a lot of money.  We are strapped for money.  There are 9.9 scholarships.  We do it legal.  We do it by the book.  We are working hard to make sure we get the best guys in our program.  We have two very good commitments right now.  We are very happy with that.  You just cannot throw money, it's not unlimited.  People have to understand that.  I know that Ryan Morningstar does a great job with that.  I have complete faith in him.  Last year we spent three and a half scholarships.  When you have three and a half scholarships available, you know what it is pretty dang easy to bring in eight or ten top flight recruits and you are going to get five or six of them.  Plus a transfer with Lugo.  You are going to be able to do that.  We don't have money.  And because we don't have money we have to be kind of careful exactly how we recruit.  
We have some commitments out there on our end that have not been taken and we are not waiting anxiously but we are curious how they are going to work out.  We are looking forward to getting word on those.  We are excited, we are excited about this class.  We are now doing work on the junior class.  We have full partners and we love it.  We have full partners with the Hawkeye Wrestling Club guys.  We have full partners with our fans.  We have full partnership with our athletes.  And we have full partnership with the parents of those athletes.  There's not a lot of drama right now.  It's quiet.  And you know what maybe the drama will come when my son is not the number one guy.  We have a little bit different dynamic there.  It is just not about being in the lineup.  This is important to a lot of people how this program progresses and does.  We are on the same page as our administration.  It's endless.  We're fired up.
*****The schedule of wrestle offs is pending.  I will release the wrestle off schedule as soon as it is released next week.
It is great to be an Iowa Wrestling fan.