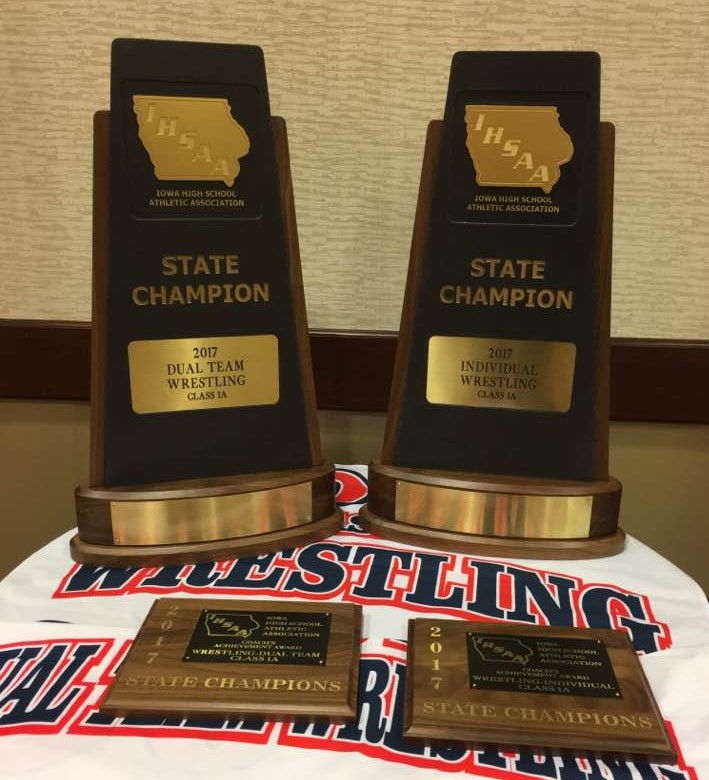 The Lisbon Wrestling season of 2017 will be one to remember as the Lions swept the Dual State and Traditional State titles in dominating fashion.  It also marked the first state title at Lisbon since 1993.  Lisbon is now in second place all time in Iowa high school wrestling history with fifteen state titles, only two behind Waterloo West.
Last year's traditional state title was also a milestone for Lisbon coach Brad Smith as it was his eleventh state title won and put him in a tie for most titles won by a coach in Iowa with the legendary Bob Siddens of Waterloo West. A title this year would put Coach Smith alone in first place and Lisbon only one title behind Waterloo West as the most successful wrestling program in the history of Iowa high school wrestling.
Smith, originally from Arlington Heights, IL (Hersey HS) made his way to Lisbon in the fall of 1978 after winning an NCAA national title at 142 lbs. at the University of Iowa. He was a part of building the legendary Iowa Wrestling tradition.
The Lions return 95.5 points from last year's team, which would have to be a record for Lisbon.  The 2018 Lisbon squad has the potential to be better than last year, and by a decent margin.  The competition is tougher in 1A this year so an improvement will be needed to bring the state title back to Lisbon.  
I could think of no better way to get us ready for the upcoming Lisbon Wrestling season than to get an interview with two-time National Coach of the Year Brad Smith.
Looking back, what are your thoughts entering your 40th year as an Iowa high school wrestling coach?
Coach Smith: This is one of the better teams I have ever had.  1A is going to be pretty stacked this year with Denver coming down, Don Bosco, Missouri Valley.  I am looking forward to a great season.  I really feel our kids will step up and do what it takes to win another title at Lisbon.
You are returning nearly all of your points from your team last year that won traditional and dual state.  This has to be a record or near record for returning points.
Coach Smith:  Chase McLaughlin won one match to score two points so we have 95.5 points returning.  
Do you ever think about records or all time best teams?
Coach Smith: I just look at it one season at a time.  Once the season is over, I am always getting ready for the next season.  My job as a coach is 365, 24/7 pretty much.  I am always thinking about ways to improve the team, find the best weights, and find the best type of workouts and training programs that we can for our wrestlers.  I think one of the reasons for my success is I think I peak the guys at the right time.  We don't push them real hard the first half of the season.  As we get going towards January we really step it up and fine tune our technique and make sure they are in better shape than everybody else.  I really feel we work harder than any other 1A team in the state.  That shows in our matches.  We have several kids that can go six minutes tough.  Even if we are down two or three points going into the third period I really feel our kids can come back.  They have the confidence they can come back because they know how they have trained.
I was happy to hear that Cooper Siebrecht signed with D-II power Minnesota State.  How do you influence your wrestlers to pursue their wrestling career in college or as a coach?
Coach Smith: I have had several guys go on to compete in college and coach.  That is something that is really neat for me to see people carry on the tradition.  Last year Chase McLaughlin went to Grand View and he is competing there.  Jack Butteris graduated and is not wrestling but he is out for track and doing real well academically.  I am excited to see Cooper pick Minnesota State.  I know the coach there and he is a really good coach and they have a really nice program.  We have a couple of other guys that are a possibility to wrestle in college.  Bryce Werderman is looking at Luther or Cornell if he decides to wrestle.  One of the things as a coach you like to see is kids leave the program with a positive attitude and they had a great experience.  Whether they go on to wrestle at the collegiate level or even coach.  I want them to leave the program as good people, good citizens, and the work ethic they need to be successful.  
Coach, I would put the Lisbon Wrestling coaching staff up against any coaching staff in the country regardless of state or size of school.  I believe it is ten state titles on your staff that were all won wrestling for you.  Can you tell us how important it is to have that seamless transition between you and your former wrestlers that are coaches.
Coach Smith: Jeff Clark, a state champ I coached, is out head junior high coach.  Brian Hall, a state champ for me in 1980,  helps out with the junior high.  Shane Light (4 state titles), Dean Happel (3 state titles) wrestled for me.  Joe Kilberg is one of our coaches.  Matt Gogel, who wrestled at the University of Iowa, is the head coach of our kids program.  I found out that when you get a little bit older, you need to surround yourself with good people and that is what I have done.  Greg (Butteris – state champ) and I are the only ones that are paid coaches in the high school and then we have seven volunteers.  Guys that put in their time and want to be around it.  They are helping the kids and they are there almost every day.  They all have their jobs and everything.  When I first started out at Lisbon, I did everything by myself, but I was 24 years old.  Now I am a few years older.  You have to delegate authority.  I can ask any of these guys to show anything in the room and I know they are going to show it the way that I like to see it.  A lot of the technique and moves that we use are what I had showed them when they wrestled for me.  They know exactly what I want and it makes my job just that much easier.  
Coach, could go weight by weight through the lineup for Lisbon this year?
Coach Smith: It might vary a little bit.  We are still looking for a 106 pounder.  At 113 we have sophomore Gage McCoy.  He was 9-5 on varsity and 15-1 on JV.  He worked with Cael Happel and Cobe Siebrecht and those guys in the room so he is going to battle every day in practice and they're going to help him.   At 120 we have returning state champion (at 113) Cael Happel, a sophomore.  He is looking as good as ever.  We have Cobe Siebrecht, a junior, at 126.  He was a State Runner-up last year at 106.  I know he is up three weights but his natural weight is about 134 so he will be cutting down to get to 126.  He's looking real good too.   You never know what he is going to do.  He is fun to watch.  
At 132 we have Ryan Mohrfeld, who is also a junior.  He was sixth in the state last year and made it to the semifinals.  He dropped two matches at state to real tough opponents, but he did get on the awards stand.  I expect him to be in the top three this year.  He has really come on.  At 138 we have two wrestlers.  Clay McCoy, a senior who took third at Districts at 160 and now he is down to 138.  Last year he weighed in at 146-147.  He just missed going to the State tournament.  He is out until probably the first of the year with a broken wrist from football.  We also have junior Max Abodeely.  He has some work to do,  he is below .500 for his career on varsity.  He has got better technically and hopefully he will step up for us and I'm sure he will.
At 145 we have Cooper Siebrecht, a senior.  He has placed at the State tournament three times, fifth, fourth, and third last year.  He probably overall has looked the best in the room so far.  His technique has really gone up and he is using a lot of different things on his feet.  I look for big things from Cooper.  At 152 we have Kaden Kilberg, a senior.  Last year he placed fourth at 152.  He is one of the hardest workers in the room.  At 160 we have Ryan Kahbo, a junior.  He wrestled ten varsity matches last year and did a good job.  He is a hard nosed kid that goes out and gives you 100% every time.  At 170 we have Bryce Werderman, a senior.  He was a State qualifier as a sophomore and placed sixth last year.  He lost a couple of real close matches on the back side, one was in overtime.  I expect him to be top three and that is his goal.  Bryce and Cooper are our two captains on our team.
We will have two guys weigh in at 182 and one will bump up to 195.  Jake Jennett, who came out late last year and did an awesome job for us and was a State qualifier.  He is looking really good.  He has really improved.  We have him for the whole year so he is going to get better.  Cole Clark is the other wrestler at this weight.  He is probably our top freshman.  He works really hard in the weight room and got a lot bigger.  We will just flip those guys around at 182 and 195.  At 220 we have Logan O'Connor,a senior that qualified for State last year.  If he picks up his offense out there he will be a tough guy to beat.  We are looking for big things from Logan.  Another wrestler that may compete at 220 and Hwt is Brant Baltes, a freshman.  He weighs about 211 lbs.  He is pretty athletic and good technique.  He has been wrestling a long time.  We have another freshman at Hwt, Braxton Kurtenbach.  He is about 255, big, and really athletic.  I am excited about having three real good big freshman in our lineup that is really going to help us out down the road in the future.  
I know it has been a cornerstone for Lisbon Wrestling going back to Al Baxter and still with you of wrestling really tough competition against bigger schools during the season to prepare for the season ending tournaments.  You begin your tournament season at Independence, one of the toughest tournament in the state.
Coach Smith:  We are going to have some kids take some lumps, but in the long run it makes you better.  Our kids don't get down.  We have pretty much dominated our conference the last three years.  So we have to go out and seek other competition.  Like the Independence tournament where we will wrestle between six and nine matches there.  The Mt Vernon tournament is always tough.  Battle of Waterloo, that is a fun dual meet tournament that we get six meets in with a lot of 3A teams.  Solon tournament is always tough. Bob Lueders tournament in Clinton where we see teams from different states and different styles of wrestling.  It's a grind.  This week we can wrestle up to fifteen matches by the end of the week if there are no open weights.  Three duals on Tuesday, three duals on Thursday, and between six and nine matches on Friday and Saturday at Independence.  
Could you compare and contrast Iowa high school wrestling now and when you began your coaching career forty years ago?
Coach Smith: I think kids are a lot better technically.  I think kids study the sport more and they have more opportunities.  I think there are better coaches now that work with these guys.  A lot of our guys are involved with the Eastern Iowa Wrestling Club that do a great job.  James Kelly, Matt McDonough, Terry Brands.  That is an awesome opportunity.  There are so many things that kids can do now to get to the next level just because of the opportunities with freestyle, Greco-Roman. There are all of the training sites now in the off season.  Kids can be as good as they want to be and they have more opportunities than they did forty years ago. Kids train smarter too.  Because the coaching has improved I think the kids train smarter and know how to set their goals more now than they did forty years ago.  I think those are the main differences.  
You are tied with Bob Siddens of Waterloo West for the all time record for most state titles won as a head coach with eleven.  You have a chance to go into sole first place all time.  Have you looked back at records or you coaching legacy in the history books?
Coach Smith:  That goes with putting a lot of time in.  I have worked hard to get where I am at.  I have been fortunate to have a lot of great athletes and a lot of good people to help me out to get where I'm at.  I have had the support from the athletes and the community and coaches that I have with me that have helped me reach where I am now.  If it happens it happens. If it doesn't I am going to just keep going.  I have no intentions of giving up the sport.  I love it too much and still have the passion to keep the program where it needs to be and that's on top.
Lisbon needs two to tie and three to go ahead of Waterloo West for the most state titles won to be considered the most successful wrestling program in Iowa high school history.  What makes this even more impressive is that the titles at Lisbon began in 1973.  What is it about Lisbon that has made them so successful in winning all of these titles?
Coach Smith: Obviously the man that really got the program going was my buddy Big Al Baxter.  He set the tone.  He won five titles in the previous six years when I took over.  I came in and we were runner-up the first year and then we won the next year in 1980.  When I first came, I was training them like it was a college team. They weren't used to that.  We didn't lose kids but they were not responding real well initially.  Then all of a sudden it clicked and guys understood where we were coming from.  I really pushed that the kids get involved in the off-season and I felt we got them to another level with success and being competitive until the 90's when the program didn't go down hill but they were not as competitive as they were with Al and myself.
We have been doing the right things and I think it will continue to be that way.  Our feeder system with the Mat Pack is doing real well with good numbers.  Our junior high is wrestling tough.  We have another Happel and Siebrecht coming up next year.  Our future looks good and we are going to hang in there as long as we can.
Good luck to the 2018 edition of Lisbon Wrestling.
Go Lions!