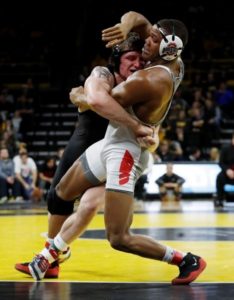 During the Iowa Wrestling Media Day, I was able to get a much needed interview with Sammy Brooks who had a great showing at the U23 Freestyle World Team Trials in October.  Brooks defeated NCAA national champion Myles Martin of Ohio State in two straight matches in the finals.
Brooks will now represent Team USA in the first ever U23 (Under 23 years of age) World Freestyle Championships in Bydgoszcz, Poland, November 21-26.  From my understanding, U23 has replaced Universities as an International World Championship.  Brooks was a two-time All American for the University of Iowa at 184 lbs. in 2016 and 2017.
Brooks making this world team was huge for the Hawkeye Wrestling Club and Iowa Wrestling.  Having an Iowa wrestler make a world team at a heavier weight is also great for an added recruiting pitch.
Sammy Brooks, you made the Freestyle World team for U23.  What is it like representing not only the University of Iowa, but the United States at such a big international event?  
Sammy Brooks: It's great.  I get to compete now not only against wrestlers from America, but the best from all over the world and get different feels.  You get to go to new and exciting places and be the guy for the US so it's really cool.
You were always known for being very aggressive in folkstyle.  You looked even better in freestyle.  Especially with the new rules, how do you adapt to freestyle?
Brooks: I think for freestyle I am set up pretty good because I can stay smart and stay in good position.  The edge rules in freestyle are playing a big advantage to me.  Getting guys on the edge and making them panic.  Being able to wrestle freestyle is definitely a bonus for me.  
The weight change for you was going from 184 to 189.5.  How has the added weight helped you?
Brooks:  This will probably be the last tournament that is a one day weigh in.  This is a perfect weight for me.  I can pretty much be on full feed all year round and I don't have to kill myself to make weight and I get what I want.  It works out pretty well for me.
Could you take us through your schedule?  Will you have another training camp at the Olympic Training Center?
Brooks: We went to the Senior camp a couple of weeks ago.  Gilman and I went out to Colorado Springs.  Other than that there has not been another camp.  We leave on the 20th (November) so all of my training will be here.
You are now in the Hawkeye Wrestling Club in your first year out of college.  What has it been like taking that step and helping the younger Iowa wrestlers that look up to you like those before did for you?
Brooks: I think the individuality of our club benefits me too.  Now that I am off the mat more and have a smarter approach to my wrestling, I get to sit back and watch these guys wrestle more and watch some of my teammates more where I wouldn't have before.  Now I get to sit back and watch some of these workouts and really pick out some finer things to help these guys with.
It has been a great year with Thomas Gilman bringing home the Freestyle World Silver.  Now we have you representing the Iowa Wrestling program for our country in an international world tournament.  What's it like to represent Iowa and take that torch out there in an international scene?
Brooks: It is great and it's also awesome having Gilman doing what he did.  I lived with him for five years.  I can't have him go and kick a bunch of butt and play second fiddle.  So I have to win some medals and do some stuff too and let him know he's not alone out there.
Have you had a chance to work with true freshman Jacob Warner?  Any feedback on him?
Brooks: Jacob Warner has the heaviest hands in college wrestling.  It feels like he is dropping anvils on your head when he clubs you.  And he can move really well for a big guy.  So he is going to do really well.  When he gets is locked up and sharp he is going to be good.   
I will be posting results for Sammy Brooks at U23 Worlds on Facebook: https://www.facebook.com/IowaWrestlingFan/ andTwitter: https://twitter.com/iawrestlingfan