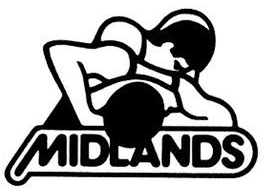 It is a right of passage for the holiday season to look forward to Iowa Wrestling competing at the Midlands. This Midlands should be even more exciting than usual with so many weights still up in the air and the big names competing as unattached.  The action will begin on Friday at 9:30 AM and finish up with the finals at 7:05 on Saturday.  You can bet there will be a lot of very entertaining wrestling as always.
Iowa has dominated the field for the team title in recent years, but Arizona State will provide a very strong challenge for the title this year.
With Laux and Glenn at 133 and Happel and Turk at 141, a varsity spot for after the first of the year will be on the line.  I am also looking forward to seeing Marinelli at 165 in a setting like Midlands.  And of course, Stoll at Hwt will look to make a statement on his return to the lineup this season.
For the the first time ever, Iowa fans will be watching the unattached Iowa wrestlers more than the varsity.  That could only happen at Iowa.  I am sure there will be a lot of interest for Iowa Wrestling fans on how Spencer Lee does at 125 lbs.  Lee competed in the UNI Open but Midlands will be a real test for him.  A possible match with second ranked Nick Suriano of Rutgers may be the match of the entire tournament.
Lee's Iowa Wrestling Recruiting Class of 2017 teammates Max Murin (141), Jacob Warner (197), and Aaron Costello (Hwt) will all be in action.  Murin may be in the running for a varsity sport at 141.  Warner will face some tough competition at 197.  Even if Warner has a great tournament, i still look for him to redshirt.
I do not have it confirmed yet, but I believe Pat Downey is competing unattached at 197.  With Wilcke, Warner, and Downey at the same weight, wow, that will be very entertaining.  Downey recently graduated from Iowa State and is in the process of enrolling at Iowa.  Should he be eligible second semester, I look for Downey and Wilcke to fill the varsity spots at 184/197.  I will add that I have been impressed with Mitch Bowman so far this season at 184.  That is amazing depth for the Hawks.
I am also looking forward to seeing Pat Lugo at 149.  This will be Lugo's first competition of the season since he transferred to Iowa from Edinboro.  There are a lot of future stars of Iowa Wrestling competing in the unattached section.  One of the best groups I can remember for Iowa Wrestling at the Midlands.
There is a lot to be excited about for Iowa Wrestling in the Midlands.
The wrestling will take place in the Sears Center Tower while Welsh-Ryan Arena at Northwestern is undergoing a $110 million renovation.
You can tune in to KXIC on 800 AM or iHeartRadio for all of the action.  You can watch all of the matches on BTN2Go or FloWrestling as part of a premium subscription.
Schedule:
Friday, December 29
First Session 9:30 AM
Second Session 7 PM
Saturday, December 30
Third session (Semis, consolation, 7th place matches) Noon
Finals (1st/3rd/5th place matches) 7:05 PM
*All times are CST.
Iowa wrestlers competing:
Justin Stickley
Phillip Laux
Paul Glynn
Carter Happel
Vince Turk
Brandon Sorensen
Jeren Glosser
Michael Kemerer
Alex Marinelli
Kaleb Young
Joey Gunther
Mitch Bowman
Cash Wilcke
Sam Stoll
Competing unattached:
Spencer Lee
Max Murin
Pat Lugo
Jacob Warner
Pat Downey
Aaron Costello
The Hawks are ready.
Let's get 'em in the middle.