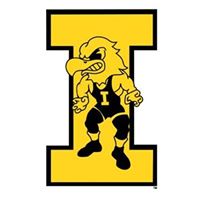 Incoming Iowa Wrestling recruits crushed their opponents this weekend by pinning all nine of their opponents in the first period in matches wrestled.  That is impressive.  Anthony Cassioppi (Hwt) of Hononegah High School (Roscoe, IL) had a double dual on Saturday.  In his match against Glenbard North he took his opponent down and let him up nine times before pinning him in the first period. His second match was against second ranked Jose Ramos of Prospect.  Cassioppi took him down and let him up three times before getting the first period pin with the dual meet on the line for a Hononegah win.  
Nelson Brands of Iowa City, IA  (West HS) did not get tested at the Battle Of Waterloo on Friday and Saturday.  Brands recorded four first period falls and received and injury default and a forfeit.  He had two pins at 170 lbs. and competed at 160 for the remaining matches.
Joe Kelly of West Liberty, IA dominated his competition at the Xavier Duals in Cedar Rapids.  Kelly recorded three first period falls and received two forfeits at 152 lbs.
Cassioppi, Brands, and Kelly are the Iowa Wrestling Recruiting Class of 2018 and are all of to a great start in their senior season.