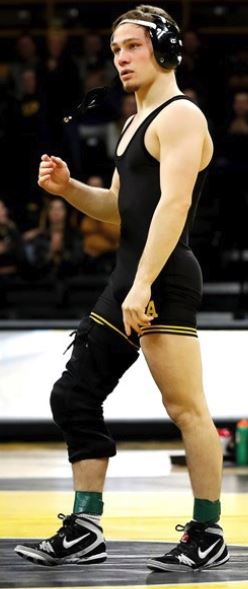 Iowa dropped their first dual meet of the season at Ohio State, 22-12.  Iowa won four of the ten matches in front of a crowd of over 15,000.  Overall, I was very pleased with the effort that I saw out of Iowa.  You never want to see Iowa Wrestling "Not win", but there were a lot of very positive things to take away from this dual meet.
Spencer Lee is…Spencer Lee.  Being a true freshman going into a hostile crowd of over 15,000 to face a D-I national champion like fifth-year senior Nathan Tomasello and getting the win is the stuff of legend.  Lee showed some amazing mat wrestling by riding Tomasello the entire second period. That set him up for a 3-2 win  Here's what makes this even better.  Spencer Lee will get a L-O-T better over the next seven and a half weeks going into the NCAA's.  
Paul Glynn and Carter Happel fought hard against ranked wrestlers and did their best.  BTN announcer Jim Gibbons mentioned several times that heading into Hwt, Iowa had not been blown out at any weight class and how important that was to the team.  133 and 141 are examples of just that.
Brandon Sorensen showed resolve and experience in defeating #6 Ke-Shawn Hayes at 149 by a 4-2 decision.  I am hoping when these two meet again the official will actually call stalling.  Solid win for Sorensen.  Michael Kemerer dominated #6 Micah Jordan the first two periods on his way to an 8-4 decision.  Alex Marinelli won his four state titles in high school in the Schottenstein Center and looked real tough in defeating #13 Te'Shan Campbell 4-1 at 165.  I mentioned in a pre-season blog that I thought Marinelli had the Old School toughness.  He showed that toughness with his performance in that match especially with the last takedown with a 2-1 lead.  Bull Marinelli is t-o-u-g-h.
From my perspective as a fan, what Iowa Wrestling truly is was shown at 174 and 184.  Freshman Kaleb Young made his first ever appearance up at 174 against #3 Bo Jordan that has placed third, third, and second in the nation the last three years.  Young fought every position and got a late takedown to drop a 10-5 decision. That match showed guts.  That is something you can build off of.  Mitch Bowman found himself down 10-0 in the first period to #2 and former NCAA national champion Myles Martin at 184.  I thought the second set of four backpoints that was challenged should have been waived off and so did the announcers.  After the initial 10-0 burst by Martin, Bowman actually outscored him in the second and third period, 8-7.  Martin won the match 17-8, but Bowman scored a third period takedown and was very close to backpoints.  Love the effort and fight out of Young and Bowman.
Even though Cash Wilcke dropped a 6-3 decision the #1 ranked Kollin Moore at 197, the match just did not seem that close.  They were on their feet late in the third period in a one-point match and Wilcke was in a position to win the match.  I think more than anything Cash Wilcke needs confidence in the big matches against highly ranked wrestlers.  He definitely has the skill set.
I support the decision of coach Tom Brands not wrestling Sam Stoll at Hwt.  Keeping Stoll healthy through nationals is priority #1.  Good call coach.  Steven Holloway fought hard in dropping a tech fall to World and Olympic champion Kyle Snyder.
I am not the only fan that believes Iowa Wrestling did nothing to hinder their momentum of progressing throughout the season with this dual meet.  The overall effort was there and I believe the Hawks competed at a high level against a very stacked team in a hostile environment.  Iowa Wrestling is a better team than they were before that meet started.  I will take the progress and moving forward to Cleveland. There is a lot of living to do in the next seven weeks before the NCAA's.  I expect Iowa Wrestling to live well and have a great NCAA national tournament in Cleveland.
Iowa is in action next this Saturday at home against #5 rated Michigan.  This will be another very tough dual meet with a lot of great matchups.  The action begins at 5PM  on Saturday, January 27 in Carver Hawkeye Arena.  I am hoping we can get 10,000 fans in the stands.  The Hawkeye Wrestling Club Polar Plunge is right after the dual meet.  I know there are former Iowa wrestlers and Iowa wrestling fans and supporters that are coming in from around the state and country for the dual meet and Polar Plunge.  This will be a great night of Iowa wrestling.  Hope to see you there.
#3 IOWA 12, #1 Ohio State 22
125 — #6 Spencer Lee(IA) dec. #1 Nathan Tomasello (OSU), 3-2
133 — #2 Luke Pletcher (OSU) dec. Paul Glynn (IA), 8-2
141 — #11 Joey McKenna (OSU) major dec. Carter Happel (IA) 13-2
149 — #2 Brandon Sorensen (IA) dec. #6 Ke-Shawn Hayes (OSU), 4-2
157 — #2 Michael Kemerer (IA) dec. #6 Micah Jordan (OSU), 8-4
165 — #11 Alex Marinelli (IA) dec. #13 Te'Shan Campbell (OSU), 4-1
174 — #3 Bo Jordan (IA) dec. Kaleb Young (IA), 10-5
184 — #2 Myles Martin (OSU) major dec. #20 Mitch Bowman (IA), 17-8
197 — #1 Kollin Moore (OSU) dec. #5 Cash Wilcke (IA), 6-3
285 — #1 Kyle Snyder (OSU) tech. fall Steven Holloway, 24-9