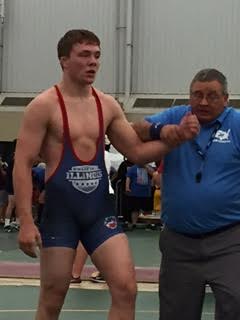 The Hawkeye Wrestling Club will be represented at the prestigious Ivan Yarygin Memorial International in Krasnoyarsk, Russia, This is known as one of the best Freestyle tournaments in the world every year and many of the top ranked wrestlers in the world will be competing.
The tournament will be on January 26-28.  I will keep you up to date with the schedule of when the HWC members will be competing.  61 kg and 92 kg are weight classes in the World Freestyle Championships but not in the Olympics.
HWC members competing:
Cory Clark – 61 kg
Jacob Warner – 92 kg
Nathan Burak – 97 kg
Bobby Telford – 125 kg
This should be quite an experience for Iowa Hawkeye true freshman Jacob Warner at 92 kg (202 lbs.).  Warner won a Bronze at the 2016 Cadet World Freestyle Championships in Tbilisi, Georgia.  It was announced recently that Russian World and Olympic champion Sadulaev will be competing at 92 kg.
I will have a follow-up blog for results and be posting results on:
Facebook: http://www.facebook.com/IowaWrestlingFan/
Twitter: https://twitter.com/iawrestlingfan