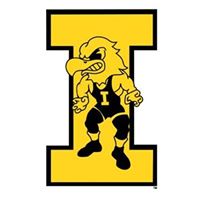 Iowa Wrestling recruits had a good day of competition on Saturday, January 6.  Anthony Cassioppi of Hononegah High School (Roscoe, IL) rolled through the Sycamore Invitational in Sycamore, IL with a 5-0 record with five falls at Hwt.  Cassioppi always has a good lead in his matches before he scores the falls as well.
Nelson Brands of Iowa City (West HS) had three falls and a tech fall at the Lepic Duals at Iowa City West at 160 lbs.  Brands, ranked #1 – 3A, pinned #7 – 3A Levi Egli of Ft. Dodge in 2:55 and won a 25-10 tech fall over #6 – 2A Cale Reichs of NHTV in 5:37.
Joe Kelly of West Liberty, IA placed second at 152 lbs. at the Bobcat Jerry Eckenrod Invitational in Van Horne, IA. Kelly, ranked #2 – 2A, dropped a 7-0 decision to #4 – 2A Mitchel Mangold of West Delaware.
Cassioppi, Brands, and Kelly are the Iowa Wrestling Recruiting Class of 2018.   
Round 1 – Anthony Cassioppi (ROCKTON (HONONEGAH)) 24-0 won by fall over Joey Wilson (HUNTLEY) 3-6 (Fall 1:16)

Round 3 – Anthony Cassioppi (ROCKTON (HONONEGAH)) 24-0 won by fall over Evan Hissong (CARY (C-GROVE)) 6-14 (Fall 1:42)

Quarterfinal – Anthony Cassioppi (ROCKTON (HONONEGAH)) 24-0 won by fall over Cobie Underwood (MOLINE) 21-10 (Fall 3:14)

Semifinal – Anthony Cassioppi (ROCKTON (HONONEGAH)) 24-0 won by fall over David Griffet (MAHOMET (M-SEYMOUR)) 24-6 (Fall 2:55)

1st Place Match – Anthony Cassioppi (ROCKTON (HONONEGAH)) 24-0 won by fall over Jace Punke (WASHINGTON) 24-2 (Fall 2:48)
Nelson Brands (IC West) over Elijah Knauls (Pleasant Valley) (Fall 0:56)
Nelson Brands (IC West) over Cale Reichs (NHTV) (Tech fall 25-10 in 5:37)
Nelson Brands (IC West) over Levi Egli (Ft Dodge) (Fall 2:55)
Nelson Brands (IC West) over Hunter Yohn (Quincy) (Fall 4:24)
Nelson Brands (IC West) over William Waugh (Lewis Central) (Tech fall 24-8 in 5:12)
Champ. Round 1 – Joe Kelly (West Liberty) 29-3 received a bye () (Bye)

Quarterfinal – Joe Kelly (West Liberty) 29-3 won by major decision over Joe Deckert (Davenport Assumption) 10-16 (MD 16-5)

Semifinal – Joe Kelly (West Liberty) 29-3 won by decision over Luke Fistler (Dallas Center-Grimes) 23-4 (Dec 9-6)

1st Place Match – Mitchel Mangold (West Delaware) 20-2 won by decision over Joe Kelly (West Liberty) 29-3 (Dec 7-0)