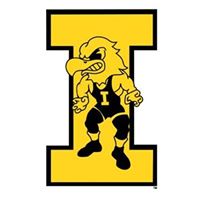 It was a good day for incoming Iowa Wrestling recruits.  Nelson Brands of Iowa City, Iowa (West HS) won the 160 lbs. title at the always thought Ed Winger Classic in Urbandale.  Brands defeated #3 – 3A Jake Matthaidess of North Scott by a 28-13 tech fall in 3:53 in the semifinals.  In the finals, Brands defeated #2 – 3A Zane Mulder of Dallas Center-Grimes by a 9-3 decision.  Brands is now 41-1 on the season.
Joe Kelly of West Liberty, Iowa had a great tournament in winning the title at 152 lbs. at the Louisa-Muscatine Invitational.  Kelly made it to the finals with a fall and 9-0 major decision.  In the finals, Kelly had a rematch with #3 – 2A Mitchell Mangold of West Delaware.  Mangold defeated Kelly 7-0 in the finals of the Jerry Eckenrod Invitational on January 6.  Kelly avenged that loss by defeating Mangold 5-2 to win the title.  Kelly is now 40-4 on the season and ranked #4 – 2A.
Anthony Cassioppi of Hononegah High School (Roscoe, IL) did not be compete this weekend.
Cassioppi, Brands, and Kelly are the Iowa Wrestling Recruiting Class of 2018.
All rankings are by The Predicament.
Champ. Round 1 – Nelson Brands (Iowa City West) 41-1 received a bye () (Bye)

Quarterfinal – Nelson Brands (Iowa City West) 41-1 won by fall over Blake Underwood (West Des Moines) 24-10 (Fall 2:47)

Semifinal – Nelson Brands (Iowa City West) 41-1 won by tech fall over Jake Matthaidess (North Scott) 28-4 (TF-1.5 3:53 (28-13))

1st Place Match – Nelson Brands (Iowa City West) 41-1 won by decision over Zane Mulder (Dallas Center-Grimes) 29-1 (Dec 9-3)
Quarterfinal – Joe Kelly (West Liberty) 40-4 won by fall over Jordan Sosa (Highland) 14-16 (Fall 0:16)

Semifinal – Joe Kelly (West Liberty) 40-4 won by major decision over Caleb LaLonde (West Burlington/Notre Dame/Danville) 24-6 (MD 9-0)

1st Place Match – Joe Kelly (West Liberty) 40-4 won by decision over Mitchel Mangold (West Delaware) 25-4 (Dec 5-2)