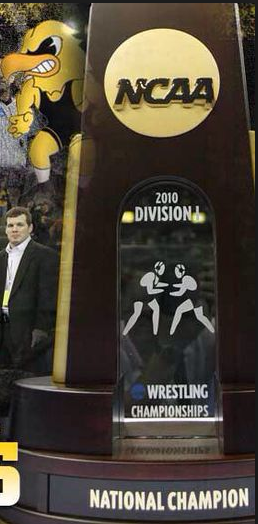 So you're telling me there's a chance?  A great line from a great movie.  At some time during this blog, if not already, you may be calling me "dumb and dumber."  However, I believe it is doable for the 2018 NCAA Division I National Wrestling champions to be…the University of Iowa.
The same University of Iowa that started the season not ranked in the top 10 by several publications and no higher than 7th in any ranking?  Yes, that University of Iowa.  There will be a chain reaction of events that will need to take place, but not as far fetched as you might think.
With both Penn State and Ohio State having such loaded teams along with the overall toughness of D1 wrestling this year, the team champion will survive and win by attrition.  Iowa will probably not win a high scoring shootout with Penn State or Ohio State for the team title. The tougher the tournament and the lower the team scores are, the better Iowa's chances are of winning it all.  For Iowa Wrestling:
The tougher the grind, the brighter the shine.
I wrote this blog on November 23 but decided to wait until after Midlands to release it.  I have only added in the line about PD3 graduating from Iowa State since then for an update.  Midlands helped and hurt my predictions on some Iowa wrestlers, but I kept them the same. 
I recently watched the classic movie Magnificent 7, so here are my 7 keys to a title:
Spencer Lee.

 The biggest recruit in the history of Iowa Wrestling.  How good is he?  I have seen Lee in the Iowa Wrestling room in a practice setting and simply put, I have never seen anything like him.  Oh, and he's been at the most 75-85% force due to recovering from knee surgery.  This entire plan depends on Spencer Lee.  Should Lee be healthy enough, I believe he will wrestle.  I am very well aware of names like Tomasello, Suriano, Cruz, Lizak, and others.  Should he compete this year, Spencer Lee beats them all at nationals for the title with bonus points in at least the first two rounds.

PD3.  Pat Downey III, simply put, is a badass.  This guy is a beast.  PD3 has graduated from Iowa State and should be eligible for the second semester for Iowa to finish his college career.  If he is eligible, what weight will he be at…184 or 197?  I am thinking he makes the cut to 184 where he will be a very big 184 lbs. wrestler that will contend for the national title.  I have been very impressed with what I have seen from Mitch Bowman at 184 and he will be ready to make a great run next year.  PD3 would also brings some much needed "Swag" to the Iowa Wrestling team and program.  As with the Lee situation, without this step, the team title doesn't happen.  I did not forget Jacob Warner at 197.  I am really hoping he redshirts and PD3/Wilcke take care of business.
Points from 133.

 I do not see any way that Max Murin cuts to 133 as some posters on Hawkeye Report were speculating.  Phillip Laux and Paul Glynn are typical tough native Iowa boys.  Whoever gets the nod will get it done and score points for us at Nationals.

141.

 I was impressed with Vince Turk at the Iowa City Duals but he did not do well against Rider and Illinois.  Carter Happel dropped his first varsity match against Rutgers but bounced back to beat the #11 wrestler in the country from Mayland.  I am biased because Happel is from my hometown of Lisbon, Iowa, but I am excited about his potential.  Happel is not a day in/day out grinder, but he is a gamer that knows how to win when the money is on the table.  We need points at 141 when the lights are the brightest in Cleveland at Nationals.  I look for Happel to be in Cleveland and scoring points and chasing All American status.  Another option would be to have the redshirt pulled off of Murin to take over at 141.    

A healthy team.

 Here's to hoping Iowa rolls into Cleveland healthy and peaked to wrestle their best of the year when it counts at Nationals.

5 NCAA finalist.

 To those doubting, here are my five:  Lee, Sorensen, Kemerer, PDIII (184), and Wilcke (197).  Wilcke is an athlete with huge potential and the competition in the room will make him even better.  As you may know, I am a big fan of Sam Stoll.  The right draw at nationals could find Stoll in the finals.  Joey Gunther, aka Joey Guns, is the most underrated college wrestler in the country.  174 is a very tough weight class.  Joey Guns is tough too.  Gunther as an All American. Alex "Bull" Marinelli?  Semifinalist, at least, that will score a lot of points.  No way I put limitations on someone that tough.

Tom Brands.

  Iowa wrestling is about winning national titles.  In my book:

Domination: An Inside Look at Iowa Wrestling,

I stated that the most important thing a leader had to do was to lead their team into battle.  I came up with that from studying Gable for years.  It is up to Tom Brands to lead his team and the Iowa Wrestling Nation into battle and perform at nationals.  Tom Brands is our man and I believe in him.          
Starting a dual meet, the Big Tens and Nationals with Spencer Lee, the edition of PD3, and Sam Stoll wrapping things up at Hwt. will raise the level of the entire program. A lot.  I have been looking for momentum for years at nationals.  Iowa Wrestling needs to catch a wave of momentum and ride it out for a title.  And how that dominating Iowa Wrestling crowd will be heard from in Cleveland.  I get chills just thinking about it.
Lee – Laux – Happel – Sorensen – Kemerer – Marinelli – Gunther – PD3 – Wilcke – Stoll.  
Sounds like a winner to me.
May I never accept the day that Iowa Wrestling is not a factor to win the NCAA Division I Wrestling Championships.  I want Iowa Wrestling to win.  Call it pride, denial, stubborn, or ego.  Your choice.
So for Iowa Wrestling winning the national  team title this year…so you're telling me there's a chance?  Damn straight.
Let's get 'em in the middle.