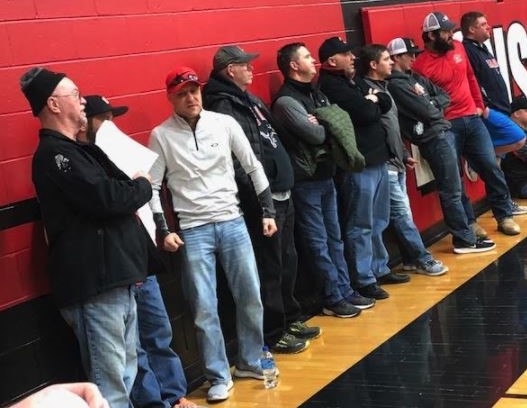 I made my way into town Saturday for Sectionals.  I always thought that Sectionals in Lisbon, Iowa USA was a great slice of Americana.  Seeing the bridge from the Baxter era to the present Smith era with another generation of Lisbon Wrestling keeps the community together, educates those that are new to Lisbon or remind some that may have forgotten, and above all, it's tradition.  Lisbon is a wrestling school, town and community.  That is what we are known for.
As I surveyed the crowd Saturday, it was easy to spot my dad, Francis Conner, sitting at the top of the Lisbon crowd with (T-Bird) Terry Jamison and (Trucker) John Decious, both classmates of my brother Dan Conner in 1980.  Lifelong nicknames make remembering people's real first name a challenge at times.  My dad would turn down 50-yard line tickets to the Super Bowl if it meant missing a single Lisbon wrestling junior high or high school event.  A true Lisbon Wrestling fan 365 days a year.  Dad keeps me up to date all year long on weights and who will be wrestling where in the lineup and who's coming up for the future.  To me, a fan like that is the definition of sport.  I just do not think you can top the pride felt in a small town.  To me, it is special in a small town.  
I cannot speak for other communities because I have never been from anywhere else.  In Lisbon, there are no generation-based gaps for friends.  My parents are in their late 70's and are safe and looked out for in any crowd around they are in in large part because of Lisbon people that went to school with one of their kids are in the crowd to look out for them.  When you know someone in Lisbon, you know all of the generations of their family.  We are all in the same town and on this day, and every day, we all support the same Lisbon wrestling program.  Does me proud to say this paragraph of thoughts.
It was easy to spot Doug Lord, Jim Bennett, and John Bennett in the front row of the Lisbon wrestling crowd, as always.  These guys go back to the first state titles for Lisbon in the Baxter era in 1973 and 1974 and still keep a very close eye on Lisbon wrestling.  They never left Lisbon Wrestling.  Hopefully the current Lisbon wrestlers of all ages learn from that and support the program as a fan when they are out of school.  I really hope that torch is passed down to another generation.
When I was a kid growing up, it was always a standard at wrestling tournaments and duals to have guys from Lisbon standing along the wall watching wrestling all day/night long.  I always think of Neil Stine, a Butteris and Stoneking, Stan Franta, among others, standing along the wall as a kid.  On Saturday a glance along the wall found an array of Lisbon grads from I believe five different decades and they all wrestled. Again, that's tradition. I'm giving Bird a honorary Lisbon Wrestling Letter.
So a shout out to the Lisbon crowd at Lisbon Sectionals on Saturday and those along the wall seen in the photo of which all but one still lives in Lisbon:
Rudy "Dude" Light, J.J. Butteris, Casey Baxa, Mike "Bird" Parrot, Tim Kortemeyer, Darin Williams, Tom "Boomer" Kortemeyer, Kolbi Kohl, Mitch Montgomery, and Jake Siggins.
The night before Sectionals, my dad and I had a thrill we will never forget at the Iowa – Minnesota dual meet.  Carter Happel of Lisbon came from behind with a last second takedown and pin to defeat a defending All American and highly ranked wrestler.  That was a moment that will never be forgotten.  Ryan Morningstar of Lisbon was in Carter's corner as a coach.  What an honor to have a Lisbon Boy coaching alongside Tom and Terry Brands for the legendary University of Iowa Wrestling team. Iowa Wrestling legends of the past like Royce Alger of Lisbon and Lisbon coach Brad Smith, both national champs for the Hawks, were honored before the meet and at intermission of the Iowa-Minnesota dual meet.  Lisbon people have a seat at the Iowa Wrestling table in more ways than one.  
Having those types of Lisbon connections in Iowa Wrestling is a huge source of pride.  Something the entire town should take pride in.  When writing about Iowa Wrestling, how shall I say, I do not lack in confidence about what I have to offer.  The foundation of growing up and still being apart of Lisbon, Iowa USA is a big part of that confidence.  
Telling this story makes me think of the song and video of Small Town by John Cougar Mellencamp.
Good luck to the Lions tonight in Regional Duals and for the rest of the tournament season.  Lisbon is two traditional state tiles away from tying Waterloo West as the most successful high school wrestling program in the history of Iowa High School wrestling.  Three to be in sole first place.  Coach (Brad) Smith is tied with the legendary Bob Siddens for first place for the most state titles won by a coach in the history of Iowa High School wrestling.  A title this year would put Coach Smith in sole first place.  I want want both of those records in the history of Iowa High School Wrestling to belong to Lisbon.  Bad.
Lisbon, Iowa USA.  A slice of Americana.
As I say in my Iowa Wrestling blog:  Let's get 'em in the middle.   
Get after it Lisbon wrestlers, coaches, and fans.
Go Lions!