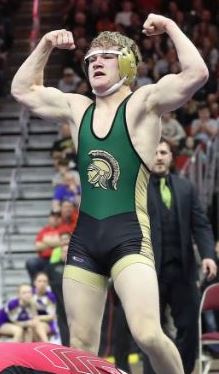 The Iowa Wrestling Recruiting Class of 2018 had a great weekend competing at state.  Anthony Cassioppi of Hononegah High School (Roscoe, IL) closed out his dominating season with a very impressive run to the 3A Hwt Illinois state tile. Cassioppi was 4-0 for the tournament with four first period pins.  TrackWresstling had a video clip of Cassioppi from Friday that I released on Facebook and Twitter.  That clip shows just  how quick, explosive, and dominating Cassioppi truly is.  This was Cassioppi's second straight title at Hwt in 3A.
Nelson Brands of Iowa City, IA (West HS) won his third straight title by winning the 3A 160 lbs. title.  Brands recorded a tech fall, a decision, and fall before winning by a 22-7 tech fall in the finals.  Brands showed that he is a takedown machine with his aggressive style.
Joe Kelly of West Liberty, IA placed third at 152 lbs. in 2A.  Kelly dropped a 4-1 decision to defending and eventual two-time state champion Isaac Judge of South Tama in the semifinals.  Kelly responded with two pins to place third.
It is now freestyle time for our incoming recruits.  Cassioppi is the defending Junior National champion in both freestyle and Greco-Roman.  I will be following our recruits throughout freestyle season that concludes with Junior Nationals in Fargo, ND in July.
Cassioppi, Brands, and Kelly are the Iowa Wrestling Recruiting Class of 2018.
Anthony Cassioppi 3A Hwt Illinois State Tournament
1st Round: Anthony Cassioppi (Rockton (Hononegah)) 41-0 won by fall over Ulises Apantenco (Aurora (East)) 27-10 (Fall 1:18)
Quarterfinal – Anthony Cassioppi (Rockton (Hononegah)) 42-0 won by fall over Devin O`Rourke (Frankfort (Lincoln-Way East)) 27-4 (Fall 1:37)
Semifinal – Anthony Cassioppi (Rockton (Hononegah)) 43-0 won by fall over Isiah Ziegler (Carpentersville (Dundee-Crown)) 42-6 (Fall 0:49)
1st Place Match – Anthony Cassioppi (Rockton (Hononegah)) 44-0 won by fall over Jeff Griffin (Flossmoor (Homewood-F.)) 41-2 (Fall 1:45)
Nelson Brands 3A 160 Iowa State Tournament
1st Round Nelson Brands (Iowa City, West) 52-1 won by tech fall over Brett Mower (Glenwood) 37-14 (TF-1.5 3:42 (22-7))
Quarterfinal – Nelson Brands (Iowa City, West) 53-1 won by decision over Zane Mulder (Dallas Center-Grimes) 41-2 (Dec 9-5)
Semifinal – Nelson Brands (Iowa City, West) 54-1 won by fall over Levi Egli (Fort Dodge) 27-8 (Fall 2:38)
1st Place Match – Nelson Brands (Iowa City, West) 55-1 won by tech fall over Wilfred Kadohou (Iowa City, City High) 39-8 (TF-1.5 3:15 (22-7))
Joe Kelly 2A 152 Iowa State Tournament
Champ. Round 1 – Joe Kelly (West Liberty) 49-5 won by fall over Zack Bevans (Solon) 31-11 (Fall 2:52
Quarterfinal – Joe Kelly (West Liberty) 50-5 won by decision over Skyler Noftsger (Ballard) 35-4 (Dec 1-0)
Semifinals – Isaac Judge (South Tama County) 47-2 won by decision over Joe Kelly (West Liberty) 50-6 (Dec 4-1)
Cons. Semi – Joe Kelly (West Liberty) 52-6 won by fall over Zack Bevans (Solon) 34-13 (Fall 1:15)
3rd Place Match – Joe Kelly (West Liberty) 52-6 won by fall over Skyler Noftsger (Ballard) 37-5 (Fall 2:20)