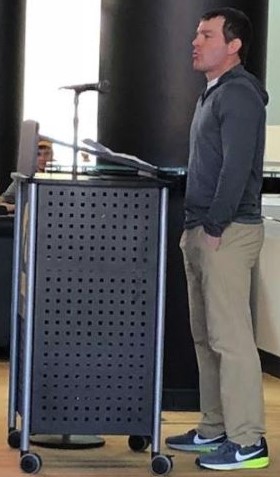 The Johnson County I-Club had a wrestling luncheon at Carver-Hawkeye Arena over the noon hour today.  To start with, there was a great crowd.  The overall vibe was great as I expected. Tom Brands spoke first followed by Iowa Athletic Director Gary Barta.
A few notes:  
Team USA will have a week long training camp at the Iowa Wrestling facilities the week of March 28 leading up to the World Cup.  Coach Brands said that the facility will be handed over to our USA Freestyle team for whatever they need to train and prepare for the World Cup.  Brands also mentioned how Iran has a stranglehold on the team title including winning the World Cup two years in a row in Los Angeles.  Now the World Cup is being held in the land of the Hawkeyes and we have one of our own in Thomas Gilman competing.  I like our chances.  

As I labeled it in my blog last year, "The Greatest Wrestling Training Facility… in the World" is a green light.  The project is a go but the timetable has not been set.  That excited the hell out of me.  I was cringing in my seat as Brands talked about the outstanding facilities that Iran and Russia has.  I of course want our facility to be not just be better than theirs, but a LOT better.  The Greatest Wrestling Training Facility…in the World.  It's gonna happen.

Coach Brands talked about how they are recruiting wrestlers like Spencer Lee and Jacob Warner not only to win NCAA titles, but to win World and Olympic titles as well.  He spoke about how intense Spencer Lee is and the importance of having Warner compete in Russia at the toughest regular season international freestyle  tournament in the world.

We will see Michael Kemerer tonight and I am excited about that.

There will be a reunion for former Iowa Wrestlers at the Minnesota meet tonight.  There are former Iowa greats from all over the country that have come in for tonight's meet.  Dan Gable, who was at the luncheon, will be apart of the reunion.  Former Iowa legends will be announced at the meet tonight.  What a great idea.

It was good to see Gary Barta back at it.  I had not seen him since his return from a medical leave and he looks the same as always. Barta gave a good speech about how important wrestling is to the University of Iowa.  Barta also shared a story about his days as a football player at North Dakota State.  He then said that we have a very, very good or even great facility.  But if we stand still, we will fall even further behind. A new training facility is needed.  Of course he had me hook, line, and sinker on that one and very excited about this project becoming a reality.

They are still going over the final floor plans of the new facility and the exact location.  Barta talked about how two donors have stepped up in a big way.  The step of fundraising is on the way.  I cannot tell you how much that excites me.  I mentioned in my blog about a new training facility that the biggest obstacle was getting the go ahead from the University of Iowa more so than the fundraising.  It sounds like that the fundraising part of the process is right around the corner.  I am just that confident that the money will get raised and sooner than most think.  I will keep you up to date with any news that I hear.   
I would like to see more of these type of events to promote Iowa Wrestling during the season.  Overall, a great event that was very well done.    
There is a lot to be excited about in Iowa Wrestling.
Iowa – Minnesota at 8 PM tonight in Carver Hawkeye Arena and televised live on BTN.
I am expecting a fired up Iowa Wrestling team tonight and a very exciting meet.
Let's get 'em in the middle.