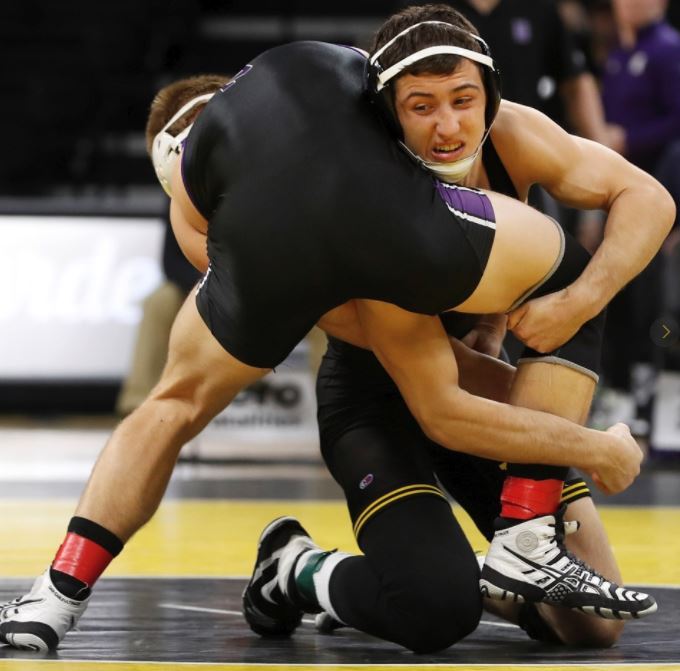 It's tournament time.  As great as the regular season is, tournament time is just different, and better.  The intensity goes way up and everyone is playing for keeps.  I say that the Big Ten Tournament gets tougher every year, and it does.  The depth at several weights is amazing. The quarterfinal round at Big Tens will have nationally ranked wrestlers.
The Iowa Hawkeyes are rolling into Big Tens in great shape.  The Hawks look healthy and ready to go.  I am expecting a very good to great Big Tens out of Iowa Wrestling.  Let's go through the lineup.
125  I picked Spencer Lee to win the NCAA title as soon as is was announced that he was coming out of redshirt just after the first of the year.  Lee is seeded #2 and will probably face Tomasello of Ohio State in the semifinals.  Top seed and national #1 ranked Suriano of Rutgers is on the other side of the bracket.  The semifinals of the Big Tens starting off with Lee-Tomasello II may be the match of the entire tournament.
Prediction: Big Ten champ
133  Paul Glenn has the toughest road to qualify for the NCAA tournament.  The top seven at 133 will qualify for the NCAA tournament and Glynn is not seeded.  His name will be drawn out of hat and we go from there.  I really like what I see from Glynn right now for physical strength and confidence.  I say Glenn makes a way to qualify.
Prediction: 7th
141  Vince Turk is my pick as a wild card or dark horse for the Hawks.  I say that Turk is going to have a very good Big Ten tournament.  The top 8 qualify for nationals and Turk is not seeded.  Why am I confident in Turk?
The push and grind of wrestle offs has kept him hungry all season.

He is healthy and feeling strong and confident.

We all know that he has the skill set from what is seen in the practice room.  
Predication: 4th
149  I do not see how you cannot be a big fan of Brandon Sorensen.  This guy leads by example with consistency, work ethic, toughness, and winning.  I am hoping for bonus points from Sorenson in the prelims.  A big re-match with Deakin of Northwestern in the semifinals who Sorensen beat in overtime a few weeks ago and then Retherford in the finals
Predication: 2nd
157  Michael Kemerer enters the Big Tens undefeated and looking tough.  I see Nolf getting the number one seed.  I see Nolf getting the top seed and wrestling two matches at the most at Big Tens.  That leaves Kemerer matched against Pantaleo of Michigan in the semifinals.  I see this as a very tough match as Pantaleo has a very good style to matchup with Kemerer.  
Predication: Big Ten Champ
165  How is freshman Alex Marinelli rewarded for entering the Big Tens undefeated?  By having the toughest road to a Big Ten title that I have ever heard of.  Should seeds hold up, Marinelli will face last year's third place finisher Massa in the quarters, last year's NCAA champ Joseph of Penn St in the semifinals, and two-time NCAA champ and last year's NCAA runner-up IMar of Illinois in the finals.  It is kind of impossible to get a tougher road that that.  This has to be a record of some sort.  I say IMar wins a thriller in the finals to set up a Marinelli run for the title at NCAA's.  Lose the battle (Big Tens), but win the war (NCAA's).
Predication: 2nd
174  Joey Gunther is seeded #7 and the top 7 go to the NCAA's.  I look for experience and the push of wrestle offs to be the difference for Gunther making it.  No room for error at all.  After the top three at this weight, it is up in the air for the rest of the conference.  I see Gunther placing anywhere between 4th – 7th.
Predication: 6th
184  Mitch Bowman has fought hard this season in a tough Big Ten.  Bowman enters the tournament seeded 8th and the top eight go the NCAA's.  Bowman will face top seed and national top ranked Nickal of Penn State in the quarters.  It is crucial for Bowman to respond on the backside because there is no margin for error.
Predication: 8th
197  Cash Wilcke, seeded third, has had an interesting season and he is the most difficult Iowa wrestler to predict.  As I stated on my podcast, nothing would surprise me from Wilcke.  He could place sixth or win it all.  The top six qualify for nationals.
Prediction: 3rd
Hwt.  I am a Sam Stoll, fan, we all know that.  But I really, one more is needed, r-e-a-l-l-y like where Sam Stoll is seeded at #4.  We cannot overlook the quarters against a very tough Hermida of Maryland.  That would lead to a semifinal match against Coon of Michigan.  Stoll dropped a 3-2 match to Coon in the dual at Carver and basically did nothing in wrestling a bad match.  I say Stoll gets the win this time.  We want the number 2 or 3 seed at NCAA's should Snyder be #1 and a Big Tens finals appearance should make that happen.
Predication: 2nd
Those predictions lead to Iowa getting all ten to the NCAA's.  A little optimistic, but very realistic.  There isn't one weight that is a real stretch to at least qualify for nationals.  
My prediction for the team race?  I am still going to put Iowa at third.  The Nolf situation could really make the team race even more interesting.  Iowa will have to wrestle a very good tournament to place third.  Do I want to see Iowa win the Big Tens?  Of course.  By far more than that, I want a great showing at the NCAA's.  A healthy full team of 10 rolling into Cleveland in 13 days sound great to me.
Let's get 'em in the middle.
Go Hawks!  
Big Ten's schedule
Saturday, March 3:
Session 1 through Quarterfinals – 9 AM
Session 2 Semifinals – 5 PM
Sunday, March 4
Session III Consolations – 11 AM
Session IV Finals – 2 PM
***All times are CST
The finals will be shown live on BTN.  All rounds will be live on BTN2go.com and on FloWreslting.
Mark Ironside and Steve Grace will have all of the action on 800 AM KXIC and on iHeartRadio at iheart.com free of charge.