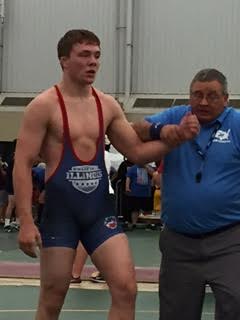 Well wrestling fans, it is past time to start talking about the 2019 edition of Iowa Wrestling.  With Cleveland and the 2018 nationals in the rear view mirror, we now need to take a look ahead to the 2019 NCAA Wrestling Championships in Pittsburgh, PA on March 21-23.
The Hawks only graduate one senior from this year's third place team in Brandon Sorensen.  Sorensen had a great career as a four-time All American and was the mere definition of consistency throughout his college career that saw him place fourth, second, third, and fifth in the nation.  The Hawks will have 84 returning nationals points and four All Americans to build on for next season.
Let's take a look at the lineup:
125 – Spencer Lee.  As a defending national champ, I look for Lee to be much better next season.  Next year 125 will be once again be a stacked weight class that would be made even tougher with redshirt freshman Daton Fix of Oklahoma State.  Fix was a Junior World champ last year and may be the biggest recruit to come out of Oklahoma since Mark Perry in 2003. Fix defeated Tomasello of Ohio State in making the U-23 World team this past October as well.
133 –  Paul Glynn battled with graduating senior Phillip Laux throughout the season before being named as the starter.  Glynn did not qualify for nationals out of the very tough Big Ten. Look for an improved Glynn for next year's squad.
141 – There will be an absolute battle for this starting spot.  Vince Turk and Carter Happel both saw action in the varsity lineup before Turk won a wrestle off the week before Big Tens.  Turk then really took his wrestling up a real big notch in qualifying for nationals. Turk looked good at nationals with a 3-2 record.  Prized recruit Max Murin took his redshirt year and placed ahead of Turk and Happel at Midlands. Turk won a close match in a wrestle off in early November over Murin and that was the only time they wrestled each other.  Murin defeated Happel in two tournaments including Midlands.
This weight may be decided right before Big Tens again next year.  I am expecting big things out of Murin who will be a big 141 lbs. wrestler.  Turk got a taste of the action and could really improve a lot in the offseason.  I am picking Murin to need until the second semester to get his starting spot secure and to hit his stride on his way to becoming an All American.  Will Happel go to 133?
149 – Patricio Lugo has a lot of people excited in the Iowa program.  When I asked Tom Brands about him in an interview, I got a glowing response.  Lugo is tough and fits right in with the Iowa Wrestling program. Lugo transferred in from Edinboro where he was an NCAA Qualifier during his true freshman and sophomore season.  He redshirted this past season. I am looking for a real big season out of Lugo at 149.
157 – Michael Kemerer showed a lot of guts and toughness this past season while competing through injuries to place fourth in the country.  Kemerer has another gear that is indeed there. He really developed a lot physically last year in the offseason. I look for an even better year out of Kemerer in 2019.
165 – Alex Marinelli, Bull, had an impressive freshman season that saw him enter the Big Tens undefeated.  After a sixth place finish and semifinals appearance at nationals, I look for Marinelli to be much better next year.
174 – Joey Gunther and Kaleb Young will once again battle out for the starting spot here.  Gunther won two overtime wrestle offs over Young. I look for Young to grow into the 174 lbs. division and become a force for the Hawks.  He needs the off season to put on needed size and strength, but he has everything else. With the added size, I see Young as an All American next year.
184 – Cash Wilcke and Mitch Bowman.  This may be the toughest weight to predict.  To start with, I see Wilcke going to 184, his natural weight.  Wilcke has wrestled at 197 and made it to the Round of 12 at nationals as a freshman and sophomore.  However, Mitch Bowman will have something to say about who is varsity. Bowman showed promise this year as he won two matches at nationals.  So we may have Wilcke coming down from 197 and Bowman putting on needed size for 184. This should be a real battle with the result being an All American candidate at 184 for the Hawks.
197 – Jacob Warner is a highly anticipated recruit that took a redshirt year this season.  If you have been reading my blog, you certainly know about Warner. I am very high on his potential.  From the looks of the 197 lbs. wrestlers at nationals, Warner will need to add some size and strength for next year and I am sure he will.  Both finalist at 197 graduated and it is a wide open weight for 2019. An accomplished freestyle wrestler, I an eagerly awaiting Warner competing in events this spring.  The sky is the limit for Jacob Warner at 197 for Iowa Wrestling. And I mean next year too, as in challenging for the national title at 197 and scoring a lot of points for the team.
Hwt – Sam Stoll became and All American this year by placing fifth and winning the award for most pins in the national tournament.  As a fan I thought that was great to see. A very hard worker, Stoll is a grinder that just keeps getting better every day. All four of the wrestlers that placed ahead of Stoll graduated.  I would think that would make Stoll the pre-season number one ranked Hwt in the country. Here's to Sam Stoll chasing down a national title next year. I hope it happens.
As far as team rankings, I can see Iowa ranked as number two or three pre=season.  It will depend on how much the publications take into account what Ohio State graduated and how much Iowa has coming up.  Penn State will be the clear cut number one.
The prize will be in the PPG Paints Arena in Pittsburgh, PA on March 21-23 for the 2019 NCAA tournament.  There is a lot of living to be done between now and March 21 of next year. I am confident that Iowa Wrestling will field a very tough team that will be very entertaining.   The anticipation of a new lineup that already includes Lee, Kemerer, Marinelli, and Stoll should keep us fans entertained for the off season.
Let's get 'em in the middle.
Go Hawks!