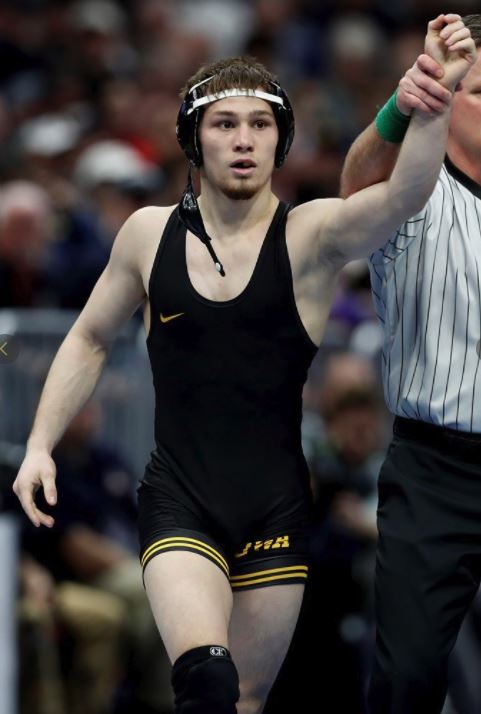 I have been using the phrase: "Spencer Lee is…Spencer Lee" in my blog and podcast for the last three months.  Why? Because I have never seen anything like Spencer Lee. I do not know who to compare him to. I gave myself a day to put into perspective what just happened in Cleveland at the NCAA tournament.  How do you describe the performance that Lee had coming off a major surgery as a true freshman at nationals? I will give it my best shot.
For starters, Spencer Lee won an amazing weight class that was loaded with returning All Americans and several other outstanding freshman.  In his five matches, Lee had two tech falls, two pins, and a dominating 5-1 decision in the national finals. The 27 team points that he scored was more than any other wrestler in the tournament.  I believe that is the second best performance at nationals in the history of Iowa Wrestling (Bruce Kinseth pinned his way through the '79 nationals at 150 lbs.).  All the while, Lee made it look pretty darned easy. He just never seems to be out of position. Lee's ability to improve his positioning to take his opponents offense away is impressive.
After getting a tech fall in the first two rounds, Lee made a fall in 3:58 look easy against defending All American Nick Piccininni of Oklahoma State.  The biggest match for me as a fan was the semifinals match against Nathan Tomasello of Ohio State. Tomasello won a national title at 125 as a freshman in 2015 and placed third in 2016.  In 2017, Tomasello moved up to 133 where he placed third before dropping back down to 125 this season.
Lee avenged his loss to Tomasello in the Big Ten semifinals by getting the fall over in 6:05.  Lee controlled the entire match. In his two biggest matches in the semifinals and finals, Lee scored the opening takedown, which was huge.  Even though Lee is known for his turns on top, it was his ability to score that opening takedown in those two huge matches that really set the tone.
You can talk about technique all you want, but it is easy to see that Spencer Lee is an absolute freak for strength.  Suriano and Tomasello are very well know for their strength and both appeared to be much bigger than Lee. Yet Lee was able to impose his will  with solid technique, but the whole key was physical strength like I have never seen out of a wrestler at that weight class. Maybe at any weight class.   
Here's a scary thought for competitors.  Spencer Lee will be not only be better, but much better next year.  Look at how much better Lee got throughout the season. He is coming off of a full year where he was not able to train at his normal level due to surgeries.  That, and he is just a true freshman. Also, when I interviewed former Hawkeye All American and Young Guns head coach Jody Strittmatter on my podcast, he talked about how smart Spencer Lee is and how he will figure out college wrestling.  As in, he is just getting started.
My only concern with Spencer Lee coming out of high school is if he would be big enough to compete at 125 after a redshirt season. His three world freestyle titles were at 110 lbs.  Lee has definitely put on quite a bit of size and strength in the last year and did not need a redshirt season. Look for that trend to continue as he grows into a force on the International scene..
Several times in the past I have referred to April 20, 2016 as "The Recruiting Shot heard around the world." That was the day that Spencer Lee, who several months later would win his third world freestyle title, announced that he was going to commit to wrestle for the University of Iowa.  Numerous times I have stated that Spencer Lee is the biggest recruit in the history of Iowa Wrestling. Even with all of the hype that surrounded Spencer Lee, he is even better than advertised. That is rare it today's world. One last tidbit, I believe Spencer Lee is much better in freestyle than in folkstyle wrestling.  There's a thought.
As soon as it was announced that the redshirt was coming off and Lee was wrestling against Michigan State on January 5, I predicted that he would win the national title.  With what I had seen in the practice room against incredible competition, that was an easy call to make. With all the excitement, we may have forgot that due to the rehab of a knee surgery, many did not think Lee would even wrestle this season.  That makes the performance at nationals even more impressive.
The humble interviews on TV and with the press only added to the "Rockstar" status that Spencer Lee is now at as the face of Iowa Wrestling.  Knowing that Spencer Lee is a class act on and off the mat and a very good student makes me an even bigger fan. How big will the legend of Spencer Lee turn out to be?  Time will tell and I am sure that all of us Iowa Wrestling fans will thoroughly enjoy the ride.
Spencer Lee – 2018 125 lbs. NCAA National Champion
Spencer Lee (22-2) placed 1st and scored 27.00 team points.
Champ. Round 1 – Spencer Lee (Iowa) 22-2 won by tech fall over Alonzo Allen (Chattanooga) 22-10 (TF-1.5 1:41 (18-0))

Champ. Round 2 – Spencer Lee (Iowa) 22-2 won by tech fall over Luke Welch (Purdue) 32-11 (TF-1.5 3:59 (18-0))

Quarterfinal – Spencer Lee (Iowa) 22-2 won by fall over Nicholas Piccininni (Oklahoma State) 24-5 (Fall 3:58)

Semifinal – Spencer Lee (Iowa) 22-2 won by fall over Nathan Tomasello (Ohio State) 16-2 (Fall 6:05)

1st Place Match – Spencer Lee (Iowa) 22-2 won by decision over Nick Suriano (Rutgers) 25-1 (Dec 5-1)