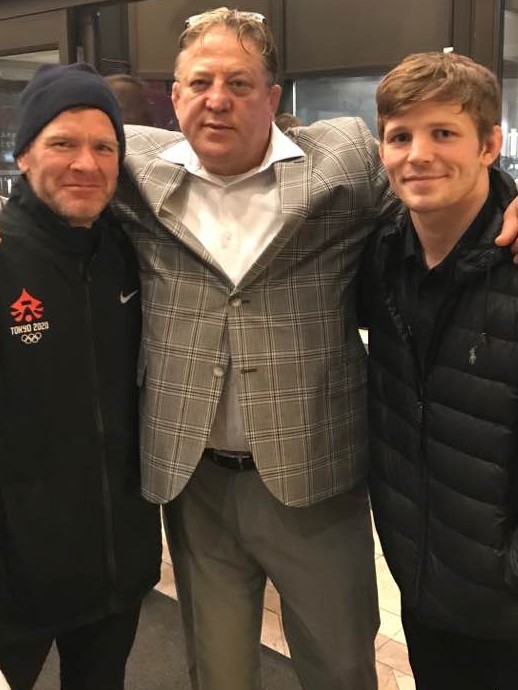 The Hawkeye Wrestling Club Banquet in Des Moines Saturday night was a huge success. Even though Mother Nature provided a challenge, over 300 people attended the banquet and over $50,000 was raised for the Hawkeye Wrestling Club.  What a great showing of support that the HWC and Iowa Wrestling has in the Des Moines area.  
HWC President Randy Novak:
"Steve and Beth Reese, Gina Wiltsey, Chris Haupert and many other Des Moines fans did an OUTSTANDING job organizing and running the event.
There is definitely a "buzz" right now with the HWC and Iowa Wrestling!  Speeches by Tom, Terry, and Mark are always the highlight.
Awesome to see kids surround Thomas Gilman the entire night.
We are grateful that this group showed up on a night that had some bad weather to support the club."
Iowa Wrestling and the HWC has had great support from the Des Moines area for decades.  Over the last year they have really took their support to another level. Last summer's golf outing in the Des Moines area was also a record breaker.
I agree with Randy about the "buzz" with Iowa Wrestling.  Momentum started with the HWC last year after the NCAA tournament and it is still picking up steam.
The next fundraiser for the HWC is the Riverside Golf Outing on Monday, June 25.  For information or to register, go to: https://www.hawkeyewrestlingclub.com/
From someone that is in the Iowa Wrestling room on a consistent basis, I can tell you first hand that fundraising events like this are making a huge impact on the Iowa Wrestling program.  The cornerstone of the Gable Era through the current Brands Era is the presence of World class wrestlers in the HWC to work with and mentor the young Iowa wrestlers. The increase in support with the HWC over the last year is amazing and it is easy to see the impact that the added fundraising has done for the program.  
Great job and thank you to all that contributed in anyway you could.
It is great to be an Iowa Wrestling fan.
Go Hawks!