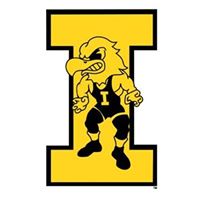 Jacob Warner and Jeremiah Moody won titles at the 2018 UWW Junior Nationals in Las Vegas, NV.  Warner won all of his matches in the tournament at 92 kg by tech fall and made it look easy. Warner is a true freshman at Iowa and is projected to be at 197 next season.  The sky is the limit for Jacob Warner.
The story of the tournament was sophomore Jeremiah Mood who had an amazing tournament in winning the title at 74 kg.  Moody was behind 7-2 with 1:01 left in his match in the semifinals against Mekhi Lewis. Moody stormed back with a caution point, takedown, and exposure points to win 9-7.  In the finals, Moody jumped out to an early lead and defeated Dustin Plott, 8-6. Moody had a 13-4 record competing in Open tournaments as a backup at 165 lbs. this past season.
Max Murin dropped his match in the finals to place second at 65 kg.  Murin defeated some very tough wrestlers in the tournament and made a name for himself on the national scene.  Murin will be ready to go at the trials.  Myles Wilson placed eighth at 86 kg. Zach Axmear (74 kg), Connor Corbin (92 kg), and Aaron Costello (125 kg) did not place.
Warner and Moody now receive a bye to the best of 3 finals at the 2018 UWW Junior World Team Trials in Rochester, MN on May 18-19.  I am hoping to see Spencer Lee (57 kg) and Alex Marinelli (74 kg) compete at the trials. The winner at each weight at the trials will represent Team USA in the 2018 UWW Junior Freestyle World Championships in Trnava, Slovakia on September 21-22.  It would be great to see Iowa put several wrestlers on that World team.
I saw a lot of great wrestling out of the young Hawks this weekend.  Job well done.
UWW Junior Nationals Finals:
74 kg Jeremiah Moody Cambridge, WI (University of Iowa) VPO1 Dustin Plott Blanchard, OK (Unattached), 8-6
92 kg Jacob Warner Washington, IL (University of Iowa) VSU John Borst Stephens City, VA (SERTC-VT), 10-0 1:22