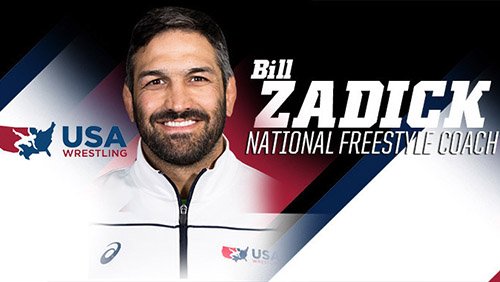 Former Iowa NCAA national champion Bill Zadick received the Myron Roderick Man of the Year award from USA Wrestling.  Zadick is the head coach of the Men's Freestyle team. The award is named after legendary wrestler, coach, and administrator Myron Roderick of Oklahoma State.  
It was one of the greatest years ever for Team USA Wrestling at all levels.  At the Senior level, Team USA won the World Freestyle Championships team title in Paris, France for the first time in 22 years and recently won the 2018 World Cup.  Team USA also captured a team title at the Junior World Championships and placed a close second at the Cadet World Championships.
Zadick was also named as the first wrestling coach to ever be named as the U.S. Olympic Committee Olympic Coach of the Year in 2017.
Zadick was named as the Men's Freestyle head coach in 2017 after coaching for USA Wrestling since 2009.  Zadick worked his way up the ranks and learned USA Wrestling as a wrestler and coach at all levels. USA Wrestling has never been more successful at so many age groups as right now.
Zadick was a 2006 World Freestyle champion and a 1996 NCAA national champion at the University of Iowa.  Zadick is originally from Great Falls, Montana when he was a four-time state champion.
It is a huge source of pride for me that the University of Iowa has former NCAA national champions as head coach of the Men's and Women's Freestyle Team for Team USA in Bill Zadick and Terry Steiner.  Go Hawks!
Congratulations to Bill Zadick on this must deserved award.