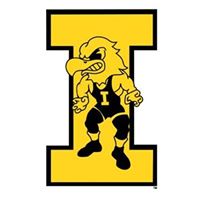 Incoming Iowa Wrestling Hwt recruit Anthony Cassioppi rolled through the competition again this week at the Disney Duals (AAU Scholastic Duals) in Kissimmee, FL.  Cassioppi pinned all nine of his opponents in a combined time of 8:56. Four of his nine falls were in under a minute.  That is getting the work done early. Cassioppi also recieved three forfeits. Dakota Wrestling Nation from Illinois that Cassioppi was competing for placed fourth in the Community 1 Silver portion of the duals. 
Cassioppi was 12-0 with 6 falls and 6 tech falls in FS and GR last weekend at Junior National Duals in Tulsa, OK.  That is a two week run at the two top dual meet tournaments in the country that has Cassioppi a combined 21-0 with 15 falls and 6 tech falls.
Cassioppi will compete next at Junior Nationals in Fargo, ND where he is the defending Hwt champion in both Freestyle and Greco-Roman.
Cassioppi, from Hononegah High School (Roscoe, IL), is ranked #4 at Hwt by Intermat. Cassioppi is joined by Nelson Brands of Iowa City, IA (West HS), Joe Kelly of West Liberty, IA and Aaron Cashman of Spring Park, MN in the Iowa Wrestling Recruiting Class of 2018.
Day 1 Results:
Anthony Cassioppi (Dakota Wrestling Nation) over Dennis Hubbard (Warrior Elite Gold) Fall 2:16
Anthony Cassioppi (Dakota Wrestling Nation) over Reeve Muncie (Carroll Chargers Blue) Fall 1:03
Day 2 Results:
Anthony Cassioppi (Dakota Wrestling Nation) over Brock Kimble (Austintown Fitch Falcons) Fall 1:34
Anthony Cassioppi (Dakota Wrestling Nation) over Jose Concepcion (NFWA Black #1) Fall 0:47
Anthony Cassioppi (Dakota Wrestling Nation) over Ohio Devils Fork Forf
Day 3 Results:
Anthony Cassioppi (Dakota Wrestling Nation) over Robert Graham (Cypress Bay Wrestling Club) Fall 0:28
Anthony Cassioppi (Dakota Wrestling Nation) over Demetrius Allen (Valdosta Villains) Fall 1:03
Anthony Cassioppi (Dakota Wrestling Nation) over (Brownsburg Purple) Forf
Day 4 Results:
Anthony Cassioppi (Dakota Wrestling Nation) over (Richmond Hill) Forf
Anthony Cassioppi (Dakota Wrestling Nation) over Yehezquel Devault (MXW Gold) Fall 1:11
Anthony Cassioppi (Dakota Wrestling Nation) over Brock Kimble (92. Austintown Fitch Falcons) Fall 0:12
Anthony Cassioppi (Dakota Wrestling Nation) over Wyatt Hull (LHWC-Yeti #8) Fall 0:22