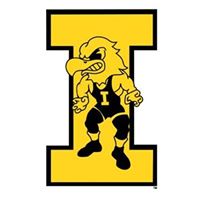 Elite recruit Patrick Kennedy of Minnesota has a post on Twitter stating:
See you in Iowa City, Iowa!
One picture had Tom and Terry Brands and another picture had Tom Brands and Ryan Morningstar in the tweet.  I will take that as a verbal commitment from Patrick Kennedy that he is going to be an Iowa Hawkeye.
That is outstanding news for Iowa Wrestling. Kennedy is a true blue chip recruit that Iowa really wanted. Kennedy just completed his sophomore year so he is the first recruit in the Iowa Wrestling Recruiting Class of 2020.  Already a two-time state champion, Kennedy has an overall 73-2 record and was 30-0 this past season when he won a title at 182 lbs.  FloWrestling has Kennedy at number eight for their Class of 2020 P4P (pound for pound) ranking and Intermat has him ranked fourth at 182. 
Want to be more impressed?  Kennedy wrestled up a weight class this past season.  Kennedy has the physical skill set and the tough mentality that Iowa Wrestling looks for.  Patrick Kennedy is the total package.
Kennedy is from Kasson-Mantorville High School that also sent us Sam Stoll.  Former Iowa All-American Jamie Heidt is the head coach at K-M. Getting recruits out of a high school room that is already trained the "Iowa Style" is always great news.
I just stated in my most recent podcast how the Class of 2020 looked to be great nationally.  Getting a verbal from Kennedy is an outstanding way to lure in more top recruits.  Look for Iowa Wrestling to have a very good Recruiting Class of 2019 and a m-o-n-s-t-e-r Recruiting Class of 2020.  Patrick Kennedy is the best start to the Class of 2020 that you could have asked for.
A shout out to Assistant Coach Ryan Morningstar who is in charge of recruting for Iowa Wrestling.  The success that Iowa Wrestling is having in recruiiting is not by accident or luck.  I will take Morningstar over any wrestling coach in the country at evaluating talent and starting the relationships with wrestling recruits.
I project that Kennedy will compete at 165/174 for the Hawks.
I will keep stating this because it is so true.  The momentum that Iowa Wrestling has going right now is amazing.  There is a steady flow of great news coming out of the Iowa Wrestling program during what is usually a slow time of the year.  Thomas Gilman making our World team was great news.  The recent additions of Aaron Cashman (Class of 2018) and transfers Austin DeSanto and Jason Renteria (both Class of 2017) has Iowa Wrestling fans very, very excited.  Iowa is bringing in elite recruits in their push to get back to the top of the college wrestling world.
It is only June, but the Iowa Wrestling season cannot start soon enough.
It is great to be an Iowa Wrestling fan.
Go Hawks!