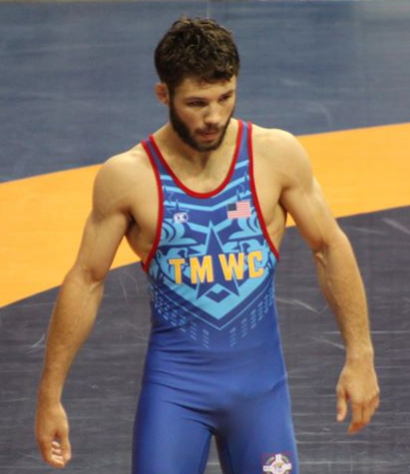 Thomas Gilman captured the 57 kg title the Yasar Dogu International in Istanbul, Turkey.  In the finals, Gilman took a 3-0 lead at break against Rynchynau of Belarus. In the second period, Gilman broke the match open and pulled away with a 10-5 decision.  Gilman is just sooo strong right now. He overpowers his opponents.
On Friday, Gilman won three straight matches to advance to the finals. Gilman came out strong with a first round 11-3 decision over Primbayev of Kazakhstan. In the quarters, Gilman faced reigning U23 Bronze medalist and two-time defending Yasar Dogu champion Suleyman Atli of Turkey. Gilman won a tough bout, 7-5. In the semifinals, Gilman found himself behind 5-2 before storming back to defeat Taras Markovych of Ukraine, 6-6.  Markovych is ranked #9 in the world at 57 kg.
Gilman looked very good in this tournament.  Right now, I have to think that Thomas Gilman is the strongest 57 kg freestyle wrestler in the world.  Gilman is finishing his shots right now at an elite level like I have never seen from him. That includes last fall when he captured a World Silver.  Thomas Gilman looks to be right on track to win it all at the 2018 World Championships.
The Yasar Dogu is a very important tournament because it sets up the seeds for the 2018 World Freestyle Championships in Budapest, Hungary in October.   With this performance, you have to think that Gilman will get a very high seed at the World Championships.
Former Hawkeye national champions Bill Zadick and Mark Perry were coaches for Team USA.  Zadick is the head coach for Team USA and Perry is the head coach of the Hawkeye Wrestling Club.
Great job Thomas Gilman.
It is great to be an Iowa Wrestling fan.
Go Hawks!  Go USA!
57 kg/125.5 lbs. – Thomas Gilman, Iowa City, Iowa (Titan Mercury WC/Hawkeye WC)
Round 1: Gilman over Berdakh Primbayev (Kazakhstan), 11-3
Quarterfinals: Gilman over Suleyman Atli (Turkey), 7-5
Semifinals: Gilman over Taras Markovych (Ukraine), 6-6
Finals: Thomas Gilman (USA) over Dzimchyk Rynchynau (Belarus) 10-5