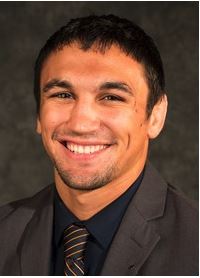 Former Iowa Hawkeye wrestler Topher Carton has been named as an Assistant Wrestling Coach at the University of Mary. Carton began his new position on August 1 at the University of Mary, a D-II college in Bismarck, North Dakota.
Carton was an NCAA National Qualifier for the University of Iowa in 2017 at 141 lbs. and was a four year varsity letter winner. Carton graduated from the University of Iowa in 2017 with a degree in Sports and Recreation Management, Interdepartmental Studies – Business and Workplace Practices, and a certificate in Entrepreneurial Management.
Carton, originally from Rock Island, IL, won an Iowa High School State title at Davenport Assumption.  During the 2018 season, Carton was an Assistant Wrestling Coach for Oak Park River Forest in Illinois.
While at the University of Mary, Carton will be pursuing his masters degree in Physical Education and Athletic Administration.
It is always great to see the Iowa Wrestling Coaching Tree grow.  I am confident Topher Carton will be successful at whatever he pursues.
Best of luck to Topher Carton.  An Iowa Hawkeye.
It is great to be an Iowa Wrestling fan.
Go Hawks!