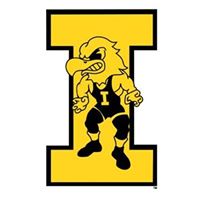 My initial reaction to when I heard that Austin DeSanto was transferring and Iowa was in the mix was:
   That's Iowa's national team title…THIS year.
I still stand by that initial reaction.  I made my way down to the Iowa Wrestling room yesterday and yes Iowa Wrestling fans, Austin DeSanto is indeed in town.  DeSanto has moved in to Iowa City and working hard. I just feel better knowing that much. As I mentioned in my blog the night that he gave a verbal commitment, DeSanto very well may be the missing piece of the puzzle of a national championship for Iowa Wrestling.
DeSanto was an NCAA Qualifier for Drexel last year as a true freshman at 133 lbs.  I was able to watch several of his matches that were available on the internet and every time I watched him wrestle, I thought about how great he would look in an Iowa singlet.  It looks as though we will see that this season. I am very excited about that.
To say that DeSanto has a high motor is an understatement.  This guy comes right out after his opponent from the opening whistle and goes non-stop for the entire match.  You will see him score points in bunches.  Iowa Wrestling fans are gonna love Austin DeSanto.
DeSanto shot to national recognition when he upset Spencer Lee in the 2017 Pennsylvania State Finals.  In a room with Lee, GIlman, Clark, Brands, and Brands, I have to think that DeSanto is going to improve in leaps and bounds.  That T-n-T and teammate influence will be huge for DeSanto.
I know that this is the first of August, but the season cannot start soon enough.  This upcoming season is the most anticipated Iowa Wrestling season that I can remember since 1990-'91 season.  Iowa had not won a national team title since 1986 when it was their ninth straight title. A four-year drought without a title had Gable on an even sharper edge.  
For the 1991 NCAA Tournament, Iowa sent Zaputil – Brands – Brands – Steiner – Steiner – Ryan – Reiland – Chelesvig – Fiser – Oostendorp out on the mat.  Iowa won the NCAA team title inside Carver Hawkeye Arena in dominating fashion. I went on to write in my book Domination: An Inside Look at Iowa Wrestling that the 1991 and 1992 squads were the greatest wrestling teams in the history of collegiate wrestling.
I am definitely not predicting any record-breaking performance by Iowa Wrestling for the upcoming season,  With what I see in the Iowa Wrestling room for talent, work ethic, and depth. Iowa will have a potential All-American at every weight this year.  I am also saying that with DeSanto in the lineup at 133, Iowa's chances of winning it all looks pretty damned good to me.  
It is August 1 and I am very excited about Iowa Wrestling.
Let's get 'em in the middle.
It is great to be an Iowa Wrestling fan.
Go Hawks!