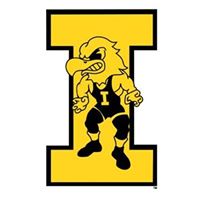 Elite recruit Abe Assad of Carol Stream, IL (Glenbard North HS) announced on Twitter that he has committed to be an Iowa Hawkeye.  Assad is ranked #1 in the country at 182 lbs. I project Assad to be an absolute force at 184 for the Iowa Hawkeyes and at 86 kg/189 lbs. for Team USA in International wrestling.
Assad recently won Bronze at the World Cadet Freestyle Championships in Zagreb, Croatia at 80 kg/176 lbs. He won the UWW Junior World Team Trials in both Freestyle and Greco-Roman.  Assad won a state title at 170 lbs. for Glenbard North last season. Assad also competes for Izzy Style Wrestling and that adds even more to his status as an elite recruit.
In recent blogs and podcasts, I called Assad the number one recruit on my wish list for the Recruiting Class of 2019.  Well Iowa Wrestling fans, we could not have asked for anything better for an incoming recruit than Abe Assad. This is a definite blue chip recruit that has a great future ahead of him in college and International wrestling. Abe Assad is who we wanted.
Assad joins Zach Glazier of Albert Lea, MN in the Iowa Wrestling Recruiting Class of 2019.  Glazier could develop and compete anywhere from 174-197 for the Hawks.
Iowa has had great success recruiting in the state of Illinois recently.  The Hawks have signed an elite recruit from Illinois in three straight recruiting classes.  The Hawks signed Jacob Warner from Washington, IL for the Class of 2017 and Anthony Cassioppi (Hononegah HS) for the incoming Recruiting Class of 2018.  Iowa also signed an elite transfer in Jason Renteria from Oak Park-River Forest recently who has three years of eligibility remaining.
Iowa Wrestling is on a roll to say the least.  The momentum that the program has going right now is amazing.  The Hawks are winning the battles for the elite recruits on the recruiting trail and it is paying off.  
A tip of the hat to Iowa Assistant Wrestling Coach Ryan Morningstar who in charge of recruiting.  Great job once again.
August 6 and we as Iowa Wrestling fans have a lot to be excited about.
It is great to be an Iowa Wrestling fan.
Go Hawks!