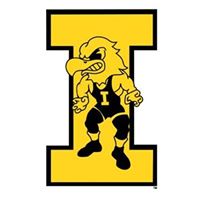 I had to go no further than my hometown of Lisbon, Iowa to add Cael Happel to my Recruiting Class of 2020 Wish List.  Happel has won a state title as a freshman (113 lbs.) and sophomore (120 lbs.) and is on track to be a four-time state champion.  Happel is currently ranked at #70 overall on the FloWrestling Class of 2020 list.
Happel made a big move for me this summer at Junior Nationals.  Competing as a sophomore in a bracket with upperclassmen, Happel made it to the Blood Round before being eliminated at 126 lbs.  That had to be one of the toughest weights in the entire tournament. Happel actually dropped his Blood Round match to the defending Junior national champion.  Happel defeated two ranked wrestlers in Fargo and had the best performance of his career on the national level.
I put a lot of emphasis on the level of improvement and background when evaluating a recruit.  Cael Happel has both bases very well covered. For starters, Happel has improved quite a bit in the last year and his best days of competition are well ahead of him.  I also give added value to the fact that Happel is from Lisbon, Iowa. Head coach Brad Smith, a former NCAA national champion at Iowa, has won more state titles than any coach in the history of Iowa high school wrestling.  The supporting staff of assistants will stack up against any in the state. Happel is very well coached and in a great environment to be the best that he can be. An added factor of his older brother Carter Happel already on the Iowa Wrestling roster could come into play as well.
Even though Happel does not have the national accolades, I believe he is an elite recruit because of two characteristics that I see in him.  The first being work ethic. Cael Happel has a great relationship with the weight room and workouts on his own. I have seen him for years running in Lisbon with a sweatshirt on a 90 degree plus humid Iowa summer afternoon to get his weight down for an upcoming tournament.  A wrestler working out on their own is something that cannot be coached. Either a wrestler has it or they do not. Cael Happel has it.
I believe that work ethic will also affect what weight Happel will compete at in college.  I look for Happel to be at 126/132 this season for Lisbon with a strong lean towards 132. With the regiment that Cael Happel follows, I see him competing at 141/149 in college.  157 may not be out of the question. This kid is going to grow and be a beast.
The second characteristic that stands out for Happel is his intensity and the way that he takes the task at hand very serious.  Cael Happel warms up and looks the same for a match against someone that he has pinned several time in the past as he would preparing for the State finals.  Having a serious approach shows attention to detail and an intensity that you like to see in recruits.  Happel is very focused on the task at hand and I really like that.
I have to believe that Happel's work ethic, intensity, and total commitment to becoming a better wrestler will pay off.  Just give him time.
It is great to be an Iowa Wrestling fan.
Go Hawks!