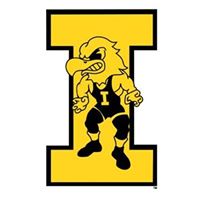 Iowa Wrestling target recruits Abe Assad and Brevin Balmeceda have been chosen to compete in FloWrestling's Who's #1.  The Who's #1 brings in wrestlers from all over the country to see who the best wrestler in the country is at each weight.
#1 Assad will face #3 Devin Winston of Missouri at 182.  In a recent blog and podcast, I called Assad the number one recruit on my wishlist for the Class of 2019.  Assad, from Carol Stream, IL (Glenbard HS) recently won Bronze at the World Cadet Freestyle Championships and is ranked number one in the country at 182. Iowa is on a short list of possibilities for Assad to choose from for his collegiate career.  Winston has verbally committed to North Carolina.
#1 Balmeceda will face #2 Alex Facundo of Michigan at 160.  Per Willie of Flo, Balmaceda will wrestle 152 at Super 32's and 160 for the Who's #1 and the regular season.  Balmeceda, from Homestead, FL (South Dade HS) recently named Iowa as one of his top six schools. Balmeceda is currently ranked #1 in the country at 160.  Facundo is a sophomore who recently won a Bronze at the Cadet World Freestyle Championships at 71 kg/156 lbs.
Assad and Balmeceda would be huge additions to the Iowa Wrestling program.
The Who's #1 will be held in The Snake Pit of Lehigh in Bethlehem, Pennsylvania on Sunday, October 7.  FloWrestling will cover the action live.
160 – #1 Brevin Balmaceda (FL) – #2 Alex Facundo (MI)
182 – #1 Abe Asad (IL) – #3 Devin Winston
*Flo Rankings
It is great to be an Iowa Wrestling Fan.
Go Hawks!