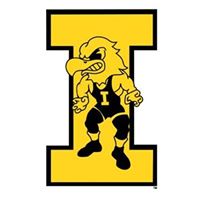 Iowa Wrestling will host eight wrestlers from around the country in a huge recruiting push this weekend.  The Hawks are on a roll for recruiting and the preseason excitement for the Iowa Wrestling team is already at a fever pitch.  Having recruits in town will only add to the excitement around Iowa Wrestling.
Iowa football will host Wisconsin in a night game at 7:30 PM that will add to the atmosphere of Iowa City.  You really could not script a better setting to host a recruit if you tried.
Class of 2019
Zach Glazier, Albert Lea, MN  170  
Glazier was the first commit for the Iowa Wrestling Recruiting class of 2019 when he gave a verbal on June 17. Glazier won a state title last year as a junior, placed second as a sophomore, fourth as a freshman, and third as an eighth grader.  Glazier is ranked at #47 on the Flo Class of 2019 overall ranking and #7 at 170 lbs. With his long frame, I can only guess that Glazier will compete anywhere from 174-197 in college.
Abe Assad, Carol Stream, IL (Glenbard North HS) 182  
It was huge news when Assad committed to the Hawks on August 7.  This is the recruit that I thought was a must get for the Hawks. Assad won a state title at 170 last year and captured the Bronze at the Cadet World Freestyle Championships this summer at 80 kg/176 lbs.  Assad is ranked #1 in the country by Flo at 182 lbs. I project that Assad will compete at 184 in college.
Brevin Balmeceda, Homestead, FL (South Dade HS) 160
Balmaceda is ranked as the number one recruit in the country at 160 lbs.  Already a three-time state champion, he is also a three-time NHSCA National champion. Balmeceda also won the Super 32 last fall as well.
From the same high school as current Hawkeye Patricio Lugo, Balmaceda has a ton of potential to be great college wrestler.  FloWrestling announced this summer that Balmaceda had his Top 5 of Ohio State, NC State, Oklahoma State, Virginia Tech, and Iowa.  Getting a  commitment from Balmeceda would be h-u-g-e for Iowa Wrestling.
Julien Broderson, Davenport, Iowa (Assumption HS)  182
As a two-time state champion at Assumption, Broderson has also achieved All -American status in Greco-Roman at Fargo.  He won a Junior Iowa Freestyle and Greco-Roman title this past summer at 182 lbs. Broderson won his first state title as a sophomore at 160 and at 182 this past year.  Broderson is projected to compete at 184/197 in college.
Cobe Siebrecht, Lisbon, IA  138
Siebrecht has been a State Runner-Up in each of the last two seasons at 106 and 126.  I was impressed with how Siebrecht improved after going from 106 to 126 in one year. At approximately 5'10", it is challenging to predict a weight in college for Siebrecht.  I know because of Siebrecht being from my hometown of Lisbon, IA that he has a lot of potential, knows how to work, and comes from a winning program.
Class of 2020   
Cullan Schriever, Mason City, IA  113
Schriever won his second National title overall in dramatic fashion this summer at 113 lbs. in the Junior division.  Schriever also won a national title in Cadets at 88 lbs. in 2016. On track to be a four-time state champion, Schriever is climbing up the recruiting ranks.  Flo has him ranked #3 in the country at 113 lbs.
Colby Schriever, Mason City, IA 132
Schriever placed 7th at 126 last season and was a State Qualifier at 120 in 2017.  Schriever won a Junior Iowa Freestyle and Greco-Roman title this past summer at 132 lbs.
Cullan and Colby Schriever are twin brothers.
Jesse Ybarra, Tucson, AZ (Sunnyside HS)  120
Ybarra is already a two-time state champion winning titles at 106 as a freshman and at 113 last season.  Ybarra won the Cadet Freestyle Pan American Championships Trials in Freestyle last spring at 55 kg/121 lbs. Ybarra really arrived on the national scene by winning a Cadet national title at 120 lbs. in Fargo this summer.  Flo has Ybarra ranked at #8 in the country at 120 lbs.
For the Recruiting Class of 2019, National Letter of Intent Signing Day is Wednesday, November 14.
It is great to be an Iowa Wrestling fan.
Go Hawks!