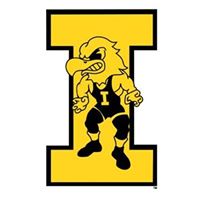 I have been telling you how Iowa Wrestling has been hitting on all cylinders.  On Thursday, September 27, 2018, Iowa Wrestling hit a gear that even I did not know they had.  What a day!
To start the Iowa Wrestling day off, the Hawks received a verbal commitment from elite recruit Jesse Ybarra of Tucson, Arizona (Sunnyside HS).  Ybarra is already a two-time state champion winning titles at 106 as a freshman and at 113 last season.  Ybarra won the Cadet Freestyle Pan American Championships Trials in Freestyle last spring at 55 kg/121 lbs. Ybarra really arrived on the national scene by winning a Cadet national title at 120 lbs. in Fargo this summer.  Flo has Ybarra ranked at #8 in the country at 120 lbs. Ybarra is 69-3 in his high school career and FloWrestling stated that he will wrestle 126 this upcoming season.
Iowa Wrestling also received great news when the Schriever twins, Cullan and Colby of Mason City, Iowa, also announced on Twitter that they are committed to the University of Iowa.  Even with all of the success that Iowa has had recruiting, I still felt that Cullan Schriever was a must get. Scriever will be the biggest recruit to come out of Iowa in several years and I felt it was a must for the Hawks to defend the Iowa high school ranks by getting Schriever.  
Cullen won his second National title overall in dramatic fashion this summer at 113 lbs. in the Junior division.  Schriever also won a national title in Cadets at 88 lbs. in 2016. On track to be a four-time state champion, Schriever is climbing up the recruiting ranks.  Flo has him ranked #3 in the country at 113 lbs.  
Colby placed 7th at 126 last season and was a State Qualifier at 120 in 2017.  Schriever won a Junior Iowa Freestyle and Greco-Roman title this past summer at 132 lbs.
I also have to add that Iowa Wrestling has had great success with twins over the years.
I made the trip to the Echo Valley Country Club in Norwalk, IA for the HWC Des Moines Golf Outing.  I have heard so much about all of the great support coming from the Des Moines area and I had to see it for myself.  Was I ever impressed. The room was filled with passionate Iowa Wrestling fans.
If you cannot get excited about Iowa Wrestling after hearing Tom Brands speak at a function like this, I don't know what to tell you.  Brands gave a fiery speech about the support in the Des Moines area and a rundown of the program. Tom Brands is the leader of the Iowa Wrestling Nation and he leads with a passion to win that is undeniable.
Mark Perry also gave a great speech about he HWC and Iowa Wrestling.  My favorite comment was when he talked about Jacob Warner. Coach Perry said that Warner has already learned from what happened at Junior Worlds in Slovakia and he will not let that happen again.
After hearing Iowa Wrestling boosters Bob Nicolls and Jim Sinclair speak, you realize the the new training facility, that I called The Greatest Wrestling Training Facility…in the World, is going to happen.  When you have two guys like that involved, I have a better sense of confidence that this will indeed happen. I also believe the new facility will be built sooner than later.
I will continue to follow-up on the progress of the new facility on my blog and podcast.
Overall, it was great for me as a fan to get out to Des Moines and feel the passion and intensity from Iowa Wrestling fans from all over the state. My confidence in Iowa Wrestling went up another notch.
What a great day to be an Iowa Wrestling fan...in September.
When does the season start?  Not soon enough.
It is great to be an Iowa Wrestling fan.
Go Hawks!