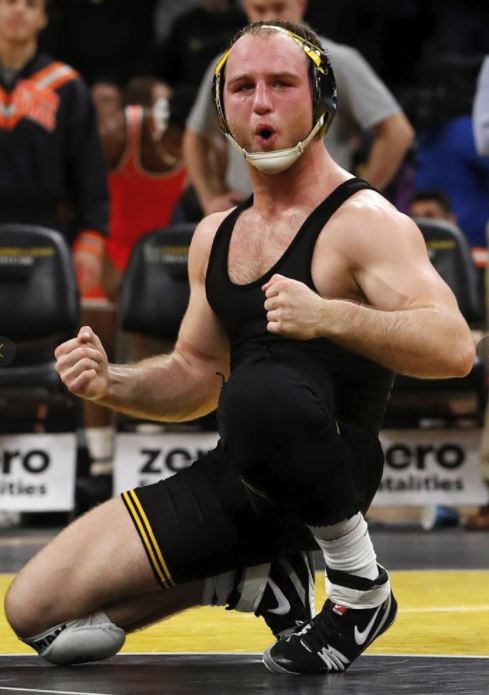 Of all the returning starters for Iowa Wrestling, the one wrestler that looks to have improved the most to me is Alex Marinelli. The first thing you will notice about Marinelli is that he looks much bigger than last season.  With a nickname like Bull, Marinelli's strength is his strength and he looks noticeably bigger and stronger this yearr.  He has really improved in the room.
Coming out of national powerhouse St. Paris Graham in Ohio as a four-time state champion in 2016, Marinelli was the highest rated recruit to date for the Tom Brands era as head coach.
In practice, I feel as though Marinelli sets the tone for the entire room including the HWC wrestlers.  I stated that last season as well. In Iowa Wrestling, wrestlers lead by winning in the practice room and in competition. Even as a freshman, he had the presence and energy to be a leader by going real hard every single go at every single practice. You just do not see Alex Marinelli ever taking it easy in a practice.. I look for Marinelli to take more a of a leadership role this season.
As a redshirt freshman last season, Marinelli rolled to a 14-0 regular season record with three pins and two tech falls before placing sixth at both the Big Tens and the NCAA Tournament at 165 lbs. Marinelli finished the season with a 19-6 record.  The highlight of the season for Marinelli would have been a 9-6 win over eventual national champion Vincenzo Joseph at Penn State.
For Iowa to contend for the NCAA team title, Marinelli will have to score big point at nationals.165 will once again be a very tough weight across the country and especially tough in the Big Ten.  The Big Tens should be a real war at 165. The top competitors at 165 are all pretty close so it will come down to who improved the most in the off-season. 165 may be the best weight to watch for the upcoming college wrestling season.   
I am looking for more out of Marinelli this season and to finish the season strong at the NCAA National Tournament.  He does so many little things that show sound technique with my favorite being a mat return and his overall riding game on top.  I think we can expect to see more bonus points out of Marinelli this season as he continues to open up and score more points that will lead to more pins.
You definitely look bigger from last year.  How is your weight and how are you feeling?
Alex Marinelli:  I am feeling good.  I feel like I am getting stronger.  I have put on some muscle with the new strength coach.  My weight is a little higher than last year but I think it is good weight, it's not fluff.  It's strength. A lot of horsepower.
Now that you have had a year of competition, how is preparing for this season different for you?
Marinelli: I think of it as going in with the same attack.  I want to be the best. I want to dominate every time I go out there.  I think that just being a seasoned veteran helps a lot. I have been to the national tournament, I have been to Big Tens.  Now I know what a season is like. It is just kind of a calming approach.
How has the influence of the Hawkeye Wrestling Club helped you out so far in your career?
Marinelli:  With Gilman and Mark Perry and now with Telford being on the coaching staff I think it really helps me have a lot of mentors.  Gilman is telling me all of the right things along with Telford and Mark Perry. The rest of the HWC, they show me the way and help me build my wrestling and improve.  Not just to come in here and go to work, but to come in here and go to work to get better.
Looking back, was there one thing from last year that you were not expecting to happen?
Marinelli: I do not like to lose.  Growing up and going through grade school and junior high and high school state, I never really finished without winning a state title. It is kind of different when you lose. You have to evaluate different. It is easier to move forward when you win is what Tom says. It is not a good thing if you do not put a W on the board.  
My favorite wrestling to watch in this room is you and Michael Kemerer.  What do you think about Kemerer going up a weight above you?
Marinelli:  I think Kemerer is finally filling into his body.  He is happy where he is. He is very excited to contend and compete at 174. He's happy and I am excited for him.
What are you looking at for the team this year?
Marinelli: I believe we will have 10 All-Americans.  I really do believe that. If we don't then we are selling ourselves short.  We cannot have any excuses. I do not know why we would not have 10 All-Americans.  
What is your goal for the season?
Marinelli: National champion.  
I am expecting a huge year out of Alex Marinelli for Iowa Wrestling with a strong finish at Big Tens and the NCAA's..
It is great to be an Iowa Wrestling fan.
Go Hawks!