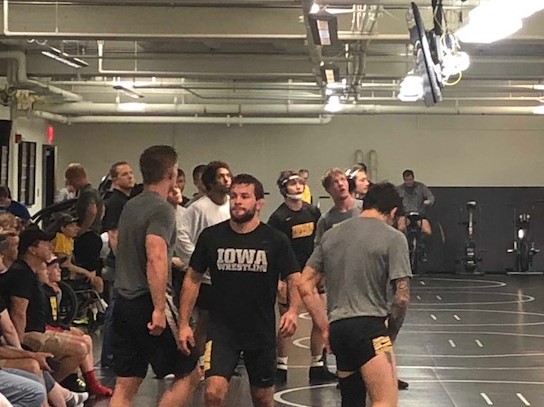 The bleachers in the Iowa wrestling room were filled for a 10 AM workout Saturday a full six hours before kickoff of the Iowa-Iowa State football game.  Only Iowa Wrestling would consistently attract that type of interest in early September. Iowa Wrestling fans are excited for the season.
There was a lot of entertainment for fans on Saturday as members of the Hawkeye Wrestling Club and Iowa wrestlers were going at it hard.  Real hard. Should the Hawks compete the way that they are practicing, this should be a great year.
After seeing all of the fans in attendance, my second favorite part of the workout was the picture that I have to the right.  At the beginning of their workout, Iowa wrestlers were on break to get a drink. Several of them stopped by to watch Brandon Sorensen on the big screen TV.  It was great to see Iowa Wrestlers watching one of their own competing halfway around the world in Poland. That is the definition of T-E-A-M. Go Hawks! 
I am asked about Spencer Lee quite often.  I refer to a line I used last year:
Spencer Lee is…Spencer Lee.
Meaning that I have never seen anything like him.  About all I can add is that I look for Spencer Lee to be much better this season.  Healthy from the start, bigger, stronger, and just way better. Let that sink in for a bit.
I would like to echo what Tom Brands said in his interview with me last week.  Ben Berhow is a great guy that will continue to contribute to the success of Iowa Wrestling.  Also I want to say that I am excited about what Bobby Telford is already bringing to the program.  Great job by Tom Brands of adjusting personnel to make the entire Iowa Wrestling organization better.  Winning leaders make winning personnel moves. I see this personnel move as a real big win for all.
Thomas Gilman looks like someone took a hammer and chisel and etched him out into 125 pounds of stone.  Strong. I am really looking forward to seeing Thomas Gilman on the hunt for a World title at the Freestyle World Championships in October.
A lot of what I do for recruiting I learn from Division I football.  A word that is used by coaches, TV, and radio analyst is the word depth.  Successful recruiting leads to that desired depth. You especially hear former football coaches talking about the importance of depth in national championship games.  Well wrestling fans, the depth in the Iowa room is reminding me of the Gable era. There are some seriously tough wrestlers in that Iowa room that will not make the starting lineup.  Tough as in you would want them on your side should trouble ever break out. The growth and energy from the Hawkeye Wrestling Club has also added to the overall environment as well.
I do not want to ever overlook how important teammates are.  These guys work just as hard and without them, the starting lineup would not be nearly as tough. The Iowa room is so tough with depth that wrestle offs are going to be very entertaining.  There will be some great matches in the semifinals of wrestle offs. Actually there will be some very good matches in the quarterfinals of wrestle offs. When I say I have no idea what our lineup is going to be, I mean it.  I would hate to make predictions at at least three weights.
Titles in wrestling are won in the practice room only when the depth is there to push every single wrestler, on every single go, every single day.     
It is that day in, day out grind that makes for a championship team.  It doesn't matter who you are. If a varsity Iowa wrestler does not bring their A game to practice every single day, a teammate will kick their ass. The term "Iron sharpens Iron" is spot on to describe this.  Let me just say that I like what I am seeing because it brings back great memories of the past.
When I write a blog like this about watching a practice, I truly never know where it will lead me.  I just start writing. In closing, I will refer to the line I just used:
Let me just say that I like what I am seeing because it brings back great memories of the past.
It is great to be an Iowa Wrestling fan.
Go Hawks!