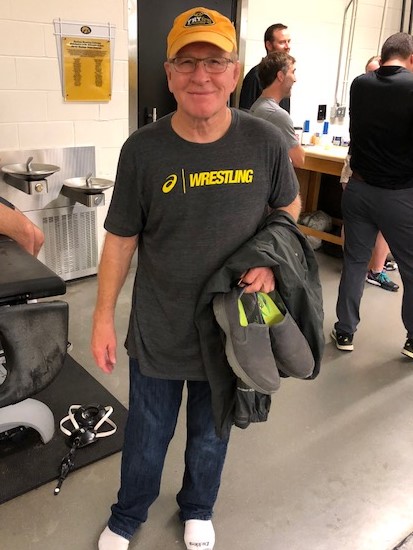 9:30 AM CST on Saturday, September 1, and the Iowa Wrestling room bleachers were filled with Iowa Wrestling fans.  F-I-V-E hours before kickoff for the Iowa football season and home opener. There were also fans along the wall and sidelines because there was no place to sit.  I believe there were more fans in the room yesterday than at any Saturday before a football game all of last year. And again, September 1. Yes folks, I would say that Iowa Wrestling fans are excited about the upcoming season.
The Hawkeye Wrestling Club had practice and there were Iowa Wrestlers working out.  For fans, this is our "Spring Training," if you will. There was a buzz in the room for the upcoming season that does not begin for more than two months.  The NCAA Championships in Pittsburgh are more than 7 ½ months away. Iowa Wrestling fans are excited, and they should be.
I was sidetracked from watching practice for awhile, but for the best reason possible.  The Living Legend himself, Dan Gable walked in. It is still great to say that I know this guy and more importantly, that he knows me.  I talked to Gable about his new beer that is out. On Thursday, Gable was signing cans of the new Gable Munich Helles Lager by SingleSpeed Brewing at the Waterfront Hy-Vee in Iowa City.  Having the name Gable on a can of beer is so…Old School.
Gable said sales are going real well.  A shout out to SingleSpeed Brewing Company.  Proceeds from the Gable Munich Helles Lager is going to the Dan Gable Museum and Hall of Fame in Waterloo, Iowa.  I will have more about the Gable Munich Helles Lager in an upcoming blog.
Thomas Gilman is looking tough even by Thomas Gilman standards.  I have no idea how Gilman makes 57 kg/125 lbs. because he looks so big and powerful.  I really believe Gilman is much better than he was this time last year and he will make a great run for the World title at 57 kg. in October.  
I also saw new members of the Hawkeye Wrestling Club working out.  Having the HWC adding Forrest Molinari, Kayla Miracle, and Michaela Beck is a great move to bring in world class wrestlers that are competing at the highest level.  Molinari will be competing in the Women's World Freestyle Championships in October and also at the U23 World Championships in November. Miracle will represent Team USA at the U23 World Championships in November.  Alli Ragan of the HWC will also represent Team USA at the Women's World Freestyle Championships. To have that many World Team members is impressive.
Saturday also marked the first full day on the job for Bobby Telford as the new Volunteer Assistant Coach.  I hope to get an interview with Telford for an upcoming blog and podcast.
Wrestle offs are going to be unreal.  I stated in my Iowa Wrestling Fan Podcast on Friday that I thought that wrestle offs would be the best since the fall of 1990.  From what I saw on Saturday, the wrestle offs are going to be even better than I thought. There will be some great matches at the Iowa wrestle offs…in the semifinals.  And no, I have no idea who is going to win at least three weights: 141, 157, and 184. To me, those three weights are a toss up.
I always admire how accessible the Iowa coaches and wrestlers are to the fans after practice.  I saw numerous wrestlers posing for pictures and talking with fans of all ages. I do not take it for granted the type of quality people that are to be found in the Iowa Wrestling program.  Character, or lack thereof, has been a major topic in college football recently and it made me appreciate Iowa Wrestling even more.
That accessibility and appreciation of fans by the wrestlers and coaches is a big reason why the Iowa Wrestling Nation is the biggest and most dominating fanbase in all of college wrestling.  And it isn't even close.
Here's to hoping that we see more practices like this before upcoming home Iowa Football games on Saturday mornings.
Overall, I think the Iowa program is looking tough, focused, and hungry.  Gilman and Warner competing in upcoming World Championships, the HWC with the new addition of world class wrestlers, the coaching staff is in place, everything.  All of this only adds to the excitement of the upcoming season. As if we needed anything else.
It is great to be an Iowa Wrestling fan.
Go Hawks!