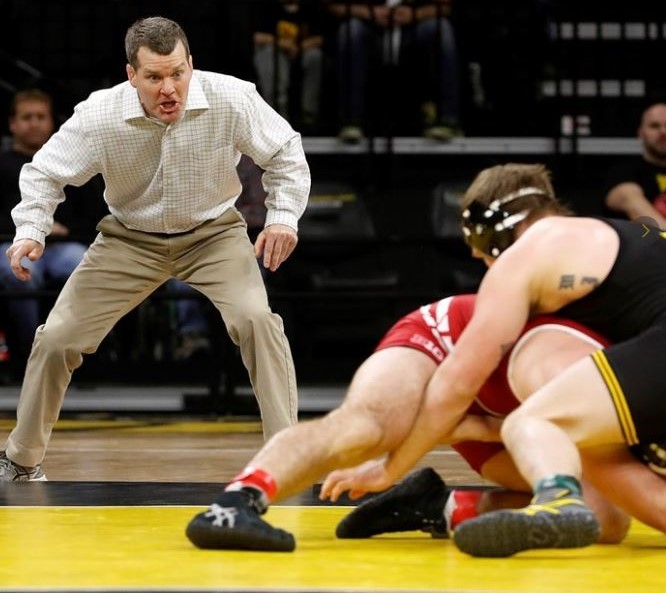 I sat down with Iowa Head Wrestling Coach Tom Brands for an interview this week.  I have never heard Tom Brands open up like this in an interview. This should bring you up to date with Iowa Wrestling.
Coach Brands, you are entering your thirteenth year as the head wrestling coach of the University of Iowa.  How is is different and how is it the same?
Tom Brands:  The mission is always the same.  To win national titles. We have never changed in what we set out to accomplish and that is to win national titles.  We have not won a title in too long but I assure you we are focused on what has always been our goal and that is to be the best.  We have a lot of excitement with our recruiting and from having several transfers coming in to compete right away. So we are looking forward to the upcoming season.
A couple of years ago you made the comment that you were coming in second in the recruiting battles.  Now you are getting the elite recruits which really has your fans excited. What has changed in your narrative or your approach so that now you are coming in first and landing all of these elite recruits?
Brands: I think the first thing you have to realize is that there is a little bit of a secret sauce in that message.  It's not necessarily a secret that you do not disclose, it is how you talk to them. You talk to them a little bit more aggressively and you get them to be a teammate before they are even a teammate.  Before it was maybe let's see how you like it when you get here. I'm not sure that is the best approach. Now it is more aggressive where we know that if guys have the same mindset as far as winning championships and winning wrestling matches, being the best they can be in the classroom, be the best that they can be in their lifestyle, that they are going to get along well here.  The other thing that goes without saying is that we do not recruit anybody that is not like that. So really it is a no-brainer that everyone is on the same page. Just being a little bit more aggressive on how you talk to them.
You have led the country in attendance in each of your first twelve years as head coach here at Iowa.  What is the key for Iowa to win the attendance title for a thirteenth straight year?
Brands:  We are going to have exciting wrestlers and that is number one.  That is always the recipe. Exciting wrestlers are about scoring points and wrestling the full seven minutes, looking for bonus points.  Fans like to watch exciting wrestling. We have a big dual meet on December 1 with Iowa State. They really like their team. That coaching staff has done a great job over there.  We have to be ready for that one. We have some matches coming up before that as well. We have Princeton coming to town and that is a big match. Their team is solid. They have a 74 pounder and a 49 pounder that fans are going to see some of the best wrestlers in the country go head to head in Carver Hawkeye Arena.  
It starts early and keeps going through the schedule.  Then you know what, we are in Pittsburgh, Pennsylvania for the national tournament.  We are not getting ahead of ourselves. We've got Spencer Lee and we've got Michael Kemmerer, we've got Kaleb Young.  All three of those guys are going to see action this year. That is there home area. That is their hometown. We have a lot to be excited about.  Max Murin. I can't leave him out.
Any talk about another Grapple on the Gridiron?
Brands: There is talk.  There is talk of another Grapple on the Gridiron.  Actually the picture that is hanging right over your head right now. The official number was 42,280 I think. Someone came in under the cover of darkness and they put a tag on it that says:
Hawkeyes vs. Cowboys – Grapple on the Gridiron
Kinnick Stadium 11-14-15
Attendance: 52,000 plus.  
I'm not sure the number 42,280 was accurate. Luke Eustice did some hard and tedious work to count each individual head from a lot of different angles and we were over 50,000.  Then somebody came in here and pasted that on the bottom of that picture. I think our fans are a little bit curious and excited to see what we could get to if you do that one more time.  Again, it has to be the right opponent. This last time we did it in 2015 it was the right opponent. The next time it has to be the right opponent as well.
There is already some talks about next year perhaps.  We have already reached across the street to our football brethren and it looks like it could be something that is in the works.
When you look back at 2015, how big was the Grapple on the Gridiron for your recruiting to have all of those recruits in the crowd?
Brands: Spencer Lee was here.  There was a buzz. He was getting stopped at every step he takes.  You know that makes a difference. The bottom line is that we have to be able to coach and we have to be able to attract the best talent as well.  It's just not about putting on world class or top notch events. We showed we can do that with light weights, with middle weights, with heavy weights.  On the World team we have a good string going at 57 kg with Ramos, Dennis, and now Thomas Gilman. You get a big land and that doesn't do anything but create momentum for you.  You have to be able to seize the momentum and that is what we have been able to do.
Ryan Morningstar gets a lot of credit for that.  Terry talks about it saying that Spencer Lee was smart enough to dissect that the University of Iowa was the best place for his wrestling for his future. Instead of maybe buying into the propaganda that others recruits have done and almost succumbed to almost a false notion. Spencer Lee was smart enough to dissect all of that. He had great help from his family. Now look at the ally we have with Larry Lee. There is no bigger fan or ally or advocate for our program than Larry Lee, Cathy Lee, and that family. So not only did you get a really good world class wrestler that is going to continue and turn our fans heads and be a fan favorite, you also have lifelong supporters.  
I get excited thinking about parents that are in that category like Sean Warner and Pat Lugo Jr., Ray Kemerer, and Larry Lee heads that list. So these are parents that are selfish about their sons but they are very unselfish about what they want to see out of this program.  That has been a huge culture shift for us where that when things happen that are not really favorable, they put it on their kids. They put it on us too but there is an honest and open minded dialog. You get a lot more accomplished that way.
I never get to far away from thinking about what I coined as "The Greatest Wrestling Training Facility…in the World."  What can you tell us about the new training facility?
Tom Brands: You know, we are a third of the way there.  It is September 4. On September 1 we wanted $21 million for what we set out to raise.  We are a third of the way there. We have a lot of work to do and the work has not stopped.  We are still in talks with some people that are going to be critical. The thing is that fans got to know that this will make a difference.  That this will be something for the ages in the next decades that will make a difference.
It is an undeniable fact that Dan Gable had a brand new facility.  It is an undeniable fact that Dan Gable had a blank check in the Hawkeye Wrestling Club.  I am not saying that was the reason for his success. Not saying that if we had that early on in my tenure that my success would mirror his.  I'm not saying that. It is a different era. I would have to do a lot of work to catch up to him and he was my coach so there is no bigger fan of the tradition and legacy that Dan Gable defined and continues to define today.  But it is still undeniable. We need those ingredients.
And we have a Hawkeye Wrestling Club Board.  You know I don't think you can talk about this new energy you feel without talking about the Hawkeye Wrestling Club and the Hawkeye Wrestling Club Board led by Randy Novak.  Aaron Robertson, Mitch Kelly is a mainstay. You've got Ryan Key. You have this new group that have a new energy. Al Zahasky, Rob Mcreynolds. We just have to keep a good thing going.  You cannot talk about what we having going on with recruiting and buzz and excitement without mentioning the Hawkeye Wrestling Club as well.
The facilities. It's important.  Three years ago we evaluated the program and it came down to finances.  Those finances are directly related to our success. You can put finances into two categories.  Put them in Facility and put them in Hawkeye Wrestling Club.
Last week was a monster week for Iowa Wrestling news. You had four new additions to the Hawkeye Wrestling Club.  Forrest Molinari, Kayla Miracle, Michaela Beck and Nodirjon Safarov. Can you tell us what these four wrestlers bring to the Hawkeye Wrestling Club and your program?
Brands: Safarov is an International caliber wrestler at 57 kg and he competes for Uzbekistan.  He is at Thomas Gilman's weight of 57 kg. He is someone that is actively training and has been on the International circuit.  He has been instrumental in showing guys like Gilman and Cory Clark that we are continuing to bring in the best workout partners for them.  
The other three are all International caliber wrestlers.  Michaela Beck is a younger wrestler that may not be as experienced but she is very motivated and is one of the best Juniors in the world at her weight class.  Kayla Miracle and Forrest Molinari are two of the best in the world at their respective weight classes.
Alli Ragan, you talk about a unique mindset that is very similar to what we are about.  Alli Ragan hand picked those girls. It wasn't just about getting workout partners in a scattershot approach.  These are the girls that I think will do well here. These are the girls that are going to train with the mentality that I have.  These are the girls that I need. These are the girls that need me. So it was an unselfish approach but we had to make sure we had the right ingredients.  It was not about just getting some bodies in here. It was about getting the right people in here.
It really demonstrated that we are going to continue to raise the bar and get the best quality people in the program and keep adding to a really good thing that we already have going.
It was announced last Friday that Bobby Telford has been added to your staff as a Volunteer Assistant.  What does Bobby Telford bring to your program in his new position?
Brands: First of all, let's talk about Ben Berhow.  He has done a great job. He was instrumental in changing our camps.  Moving that forward. Our numbers are better than they have been in six or seven years and we are going to continue that trend.  Ben Berhow being unselfish and on top of that being a really good guy who was about moving the program forward.
That being said, Bobby Telford brings a different energy to some core phases and components to this program.  We just cannot become stagnant. I felt we were becoming a little bit stagnant and that's not a shot at anybody, that's a shot at me and we needed to make a change.  Bobby Telford, his competitive career is on hold because of injuries. We needed to see his involvement in that wrestling room continue. When you are not competing, the NCAA rules say it is going to be hard to get him in there at least if you are honest.  If he is going to be a legal representative of the Hawkeye Wrestling Club per the bylaws set forth by the NCAA and supported by USA Wrestling. So to have Bobby Telford in there in his role, we needed to get him into a coaching role. We are excited about that.
Ben Berhow goes to support for the Hawkeye Wrestling Club.  His energy will be felt on the circuit with those fundraising events.  Bobby Telford will also remain involved in that role too. He will now take over some camp duties that we need to be more aggressive in.  He takes over some equipment issues with our equipment room. We have a new Equipment Manager. We needed somebody that is a little bit more aggressive and a little more of a crackerjack.  That was my call. Very excited about what he brings to the wrestling room. Very excited about what he brings to us outside the wrestling room.
Quinn Hollan was named as your new Strength Coach on August 10.  How do you see Coach Hollan contributing to your program?
Brands: He's organized.  He's got a different approach.  He has a new energy. We have been without a Strength Coach since April.  He replaces Travis Rutt and he is doing a great job. The reason why it took us so long to get one is because we were not going to settle for number two.  We had basically two phases to the same search and we could not find the right person. Now we have the right person. We had to get the right person. It is not just about getting people in here.
I talked about that earlier with the HWC.  Alli Ragan did not just want to get bodies in here for her, she wanted the right people with the right approach and right mentality.  We needed to make sure we had the right approach and the right mentality in the weight room.
He doesn't have a wrestling background but what he does have is an energy and an open mind.  Nobody else in the country has an approach like he does. When you are talking to him he is scanning and out there looking.  He's not looking at what is in front of him, he is looking into his imagination. With his experience and background of being around Chris Doyle for a year, that can only help him as well.  We are very happy to have Quinn Hollan. He is going to have a young family and he is from Riverside, Iowa.
Sam Stoll is looking real strong.  How is he doing?
Brands: Sam Stoll is doing good.  He is hammering the rehab. He is moving forward.  Without giving you a lot of detail, he is just fine.  He would say his rehab is just fine. We appreciate the concern there and we appreciate all of the well wishes there.  He is doing just fine.
Spencer Lee was the talk of the college wrestling world last year.  I really liked the decision where he did not compete in the spring and summer.  He definitely looks bigger and stronger. What are you expecting out of Spencer Lee this season?
Brands:  You know what we expect.  We expect the same out of Vince Truk, Max Murin, Carter Happel.  We need to score some doggone points at that weight class. I expect the same from all of our guys in that they come into work every day to get better, to take care of your social and academic world and continue to strive to be the best that you can be in everything you do.  When you can do that you are going to be a contributor to this team.
What I mean by a contributor is let's remember your mindset coming into this program and what you are about.  Even if it was harder or different than what you thought, you still have to have that same mindset that you came into this program with.  You just have to work a little bit harder or make some adjustments here or there. All of the sudden we have a 41 pounder that is capable of winning a national title right alongside Spencer Lee.  
We have some shifts going on in the upper weights with Warner. Bowman is still a factor there, and Wilcke.  We've got Myles Wilson coming off of redshirt. We have Steven Holloway who is in our program. These guys are in the same boat as Spencer Lee.  They have the opportunity to define their career. Let's talk about 125 the same way we talk about 133 the same way we talk about all of the weights through Hwt.  
You know what I expect out of Spencer Lee.  The one thing we have that I talked about and that's the family.  The other thing is the kind of young man he is. He is a remarkable person.  He is the type of guy that when he opens his mouth it's positive. When he opens his mouth he is an ambassador.  We're still working on Spencer Lee and he is still trying to get better. That means that this kid is a humble, going about his business and a trying to get better every day type of person.  He embodies that and that is not just rhetoric coming from me or hoping that is the case with him. This is real.
Coach, I mentioned to you about a month ago that I thought this would be the best wrestle offs since the fall of 1990 when you were a junior here at Iowa.  The wrestle offs will be a real barn burner. With your season starting November 9th, any idea what your schedule is going to be for wrestle offs?
Brands: Wrestle offs will be, you can bank on it that they will happen.  They will be a big part of getting ready to go for the season, They will be a big part of getting your weight down for a one hour weigh in with a referee that's legit.  And they will have a little teeny say about who our guy is going to be in the future. But really what matters is how we perform throughout the year. You know it's damned if you do and damned if you don't in this world and especially now with social media.  
But there is no right or wrong rhyme or reason on how we are going to do things.  It could be different for two different weights. We could have had a wrestle off last year at one of those weights where we had the wrestlers or we could have not had a wrestle off at another weight.  We could have hand picked a guy. We could have done it two different ways at two different weights and I still would not have been right.
I remember a year awhile back where we won the nationals by 40 points and everybody was critical about who our 57 pounder was that year.  That's what is great about this program. Our fans want to win every match every time out. They want to win every weight class and they want to win it by a large margin and they want to pin and tech everybody.  And you know what I am with you 100%.
So whether you agree with me or not, know that the best interest of our individuals and our program is at the forefront of our thoughts.  I am smiling as I say that but know that the best interest of this program is on the forefront of our thoughts and we will make the best decisions moving forward.       
The season cannot start soon enough.
It is great to be an Iowa Wrestling fan.
Go Hawks!