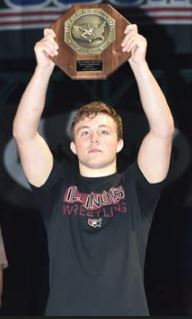 Jacob Warner of the University of Iowa will represent Team USA at the 2018 Junior World Freestyle Championships in Trnava, Slovakia. Warner will compete at 92 kg/202 lbs. on Saturday and Sunday. The times listed below have already been converted to CST.  In 2016, Warner captured a Bronze at the Cadet World Championships in Tbilisi, Georgia.
Warner was dominating in making the Junior World team by winning the UWW Junior Nationals and UWW Junior World Team Trials. According to TrackWrestling.com, for the Junior Nationals and Junior WTT, Warner was 6-0 with six tech falls, outscored his opponents 62-0, and wrestled a total of 9 minutes and 19 seconds in those six matches.
Hawkeye Wrestling Club Head Coach Mark Perry is in Slovakia to corner Warner.  That is a great promotion for what Iowa Wrestling has to offer a recruit when you have a coach the level of Mark Perry traveling halfway around the world to corner a Hawkeye.
Warner used his redshirt this past season after a great career in Washington, IL.  Warner is expected to make the varsity spot for Iowa Wrestling at 197 lbs. this season.
Team USA will be looking to defend their World Team title.
I will keep you posted on results for Warner at:
https://www.facebook.com/IowaWrestlingFan
https://twitter.com/iawrestlingfan
TrackWrestling.com will have live streaming of matches available.
It is great to be an Iowa Wrestling fan.
Go Hawks!
* Times listed below have already been converted to Central Standard Time (CST).
2018 JUNIOR WORLD CHAMPIONSHIPS
at Trnava, Slovakia, Sept. 17-23
Schedule
Friday, Sept. 21
3:30 a.m. – Qualification rounds (men's FS 57 kg, 65 kg, 70 kg, 79 kg, 97 kg)
3:30 a.m. – Repechage (women's FS 53 kg, 57 kg, 62 kg, 65 kg, 72 kg)
10:15 a.m. – Semifinals (men's FS 57 kg, 65 kg, 70 kg, 79 kg, 97 kg)
11 a.m. – Finals (women's FS 53 kg, 57 kg, 62 kg, 65 kg, 72 kg)
Saturday, Sept. 22
3:30 a.m. – Qualification rounds (men's FS 61 kg, 74 kg, 86 kg, 92 kg, 125 kg)
3:30 a.m. – Repechage (men's FS 57 kg, 65 kg, 70 kg, 79 kg, 97 kg)
10:15 a.m. – Semifinals (men's FS 61 kg, 74 kg, 86 kg, 92 kg, 125 kg)
11 a.m. – Finals (men's FS 57 kg, 65 kg, 70 kg, 79 kg, 97 kg)
Sunday, Sept. 23
9 a.m. – Repechage (men's FS 61 kg, 74 kg, 86 kg, 92 kg, 125 kg)
11 a.m. – Finals(men's FS 61 kg, 74 kg, 86 kg, 92 kg, 125 kg)
U.S. men's freestyle roster
57 kg: Daton Fix (Sand Springs, Okla./Titan Mercury WC/Cowboy RTC)
61 kg: Joshua Saunders (St. Louis, Mo./Titan Mercury WC)
65 kg: Domonick Demas (Dublin, Ohio/OKRTC)
70 kg: Brady Berge (Mantorville, Pa./Nittany Lion WC)
74 kg: Mekhi Lewis (Somerset, N.J./Southeast RTC)
79 kg: Aaron Brooks (Hagerstown, Md./USOTC)
86 kg: Lou Deprez (Hilton, N.Y./Bearcat WC)
92 kg: Jacob Warner (Washington, Il./Hawkeye WC)
97 kg: Zach Elam (Kansas City, Mo./Team Central WC)
125 kg: Gable Steveson (Apple Valley, Minn./Minnesota Storm)