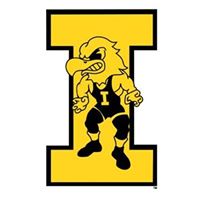 I have been making plans to go out and see as many of the incoming Iowa Wrestling recruits this high school season as I can.  After the latest commitment of Ryan Sokol on Saturday, I began looking for any tournament that would hopefully have several Iowa Wrestling commits competing.  Well, I definitely found it.
Iowa Wrestling fans, if you want a good look at the future of Iowa Wrestling, may I point out the Cheesehead Invitational in Kaukauna, Wisconsin on January 4-5, 2019.  I have heard about this tournament over the past several years as being a very tough tournament. With the Iowa Wrestling committed recruits, I have to think this tournament will be even tougher this year.  
There will be five wrestlers competing in the Cheesehead that have already committed to wrestle at the University of Iowa.
Zach Glazier – Albert Lea, MN  (Recruiting Class of 2019)
Patrick Kennedy – Kasson-Mantorville, MN  (Recruiting Class of 2020)
Cullen Schriever – Mason City, Iowa  (Recruiting Class of 2020)
Colby Schriever – Mason City, Iowa  (Recruiting Class of 2020)
Ryan Sokol – Simley HS, MN  (Recruiting Class of 2021)
To sound like an infomercial,  "But wait, there's even more!"
Southeast Polk HS of Iowa is competing at the Cheesehead.  I do not believe it is any type of secret that Iowa is recruiting Gabe Christenson of Southeast Polk.  Just saying there is a possibility of at least one more to be added to the list above.
I was not going to release this until my high school recruiting preview blog and podcast, but I must show my hand now.  I watched a lot of wrestling on my computer this past summer including Fargo. The one wrestler that stood out the most to me in Fargo for Cadet and Juniors was Nicolar Rivera from Stoughton, Wisconsin.  I see Stoughton is listed as a team at the Cheesehead.
I have had every intention of following Rivera's upcoming freshman season since I saw him compete in July.  He really impressed me in winning the Cadet Freestyle title at 106 lbs. Rivera looks to have the complete set of skills including strength.  His strength reminded me of Eric Juergens who was a two-time NCAA national champion and four-time All-American at Iowa. Even though Flo has Rivera only ranked at #15 at 113 lbs., I still have him in the Top 2 on my Iowa Wrestling Recruiting Class of 2022 Wish List at this time.
Schools competing at the 2019 Cheesehead Invitational:
Albert Lea, MN*
Arrowhead, WI
Aurora Christian, IL
DeForest, WI
DeKalb, IL*
Desert Vista, AZ
Edwardsville, IL
Fennimore, WI
Freedom, WI
High Point, NJ
Joliet Catholic, IL
Kasson-Mant., MN
Kaukauna, WI
Lockport, IL
Lyons TWP, IL
Mason City, IA
Metea Valley, IL
Mt Carmel, IL
Mukwonago, WI
Neuqua Valley, IL
Pewaukee, WI
Platte County, MO
Simley, MN
Smithville, MO*
Southeast Polk, IA
St. Charles East, IL*
Stoughton, WI
Two Rivers, WI
Waterford, WI
Wrightstown, W
* denotes new team
I have no doubt that there will probably be at least one nationally ranked wrestlers at quite a few of the weights and D-I recruits there in bunches.  That is an impressive list of teams competing. I am sure that my fellow posters on Hawkeye Report will have a complete rundown of wrestlers to be watching for at every weight.
I have been going through my memory bank, and I cannot think of a regular season tournament that had this many Iowa Wrestling commits competing.  There may have been some tournaments in the past that had this many eventual Iowa wrestlers competing, but not in the committed stage.
Regardless, this will be one heck of a tournament for Iowa Wrestling fans to take a look at.  I did see on the website for the Cheesehead that a local TV station will cover the finals on a FOX network.  Will FloWrestling be there? I do not see it listed on their schedule. In the internet age, I would think that at least the finals would be live streamed for a tournament this big.
If fans had a hard time finding a spot to sit last year at the Cheesehead, it is going to get even more crowded as I am sure that at least a few Iowa Wrestling fans will be making their way to Kaukauna, Wisconsin in January.  You can count me in on that list. I would think an Iowa Wrestling Podcast or two on location would be in order.
Iowa Wrestling does not have any competitions on that weekend.  There is probably a real good chance that Iowa Wrestling Assistant Coach Ryan Morningstar will make it up for this tournament.
It is October 15 and I am looking forward to a high school regular season tournament in early January in Wisconsin because of recruiting. Gotta love it.
Let's get 'em in the middle.
It is great to be an Iowa Wrestling fan.
Go Hawks!