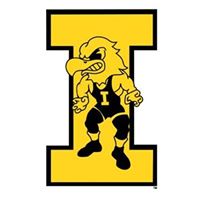 Incoming Iowa Wrestling recruits will be competing at The Agony in Ames on Saturday, October 20.  Wrestlers from around the country will be competing in matches in the two divisions of high school and junior high/elementary.  The elementary/junior high competition begins at 2 PM followed by the high school division at 4 PM.
Cullan Schriever of Mason City, Iowa will face Vince Cornella of Colorado at 116 lbs.  Jesse Ybarra of Tucson, Arizona (Sunnyside HS) will face Jeremiah Reno of Missouri at 126 lbs.  Ybarra, Schriever and his brother Colby Schriever gave their verbal commitment to wrestle at Iowa on September 27 and are in the Recruiting Class of 2020.  
Cael Happel of Lisbon, IA and Drake Ayala of Fort Dodge, IA, are competing.  Happel, who in on my Recruiting Class of 2020 Wish List, will face Wyatt Henson of Missouri at 126 lbs. Ayala, on my Recruiting Class of 2021 Wish List,  is matched up against Braxton Brown from Texas at 106 lbs.  
Brandon Hoselton of Genoa, IL will face Brayden Wolf of Iowa at 195 lbs.  Hoselton is on my Recruiting Class of 2021 Wish List.
FloWrestling will cover the action live at www.flowrestling.org
To order ticket or for more information for The Agony in Ames:    http://theagonyinames.com/
It is great to be an Iowa Wrestling fan.
Go Hawks!