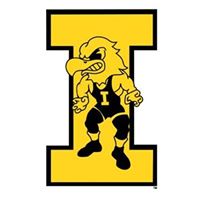 Jesse Ybarra from Tucson, Arizona (Sunnyside HS) gave a verbal commitment to the University of Iowa on September 27. Ybarra is already a two-time state champion winning titles at 106 as a freshman and at 113 last season. Ybarra is ranked at #13 in the Recruiting Class of 2020 by FloWrestling and #13 at 126 lbs. by InterMat.
Ybarra won the Cadet Freestyle Pan American Championships Trials in Freestyle last spring at 55 kg/121 lbs. Ybarra really arrived on the national scene by winning a Cadet national title at 120 lbs. in Fargo this past summer.
Ybarra has had a great fall competing in All-Star events.  He was named The Open Mat (TOM) High School Wrestler of the Week for the week of October 22 from defeating two nationally ranked wrestlers at The Agony in Ames. He also competed in a match as part of the NWCA All-Star meet in Denver, Colorado on November 2 where he defeated the #6 ranked wrestler in the country.
The season has already started for Sunnyside High School.  Ybarra won by a fall and then went up to 132 and scored a 11-3 major decision over the fifth ranked wrestler in the state.  Sunnyside High School has been well know for tough wrestling for years.
As an Iowa Wrestling fan, I have to really like the recent wins by Ybarra over tough nationally ranked competition under the bright lights.  I look for Ybarra to continue to climb up the recruiting ranks and compete at 133/141 for the Hawks.  It sure looks like Jesse Ybarra has a great future ahead of him.
I will keep you up to date with results for all of the incoming Iowa Wrestling recruits.
It is great to be an Iowa Wrestling fan.
Go Hawks!
Sunnyside High School schedule